This post brought to you by Bahama Breeze. All opinions are 100% mine.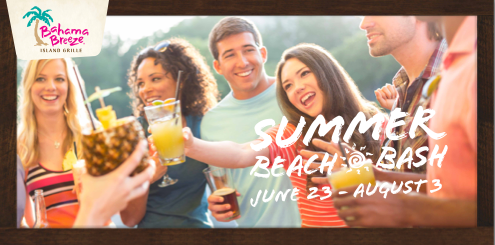 There are few things that can compare to relaxing on a beach, be it the white sands of a Bahamian beach or even just being "down the shore" (as we say around here) in Cape May, NJ. The warm sand, the cool breezes, the salty air, the cold drinks and dancing…you just don't want it to end!
For those of us who can't spend all of our time at the beach (or just want to extend the feeling of our beach vacation), Bahama Breeze has given us the Bahama Breeze Summer Beach Bash!
With live music, island sounds over the speakers and the new Bahama Breeze Ultimate Pineapple (the must-have drink of the summer), you and your friends can keep the fun going! The Ultimate Pineapple a frozen concoction featuring Bacardi Oakheart, Coco Lopez and Myer's Dark rum and is even SERVED in a pineapple! Doesn't get more "beachy" than that!
Are you a Mojito fan like I am? Stop in on Saturdays when they roll out the mojito bar! Pick your fruit and pick your rum and then sit back and watch your bartender make your custom creation!
Of course, what is a party or a fun night out without selfies? If you are heading to the Summer Beach Bash, don't forget to take a selfie of the fun and enter the #MyBBSelfie Instagram contest for a chance to win $25 Bahama Breeze gift cards! (make sure to use that hashtag to be entered).
Between the fun drinks, the island music and chance to win gift cards (and oh yeah – the yummy food), Bahama Breeze is the summer destination for good times. Brad and I have a "date night" coming up and I think we will be heading to Bahama Breeze. I can't wait to try out the mojito bar!
The Summer Beach Bash won't last forever (it ends August 3rd), so make sure that you head to your local Bahama Breeze and join the party!