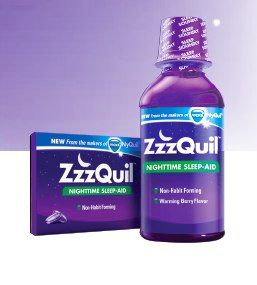 This post brought to you by ZzzQuil. All opinions are 100% mine.
I occasionally suffer from insomnia and very few things make me more nuts than getting in to bed and staring at the ceiling trying to go to sleep. You know how it is…you're thinking "If I go to sleep right now, I'll get 7 hours of sleep!" Then the countdown begins:  "Ok – if I fall asleep NOW, I'll get 6 hours", and on and on it goes.
The people at ZzzQuil sent me a "relaxation package" which included a free sample of ZzzQuil.  The other night that old insomnia reared it's ugly head and I decided to give it a try! ZzzQuil is brought to you by the makers of Vicks NyQuil. The people at Vicks probably know that people have been using their other Quil products for years as a sleep aid and cam up with a solution.  It's not for colds, it's not for pain, it's just for sleep. It is available in both Liquicaps at well as a Warming Berry liquid.  I chose the Warming Berry
The taste wasn't bad (although slightly sweeter than I expected) and it really did warm up in my stomach. ZzzQuil  isn't a "knock you out cold" sleep-aid.  I would say that it took me about 30 minutes to feel drowsy and soon I was in La-La Land.  Best of all, when I woke up in the morning I was felt completely refreshed and didn't have the groggy feeling you often have after taking medicine.
ZzzQuil is intended for adults and children 12 years of age and older. It is non-habit forming as well as safe and effective when used according to package directions. The active ingredient is diphenhydramine HCI, which helps reduce the time it takes for you to fall asleep when you have difficulty falling asleep.
If you ever need help getting to sleep, give ZzzQuil a try! Don't forget to Like ZzzQuil on Facebook and let them know you think! You can also follow ZzzQuil on Twitter (don't forget to use the hashtag #ZzzQuilNight)