This post and giveaway for a $100 Target Gift Card is sponsored by Invialign Teen. All opinions are completely my own!
Straightening your teeth sure has come a LONG way since I had braces. When I had them, they were metal bands (not just on the molars...on ALL the teeth) that the orthodontist pretty much hammered up & on to my teeth (why yes....I AM as old as dirt!). Then my brother got braces a few years later and I remember being jealous because he just had metal "dots" on the non-molars. Fast forward 20 years and my younger sisters had clear ones! But in every single case, it was just a PAIN to keep our teeth clean (brushing around the wires, food getting caught under the cement, etc....and forget flossing!). Oh - and have you ever tried to play the oboe (or any other double-reed instrument) with braces? You go through quite a few replacement reeds!
What if your child could go Back To School (or just return from the orthodontist) not having a complete "Brace Face"? Not feeling awkward about their new "look" (they have enough to deal with getting used to the new "feel" of any sort of orthodontic)? Being able to remove their braces to play sports, etc? Not going through reeds on the oboe like they were water (Ok - that one was just me and frankly? the reason that I quit playing oboe is not because my braces were tearing up the reeds, but because when I played, it sounded like someone was torturing a duck!). Invisalign Teen can do that for them!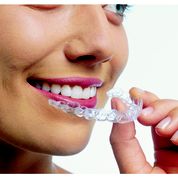 Invisalign Teen is just the perfect solution for teens who want to have a great-looking smile, but don't want the "Brace Face" appearance, or want the flexibility to remove them for sports, musical practice, etc. I have to say, I would think that it does take a child with dedication to having straight teeth for Invisalign Teeth to really work. I can see one of my children removing his appliance the minute he is out of the house (I assume, like all orthodontia, there should be some mild discomfort in the beginning). Your child needs to be dedicated in a way that cementing metal to his teeth won't allow him to question.  My other is all about "the chicks" (even though he is 9) and will likely stick to the routine if it means he has a "cuter smile" (headbang).
Lastly (and I know that this is too long already), having had "old fashioned" braces, there are a few things I love about Invisalign Teen (and why I will be investigating them for all 3 of my children)
No restricted foods: I went 2 years without eating corn on the cob because you just could not DO that with traditional braces and wires. If you want to eat that corn, just remove the appliance, eat your corn, brush and floss, then reinsert your appliance. Ditto with things like caramels or salt water taffy at the beach!
Affordable: Invisalign Teen is often comparable in price to traditional braces and is covered by most insurance companies.
Nearly invisible: I know a few adults that have used Invisalign, and I seriously didn't know that they had it until they told me about it
(clear assumption on my part) Less pain: I remember getting braces for the first time and having those metal rings (with the metal "wire guides"...whatever they are called) installed. For about the first month that I had them, they just TORE UP the inside of my mouth until I had developed sufficient callouses (and even then, my mouth looked "puffy" for those 2 years). I can't guarantee that they won't cause irritation to the insides of your mouth...but they sure look like they won't (talk to your orthodontist)
Ivisalign Teen knows that you are sending your kids back to school soon and have many expenses coming up (which may include orthodontia).  To help you with these costs, they have given me a $100 Target Gift card to give away!
To enter to win (each counts as a separate entry, so leave a separate comment!)
1. Leave a comment letting me know what you are planning to do with your childrens teeth? Will they need braces? Are they blessed with straight teeth (LUCKY!)? Will you consider Invisalign Teen?
To increase your chances of winning, there are optional entries available for you, which are:
:: Quick Message to Copy and Paste on Twitter or Facebook::
Enter to win the $100 Target Gift Card giveaway sponsored by @mindicherry and @invisalign at http://wp.me/pgD6z-gZ7
This giveaway will remain open until Monday, August 6, 2012 at 3:00pm (EST) at which time I will pick a winner using the Comment Contest Plugin and notify the winner by email
Visit my fellow Win Giveaways teammates and enter their Giveaways too!
Good luck!
(and don't forget to check out my other open giveaways!)
Full Disclosure: Invisalign Teen gave me a gift card as well, but that has not affected the contents of this post. See the complete Win Giveaway terms and disclosure.