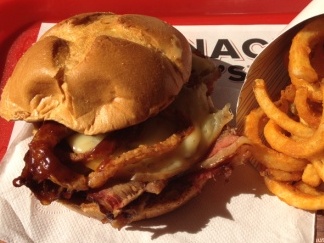 This post brought to you by Arby's. All opinions are 100% mine.
I have to admit, I am not a regular patron of Arby's.  There aren't many close to me (unless I head to the mall), but I know that my husband is always looking for a chance to get a hot roast beef sandwich (seriously - would it KILL him to eat a few veggies?), so when the people at Arby's asked me to try out their new Smokehouse Brisket Sandwich?  I thought "Cool!  Lunch-date with The Hubs!"
So, we headed to Arby's the other day to try out the new Smokehouse Brisket sandwich (you can Find an Arby's near you!). I had no idea what I was about to taste..just another roast beef sandwich, I assumed.  Then as I walked in to the door, I saw a huge sign for the sandwich and saw that it has Gouda cheese on it. Gouda? GOOD! That is my favorite cheese in the world! It also has friend onion rings on it?  There is no beef sandwich that can't be made better with fried onion rings! They just go together like peas & carrots!
And so I ordered the Smokehouse Brisket combo and my husband got a traditional Beef & Cheese sandwich and we split the soda & fries (he - we're frugal). After we got our food and he sat through the obligatory "food pictures" (seriously - he HATES going out to dinner with me because I always take pics of my food), we dug in!
Arby's says that they smoke their Smokehouse Brisket for 13 hours and you can really taste it!  We are big fans of slow cooking and I know that the longer that you cook certain cuts of meat, the more tender they become.  The meat literally fell apart in my mouth! The toppings just all come together to form a really delicious sandwich! And then - there are the fries! As it had been a while since I had eaten at Arby's, I forgot about the fries - truly an indulgence!
Will you try the new Arby's Smokehouse Brisket?  Sound off in the comments!