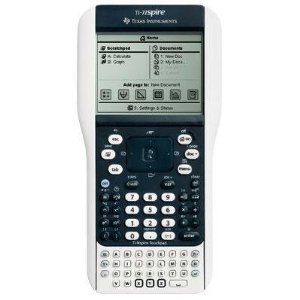 Ok - let me be REAL clear about something right from the start: I was a French major in college because I hate math (although I do like Accounting...addition, subtraction, MAYBE some multliplication....after that...I'm done!).
So for this review...I had only one choice:  to give the TI-Nspire Calculator to Brad for him to check it out (he was a Mechanical Engineering major at Villanova.  Calculators like this are his "crack").  Brad's comments?  "It's really cool and it will help you figure out words-and-phrases-I-never-heard-before-in-my-life-but-I-am-fairly-sure-they-have-to-do-with-a-Flux-Capacitor".
So in order to avoid me sounding like a COMPLETE idiot when it comes to the TI-Nspire Calculator (ummm - it's a calculator? it does graphs? my brother-in-law showed up last night and also went nuts over it and begged me to have mine for my nephew and when I said "yes", my nephew told me that I was saving his education? I'm assuming that this all means something in the "Math Geek World"), I'm reverting to the product specs on this one......actually, I am copying the review of one of my favorite Math Geek Frugal Bloggers (Briana, who is also hosting a giveaway of a TI-Nspire Calculator)
This calculator is really a 3-in-1: A graphing calculator, software package, and a T84 plus keypad (available by mail in rebate).

The touchpad gives the TI-Nspire an almost mouse like feel. The TI-Nspire is permitted on the SAT, AP, ACT, IB, PSAT/NSMQT, and Praxis as well as many state tests!
Texas Instruments wants to give one Moms Need To Know reader a fantastic giveaway package!
Texas Instruments Giveaway Package:
TI-Nspire Graphing Calculator with Touchpad ($139.99)
60 minutes of FREE tutoring help from Tutor.com ($34.99)
Math Rocks T-Shirts ($12)
Water Bottle ($8)
Cell Phone Charm ($5)
To enter to win (each counts as a separate entry, so leave a separate comment!)
1. Leave a comment letting me know what kind of math student you were.  Were you a "French Major" math student like me?  Or were you a "Math Geek"?  And who in your family is going to get this calculator?
2. Subscribe to my feed via Reader or email subscription to get all of the deals that I post and leave a comment that you have subscribed. If you already subscribe (thank you!), leave a separate comment letting me know.
3. Promote this giveaway.
If you have a blog, write a post about this giveaway and leave a separate comment with a link.
If you don't have a blog, you can Tweet (and make sure that you are following me on Twitter!) about this giveaway and leave a comment letting me know that!
You can post a link to this giveaway on your Facebook page or favorite forum!
For each one of these that you do, leave a separate comment for another chance to win!
This giveaway will remain open until August 23 at 12:00pm EST at which time I will pick a winner using random.org and notify the winner by email
Good luck!
Stop by these blogs for more chances to win:
This giveaway was sponsored by Texas Instruments as part of Win Giveaways Back to School Bash. This Post was written by me and was not edited by the sponsor. Read more on my Disclosure Page. Find more information on the terms for this giveaway on the Win Giveaways Facebook page.