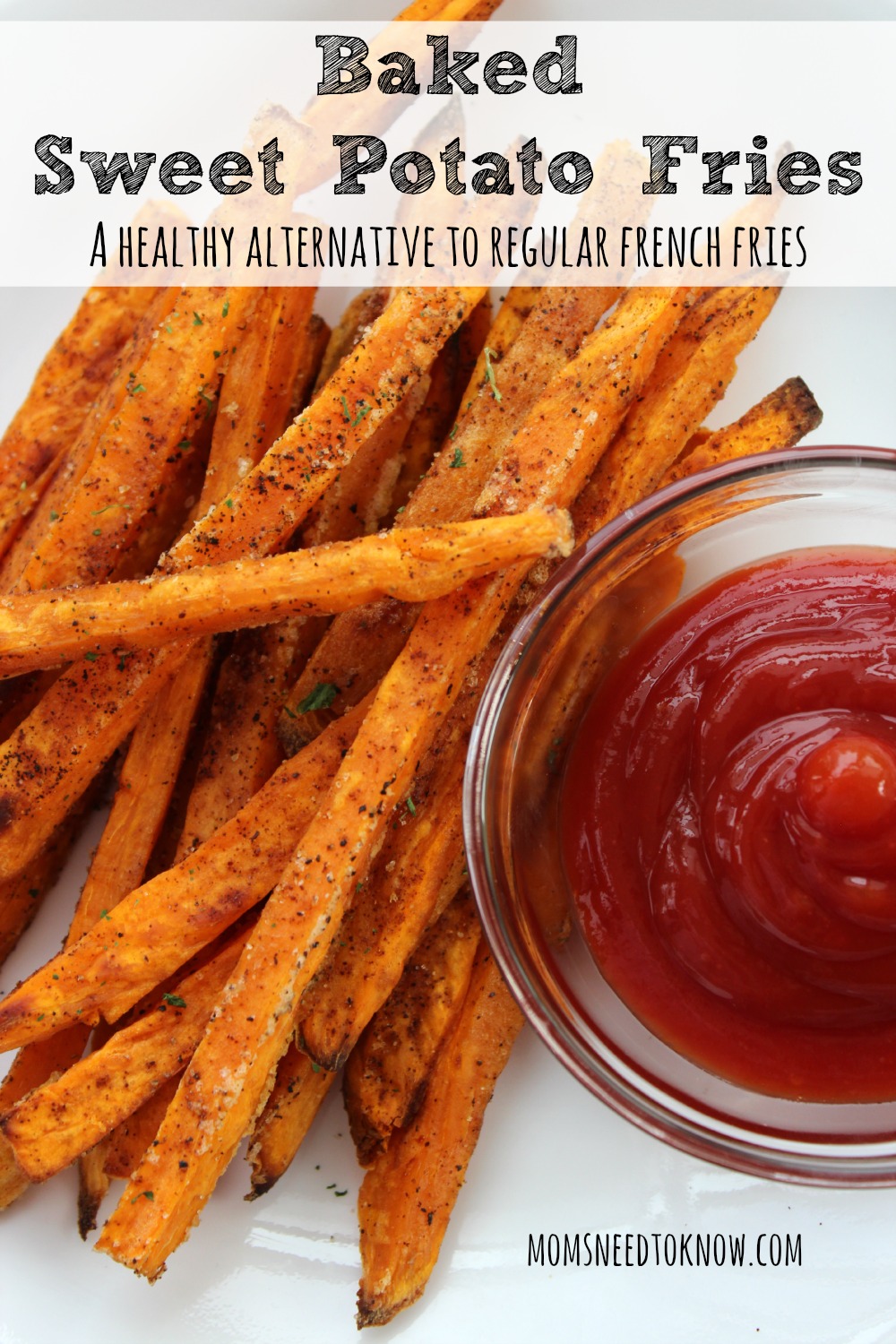 French fries are a big weakness of mine but they are usually fried to within an inch of their lives and made with not-great-for-you white potatoes.  Sweet potatoes have 400% more Vitamin A in them than white potatoes.  They also have more Vitamin C, fewer calories, more fiber and few net carbs than a white potato, despite having more sugar (source). By using sweet potatoes and baking them, you can enjoy your baked sweet potato fries with less guilt!
The choice to peel your sweet potatoes before cutting them is entirely up to you.  I prefer leaving the skin on, both because I like the taste and because that is where much of the fiber is, but the rest of my family prefers no skin.  If you leave the skin on, just be sure to scrub your potatoes really well before you slice them!
If you are trying to be careful about the amount of oil you use, make this recipe exactly as written.....just be sure to keep tossing the potatoes until they are completely coated.  I tend to be lazy and in a hurry sometimes, so I will double or triple the oil/spices so that it is easier to coat.  You end up "wasting" some of the oil that will be left in the bottom of the dish, but that cost is minimal!
To make these baked sweet potato fries, you will need:
Ingredients:
2 lb Sweet Potatoes
2 tbsp Olive Oil
1/8 tsp Salt
1/8 tsp Pepper
1/8 tsp Garlic Powder
1/8 tsp Paprika
Scroll down for the recipe!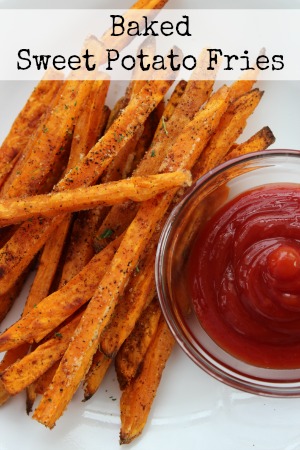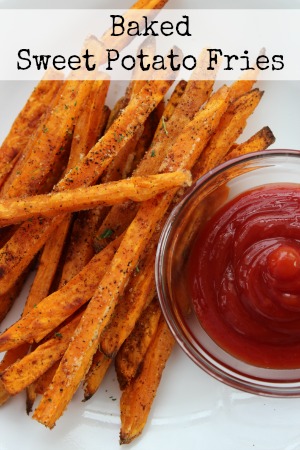 Ingredients
2

lb

Sweet Potatoes

2

tbsp

Olive Oil

1/8

tsp

Salt

1/8

tsp

Pepper

1/8

tsp

Garlic Powder

1/8

tsp

Paprika
Instructions
Preheat oven to 450.

Line a baking sheet with parchment paper.

In a shallow dish, combine oil & spices.

If leaving the skin on, scrub your sweet potatoes really well. If not, peel your potatoes.

Cut sweet potatoes into 1/4" fries.

Toss fries in olive oil to coat.

Spread fries out on a prepared baking sheet.

Bake for 30 minutes, turning occasionally or until fries are browned.