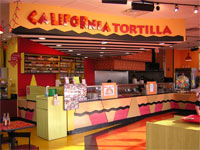 I admit that when they gave out free Tacos on November 4th, I skipped it because when I think "fast food taco", I think of Taco Bell and their skimpy little tacos.  Although California Tortilla may be one of our first choices for quick take-out, we always just stuck to their burritos and never gave the tacos any thought!
But then I got a free taco for voting for California Tortilla in the Shorty Awards (follow them on Twitter - there's still time to vote!) and decided to go get it!
Let me tell you - these are NOTHING like Taco Bell tacos!  Unless you are my husband, one of these tacos is the perfect size for any meal!
So how do you get one?
First, go here to see if there is a California Tortilla near you.
Then just stroll in to your local store on Tuesday January 20th, walk up to the cashier and do a little dance (you don't need to make a little love/get down tonight)
As a reward for your silliness, the cashier will give you a free taco AND a keychain full of savings!