I admit it - I have always been a Windows and an HP gal.
I like the computers, I am used to the operating system and the price is usually great. We have 3 computers in this house and all of them are HPs.
We are looking for a new computer for the kids. They actually have 2 to split between the 3 of them right now, but we need a 3rd computer for them.
I know - I can't believe I said that either.
But these days it seems that they are on the computer more and more. Gone are the days when kids are hand-writing essays and term papers....now they write them online and submit them to their teacher. They spend hours online chatting with their friends and playing games. They stream their television shows and listen to music.
Don't get me wrong - it's not like they are spending all their time in front of a screen...but enough time and they are now old enough that they really do each need their own computer.
Sort of like, when I was in school (back when dinosaurs ruled the Earth), each of us had our own typewriter.
One computer that I am looking at is the HP Pavilion All-in-One Desktop (27-a040se). It takes up very little space (our other 2 computers have "towers" and I think it is time to make a move to an all-in-one to save space).
But most important (to me) is that it has Core i7. A few years ago I got a laptop with an i5 and couldn't believe the difference it made in just about everything I do. When I bought my most recent laptop, I wouldn't even consider buying anything less than an i7.
With an i7, they will have very little "lagtime" in playing their games, streaming their videos or really anything that they do! Combined with the high-quality HD display and touchscreen, it is everything they need!
Luckily, through November 12, 2016, you can save $150 on the HP Pavilion All-in-One Desktop (27-a040se) AND get free shipping! Just head over to the HP website to take advantage of this deal!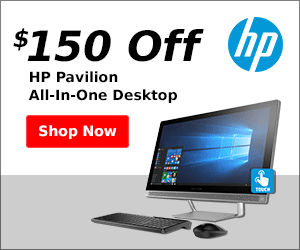 Note: This post has been sponsored by HP, but all opinions are my own - and I am seriously thinking of buying this computer!