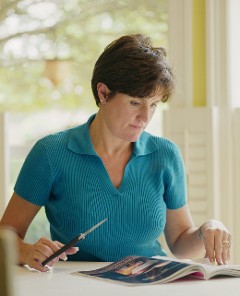 Wow!  After 2 weeks with no coupons (and spending yesterday pulling out all my coupons that expired 12/31/08), they are coming back with a vengeance!  There are FIVE inserts this week! So grab a cup of tea and sit back!
As a reminder, when I list how many papers I am buying, I take in to consideration that I am able to get them at The Dollar Tree for only $1/copy (as opposed to the $1.75 cover price for our area).  To find a Dollar Tree near you, just click here.  I strongly suggest flipping through the papers before you buy them to make sure all the inserts are there.  Many times I have found copies with missing inserts.  Don't worry if they give you funny looks while you are doing this.  I once had an employee come up to me and ask what I was doing and I simply said "making sure that everything that I am paying for is in here" (and don't try to be sneaky about it or it may look like you are snagging inserts out of papers that you aren't paying for!)
As another reminder, I also take in to account that I live in an area of stores with wonderful coupon policies.  Only 1 store limits the number of like-coupons they will double and they all double up to $1 (so a $.99 coupon would have a value of $1.98)
Here's a link to the coupons this week:
Coupons of Note:
Airwick coupons:  $1/2 and B1G1 (there have been lots of Catalina deals with both Airwick and Glade products lately)
Aquafresh Coupons:  while I can't guarantee it, we are due for an ECB deal on Aquafresh at CVS
Bayer coupons:  $1 coupons and half-off mail-in rebate:  if CVS, RiteAid or Walgreens runs a ECB/SCR/RR deal on this, the combination of coupon, rebate and store reward can turn this in to a moneymaker (edited to add:  CVS has a "Buy $15, get $5 deal starting Sunday, so this WILL make it in to a moneymaker)
Boost Coupons:  there should be plenty of sales on these in the next month.  Grocery stores trying to catch all of the New Years Resolution dieters often include Boost & Glucerna products
Campbell's coupons:  Winter is "soup season" and is when the sales are best.  Stock up on soup now to last you through Spring and Summer when there are very few soup coupons/sales
Finish/Electrasol PowerBall Tabs:  $2.50 (WOOHOO!)  This can be found at Target and Walmart for about $3.50, more or less depending on area.  It expires pretty quickly (2/1/09), so I will hold on to it until right up to the expiration to see if I can combine it with a sale or Catalina deal before the expiration.  If not, it still makes for some really cheap dishwashing detergent
Gerber coupons:  rare, so get 'em while you can!
Laughing Cow Cheese Wedges:  $.55 (these go on sale for just under $2, which makes them super cheap, after doubling.  If you are joining me in the Frugal Fat Fighters, the wedges are only 1 Point each!)
Lysol Coupons:  New Years Resolutions include promises to keep a cleaner house and supermarkets know this!  Acme is having a pretty good sale on Lysol products and I'm sure many other stores are as well!
Muellers Pasta:  $.55 coupons:  by watching the sales, you can often find pasta for $1-$1.25/box.  While these coupons do say "Do Not Double", if the UPC code on them starts with a "5", they WILL double unless the cashier overrides it!
Nestle Coffee-mate Liquid or Powder:  it's listed as a $.50 coupon (which will double), but the last time they put one out in my area it was a $1/2 (which won't double)
Nestle Juicy Juice Product:  $.50/2 (wait for this to go BOGO and then get 2 and it will double to $1 off!)
Nicorette, NicoDerm CQ or Commit:  $15 (I think these are only about $23, so this makes it pretty cheap!)
Pop Secret microwave popcorn:  $.50/2 (wait for it to go BOGO, get 2 and it will double to $1 off.  Pop Secret is also often part of a General Mills Catalina Deal!)
Atkins Single Bar:  $1/2 (these are BOGO at CVS starting Sunday and will likely be part of good sales in the next month as stores try to cash in on "New Years Resolution" dieters)
Barilla Plus Pasta:  $1/2 (these go $10 for $10 all the time)
Colgate Total Advanced:  $1 (CVS is always running ECB deals on Total.  With a $1 coupon, you get it free or close to free after ECBs)
Fuze coupon:  $.25 (these go 10 for $10 all the time and are part of the Catalina deal at Acme this week.)
Garnier Nutritioniste:  $1 (there is a deal at CVS starting Sunday where you get a free facial cleaning cloth pack wyb 1 Granier Nutritioniste.  use this coupon to bring down the cost.)
Glucerna coupons:  these are high-value and will come in handy for an ECB deal at CVS
Powerade:  $.40 (these go 10 for $10 all the time, which makes them $.20 after doubling)
SoftSoap:  $.35 (these go 10 for $10 all the time)
Total Cereal:  $.75 (wait for a Catalina deal and this will get you some seriously cheap cereal after doubling)
Welch's Squeezable Jam:  $.55 (wait for it to go 3 for $5 and use this to get it for $.56, after doubling)
 Betty Crocker Potatoes:  $.25 (these go 10 for $10 all the time)
Fiber One Chewy Bars and Nature Valley Granola Bars:  $.50 (these go 3 for $5 and 2 for $4 all the time and are usually part of a GM Catalina deal)
Green Giant Valley Fresh Steamers:  $.50 (these go 10 for $10, making them free after doubling)
Pillsbury Toaster Strudel:  $.35 (these go on sale for as low as 3 for $5, making them VERY cheap – and the Hubs LOVES them!)
Garnier Fructis Shampoo, Conditioner, Treatment; Styling Product:  2 $1 coupons (CVS has an ECB deal starting Sunday and with this coupon it will be free after ECBs and this coupon)
Johnson's Buddies:  $1 (use it for the bars of soap that are about $.97 at most stores to get them free!)
Kellogg's Special K products:  on sale almost everywhere this week and next!
KY, Tucks or Soothing Care:  $3 (CVS frequently runs good deals on KY & Tucks)
Ludens Throat Drops:  $1 (seeing as it is cold & flu season, there should be good sales!)
One Touch Ultra Smart Blood Glucose Montoring System:  $30 (when CVS runs an ECB deal on this, it turns it on to a moneymaker)
Tylenol coupons:  I can almost guarantee that before they expire at the end of March, there will be an ECB deal at CVS, making them free or a moneymaker
All laundry detergent coupons:  these go BOGO all the time
Blink Eye Drops:  $4 (not sure what the price of these is, but I see them listed as on sale or part of an ECB deal at CVS all the time!)
Captain Crunch Cereal:  $.50 (because who doesn't like Crunchberries?)
Hillshire Farms Deli Select Lunchmeat:  $.55 (these go on sale all the time….FYI – if you stock up at a good price, they freeze beautifully!)
L'Oreal Cosmetic coupons:  CVS, RiteAid and Walgreens have deals on these all the time!
L'Oreal Vive Pro Shampoo, Conditioner:  Not as good as the BOGO coupon that was out in September, but CVS & RiteAid do like to run good deals on this!
Perdue Short Cuts:  $1 (wait for a BOGO sale, because these are a little pricey.  They freeze well!)
 Quaker coupons:  we are due for a Catalina Deal on these!
Rice A Roni or Pasta Roni:  $1/4 (not that great of a coupon, but if you are an Acme Shopper, there is a deal where you get $5 off meat wyb 8 Rice or Pasta Roni.  Since that coupon is actually for meat, you can use this coupon to reduce the OOP costs of your "Ronis"
So how many papers would I buy?
If I were building a Stockpile:  12-20
Now that I am in Stockpile Maintenance Mode:  12-20
Why so many?  Because it is weeks like this that help you to maintain your stockpile.  With the holidays being over, it seems that all the stores are kicking off 2009 with huge sales and these coupons are going to help me get a buttload of food at Acme super-cheap by rolling my Catalinas!
I'll race you to the Dollar Tree!