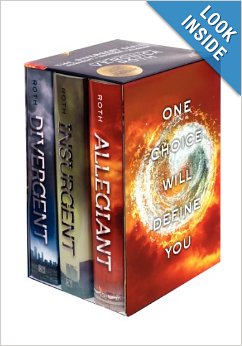 I had never heard of this book series, but apparently it is popular with teens! We went to see the Hunger Games: Catching Fire last night at the movies and apparently the Divergent book series is being made in to a movie because they showed a preview for it - and it looks pretty good!
Right now you can get the complete Divergent Trilogy for just $32.88 and it ships for FREE with Super Saver Shipping on orders of $35+
About the box set:
Veronica Roth's entire Divergent trilogy is available together for the first time, with a bonus booklet about the series. Perfect for gift givers, collectors, and fans new to the series, the complete collection includes the full text of Divergent, Insurgent, and Allegiant, plus "The World of Veronica Roth's Divergent Series," a forty-eight-page booklet including faction manifestos, a faction quiz and results, a Q&A with Veronica Roth, playlists, discussion questions, series inspirations, and much more!
Get the Divergent Trilogy for $32.88!
Please note: Amazon prices can (and do) change at any time
Thanks A Frugal Chick!