Spinach and Kale Pesto Recipe | Use As a Spread or Pasta Toss!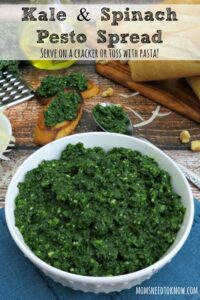 12 large stalks of kale, blanched
Large handful of fresh spinach leaves
6-8 fresh basil leaves
2 small garlic cloves, peeled
¾ - 1 cup of olive oil
½ cup freshly grated Parmesan cheese
½ cup chopped walnuts
Zest and juice of one lemon
Salt and pepper to taste
Add the kale and half of the olive oil to a food processor. Pulse to break down the kale as much as possible, scraping down the sides as needed.
Add the remaining ingredients and blend until they are completely broken down. Add more olive oil as necessary and scrape the sides several times. It took me about 10 cycles of blending and scraping to get mine to a consistency I liked. I added about a cup of olive oil total.
Taste and adjust the seasonings before serving.
Recipe by
Moms Need To Know ™
at https://momsneedtoknow.com/spinach-and-kale-pesto-recipe-use-as-a-spread-or-pasta-toss/