Mini Apple Cheesecakes | The Perfect Portion Control!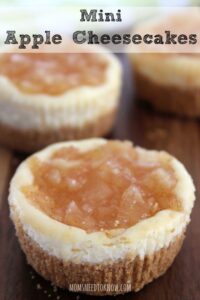 Serves:
9 mini cheesecakes
20 oz can apple pie filling (or pie filling of your choice)
½ cup graham cracker crumbs
2 tbsp butter, melted
8 oz pkg cream cheese, softened
¼ cup sugar
1 egg
1 tsp vanilla
Preheat your oven to 350F.
Line 9 of the cups of a muffin/cupcake pan with paper liners
Combine the melted butter and the graham cracker crumbs, mixing well
Divide the mixture between the 9 lined cups, pressing gently to form the bottom crust
Cream together the cream cheese and sugar
Add in the egg and the vanilla and mix until completely blended and creamy.
Divide the filling between the 9 lined cups (about ⅔ full each).
Put a tablespoon of apple pie filling on top of the cheesecake filling and gently swirl with a knife.
Bake for 20 minutes.
Remove pan from the oven and allow the cheesecakes to completely cool while still in the pan.
Remove cheesecakes from the pan, serve and enjoy!
Recipe by
Moms Need To Know ™
at https://momsneedtoknow.com/mini-apple-cheesecakes-the-perfect-portion-control/