Crockpot Short Ribs | Slow Cooker Recipe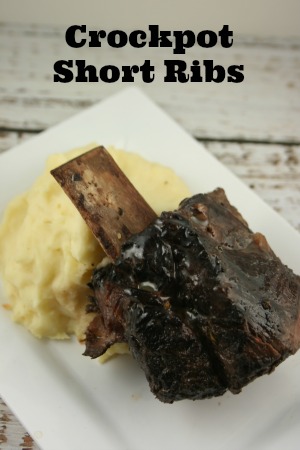 12 pieces beef short ribs
1 Tbsp Vegetable Oil
3 garlic cloves, minced or run through a garlic press
¼ cup diced celery
¼ cup diced onion
¼ cup diced celery
4 Tbsp + 6 Tbsp all-purpose flour
2 cups dry red wine
2 cups beef stock (not broth)
1 cup diced Italian-style canned tomatoes
2 whole dried bay leaves
1 Tbsp fresh chopped thyme
Salt and pepper to taste
Heat oil on medium in large heavy skillet.
Lightly dust short ribs with the 4 Tbsp of flour
Brown short ribs lightly on all sides, about 8-10 minutes
Place short ribs in the slow cooker and discard all but about 2 Tbsp of the oil in the pan.
Add garlic and celery, carrots and onion to the skillet and cook and stir about 3 minutes, until the carrots begin to soften.
Add all-purpose flour to the skillet and stir to combine
Add the wine to the skillet, stirring to scrape up the bits on the bottom of the skillet. Cook for about 5 minutes until the wine is reduced and starts to have a syrup-like consistency .
Add stock to the pan and bring to simmer.
Pour stock mixture over meat in slow cooker.
Add tomatoes, bay leaves and ½ Tbsp thyme
Cover and cook 4-5 hours on HIGH or 7-9 hours on LOW. Transfer short ribs to serving platter. Discard bay leaves and stir remaining thyme into sauce. Season to taste with salt and pepper. Pour sauce over short ribs and serve.
Recipe by
Moms Need To Know ™
at https://momsneedtoknow.com/crockpot-short-ribs-slow-cooker-recipe/