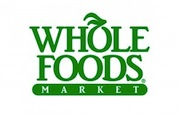 Here are the best deals that I see at Whole Foods this week. Make sure that you check out Coupons.com, SmartSource and RedPlum for any printable coupons that you may need! As a reminder:
Not all stores allow you to stack manufacturer coupons with store coupons.
Get a 10% discount when you buy a case.
Bring your own bags and get $0.10 per bag off your order..
Prices and deals may vary by store.
New to using coupons or don't understand the lingo? Get all the information you need to rock the deals on my New? Start Here! page.
x
Annie's Organic Rising Crust Pizza $9.99
$1.50/1 Annie's Rising Crust Pizza, increase value to $2.50 by sharing
as low as $7.49 each after coupon
Ella's Kitchen Organic Baby Food 3oz $2.19
$1/1 Ella's Kitchen 100% Organic Product
$1.19 each after coupon
Green and Black's Organic Chocolate 3.5oz $3.59
$1/1 Green and Black's Organic Chocolate Bar, 3.5 oz+
$2.59 each after coupon
Florida Crystals Organic Cane Sugar 2lbs. $5.69
$0.55/1 Florida Crystals Natural or Organic Sugar Product
$5.14 each after coupon
Oregon Chai Latte Mix or Tea Concentrate $4.99
$1/1 Oregon Chai Product
$3.99 each after coupon
Rudi's Organic Bread $4.99
$0.75/1 Rudi's Organic Bread (IE)
$4.24 each after coupon
Wasa Crispbread $3.29
$1/2 Wasa Products
$2.79 each after coupon wyb 2
Check out the rest of the deals this week as well as any other special deals at Whole Foods at The Thrifty Mama
Shopping somewhere else this week? Check out the rest of the grocery deals that I have posted!