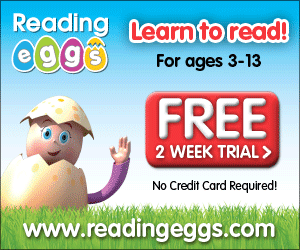 They use this program at my daughters school (at least, I know they did last year when she was in kindergarten) and the kids all seemed to love it!
Right now you can get a free 2-week subscription to Reading Eggs, a program/game that helps your children improve their reading skills in an interactive and fun way.
There is no credit card required to get the 2-week trial and there are no strings attached!
Want more freebies? Check out the other recent freebies that I have posted. Make sure that you also check out my Getting Freebies the Smart Way post to avoid having your email inundated with spam!