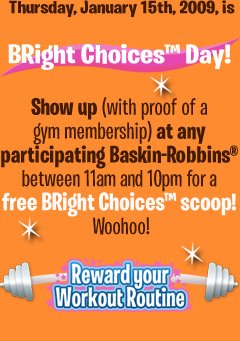 To help launch the new BRight Choices line of lighter ice creams at Baskin Robbins, stores will be giving out 1 free scoop of the new BRight Choices flavors on Thursday January 15th!
To get your free scoop, you do need to show a membership card  for a gym (I'm hoping that the YMCA is good enough) between 11:00am and 10:00pm.
Don't have a gym membership?  Click here for a $1 coupon that you can use instead!
More details here
(I'm trying to figure out the logic of handing out ice cream to people who are trying to lose weight, but still.....)