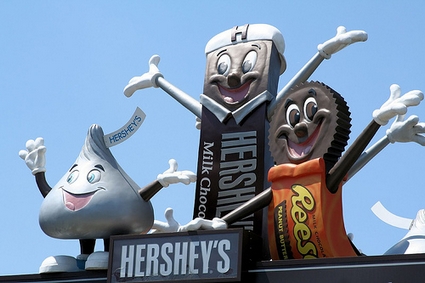 Giant usually has a promo in May or June where you can get free Hershey Park Tickets when you buy certain foods (just like the Gas Points deals, except instead of earning Gas Points, you are earning free tickets), but it looks like they have teamed up with Pepsi to bring you an earlier promo!
Ryan emailed me the following:
GIANT stores in MD, PA, VA, WV should have displays near the entrance OR stuck to the front glass of the drink coolers at the checkout. (I saw them at 3 local GIANT stores in Central PA.)
Get a FREE 2011 HersheyPark Ticket ($53.95 value) by mail when you buy twenty (20) 20oz bottles from the makers of Pepsi at GIANT or Martins.
Must purchase between 4/3 and 4/23. Only a week left to do this deal. Tickets expire 9/25. 2 ticket limit per household (which would be 40 bottles.) Rebate must be postmarked by 5/9 to qualify, and 10 weeks to verify/mail the tickets to you. Valid in MD, PA, VA, WV to 18+.
For each submission, you'll need to mail:
- The entire labels from Twenty (20) 20oz bottles of Pepsi (should work on other Pepsi made products)
- Original register receipt with items/prices circled
If planning to go to HersheyPark this summer, then this deal makes sense. It will save you 30-60% per ticket depending on the sale price of the Pepsi products.
If you are new to this site, check out this post to find out why I am a HUGE fan of the Hershey company
Thanks Ryan!