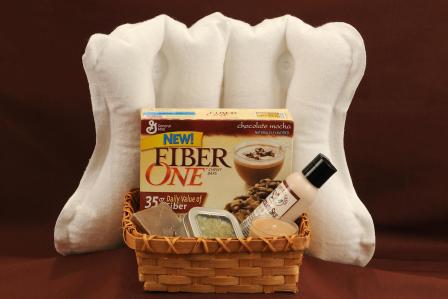 I've made no secret of my love for Fiber One products (including my still-current desire to make out with the person who thought up the Chocolate Toaster Pastries).  The lime and vanilla yogurts are delish and even my children like the muffin mixes.   As for the Raisin Bran Clusters?  Ahh...the Raisin Bran Clusters!  I won't go near any other brand of raisin bran cereal since I discovered that one!
I've also made no secret of my deep love of coffee and my ability to down an entire pot before 8:00am (yeah yeah - I know - I should drink fresh grapefruit juice instead.  As soon as they start growing grapefruits with caffeine, I'm all over that!)
So it seemed only fitting that the people at Fiber One and MyBlogSpark contacted me and offered me a Spa Break Gift Basket (and 3 more to give away) to help launch the new flavor of Fiber One bars:  Chocolate Mocha.  The gift basket arrived on Friday and I promptly tore in to it.
If you like coffee and you like chocolate, these bars are a dream come true!  Biting in to one was like biting in to a chocolate covered coffee bean.  At 140 Calories, only 4 grams of Fat and a whopping 9 grams of Fiber, these are a better alternative for satisfying your coffee/chocolate craving than those 250 calorie/6 grams of fat coffee-shop drinks!
Bottom line?  I've got 3 more of these gift baskets to give away (they will be shipped directly from MyBlogSpark)! 
Included in the basket:
coupon good for 1 free box of Fiber One Chocolate Mocha Bars
Terry Covered Bath Pillow
Chocolate Silk Hand & Body Lotion
Chocolate Scented Soap
Mocha Scented Candle
Chocolate Scented Bath Salts
To enter, simply leave a comment here with your favorite Fiber One product.  Make sure that you use a valid email address (will only be seen by me) so that I can contact you if you are the winner of one of these 3 baskets!
In the meantime, enjoy this coupon for $1.35 off of a box of Fiber One Bars.  These frequently go as low as $2 per box, so this is a great coupon!
Giveaway will end Sunday March 8th at 9:00pm (EST) at which time 3 winners will be picked at random and contacted for their address for shipping the baskets.  The winners will have 24 hours to reply or I will pick a new winner!
Good Luck!