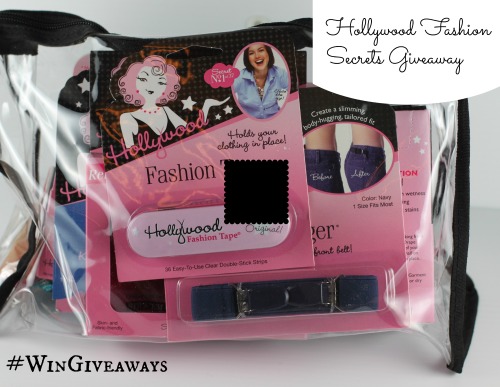 This is the time of year when it seems like everyone is having a party for the Holidays. We get dressed up in our best and head out and then something invariably happens to ruin the perfect look we wanted to have. Hollywood Fashion Secrets has a solution for most of your wardrobe "malfunctions" and their products make great stocking stuffers (or just products that you might want to buy for yourself as we head in to "party season").
Each of the bloggers in the Win Giveaways group (see the complete list at the end of this post for more chances to win all of these giveaways) was given a complete prize pack and asked to focus their post on a certain item. Some of my friends were asked to write about eye makeup remover swabs (which are fabulous, by the way) or a deodorant-removing sponge for your clothes (also fabulous). Me? I got this: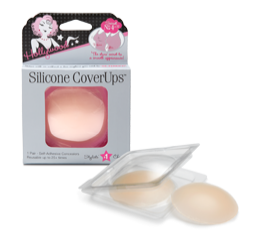 Ok ladies - let's talk about something that we all know happens.....
Once upon a time, I was skinnier and two certain part of my body stood up all by themselves.  Those were the days that I was able to wear all those cute tops and dresses without a bra are gone, but there are still times that I need a a little something to avoid the ummmm...."headlights" look:  at the beach/pool, when I am wearing a sheer bra, etc.  The Hollywood Fashion Secrets Silicone Coverups are designed to help the people you are talking to focus on what you are saying, instead of...umm....other things.  They are self-adhesive and hypoallergenic and can be reused up to 25 times (just use the storage case that comes with the covers).
Bottom line - these nipple concealers "de-perkify" and deliver a smooth contour perfect for going braless. A key essential for strapless looks of the holiday season!
Check out these additional gift ideas for this holiday season:
You can learn more about all of the products listed above by visiting the giveaways posted by my fellow bloggers (see the bottom of this post for all the links).
Find more information about Hollywood Fashion Secrets on their website, Facebook, Twitter or Pinterest. You can also find a list of stores where these products are available here.
The Hollywood Fashion Secrets team is always listening and ready to innovative for women everywhere. Send the HFS team your ideas of new products or needs. Head to HFS to ask the Fashion Fairy Godmother for advice or give them a new product idea.
WIN IT!
1 Moms Need To Know reader will win a Hollywood Secrets Prize Pack, which includes all the of the products listed above!
To enter to win (each counts as a separate entry, so leave a separate comment!)
1. Leave a comment letting me know which of the products listed above you would use the most often.
To increase your chances of winning, there are optional entries available for you, which are:
:: Quick Message to Copy and Paste on Twitter or Facebook ::
Enter to win the Hollywood Fashion Secrets giveaway on @mindicherry at https://momsneedtoknow.com/?p=88695
This giveaway will remain open until Monday, November 25, 2013 at 3:00pm (EST). The winner will be contacted via email and will have 72 hours to contact me. If I do not hear from the winner by that time, a new winner will be selected
Visit my fellow Win Giveaways teammates and enter their Giveaways too!
Good luck!
(and don't forget to check out my other open giveaways!)
Full Disclosure: Hollywood Fashion Secrets gave me a set for review purposes along with another to give away. This post was written entirely by me and was not edited by the sponsor.