Sweet and salty come together with these easy to make salted caramels. Perfect for a little sweet snack or as a great addition to a cookie tray!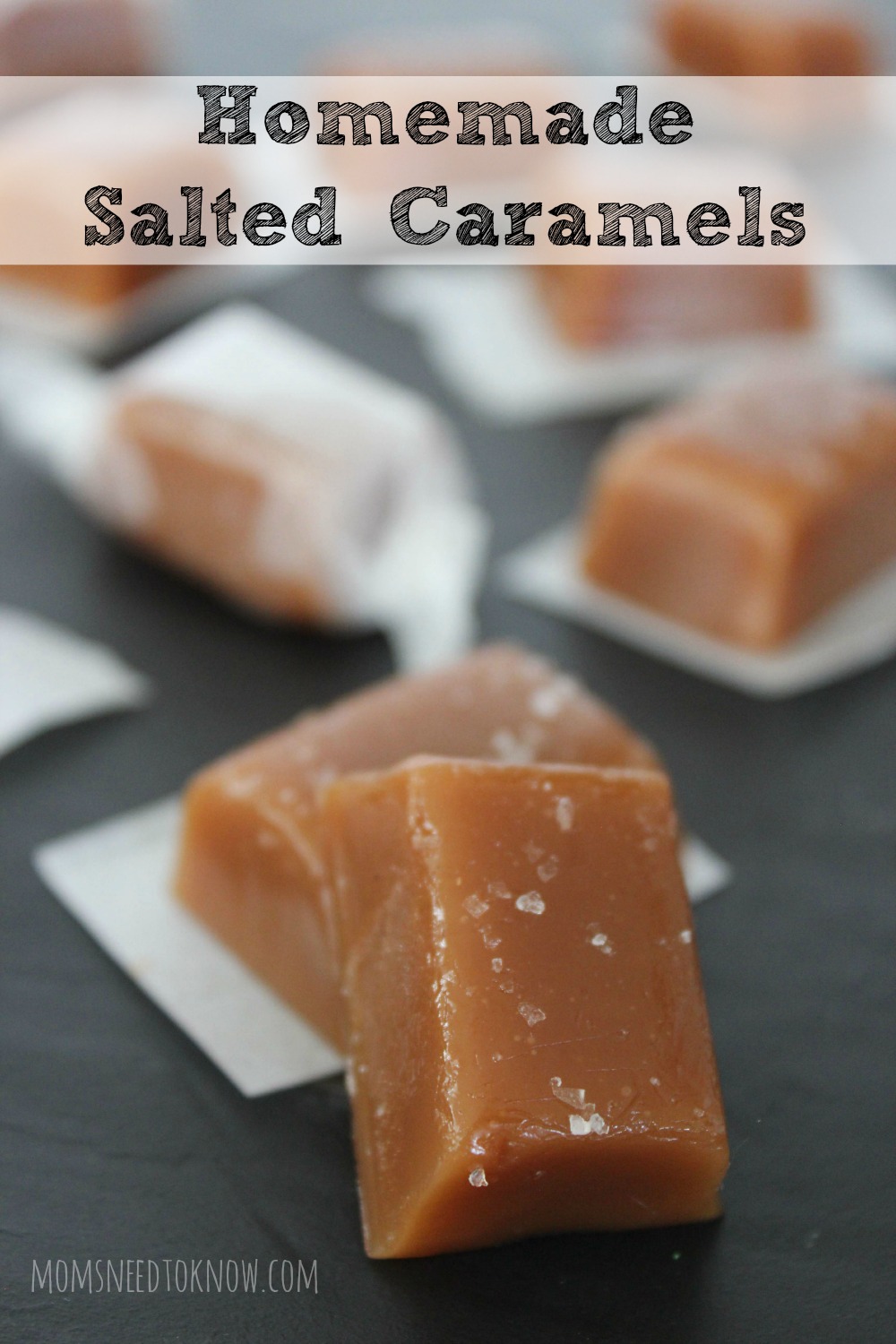 I don't know who ever came up with the idea of adding salt to caramels, but I would love to thank them one day. The combination of sweet and salty is usually delicious (that's why my husband is so happy when I make him some chocolate-covered bacon!)
I do love salted caramels but I can't quite figure out why they are so much more expensive than other caramels (if you can even find them in the grocery store). I can buy a huge bag of caramels for about $1.50 when we are making caramel apples, but throw about 1/2 of $0.01 of salt on those caramels? The price triples! Caramels are just so easy to make and besides - these salted caramels will be a nice addition to the cookie trays that I make to pass out at Christmas!
I've made caramels many times and tasted homemade caramels from others and there is one mistake that many people make that can easily be avoided....when you are first heating up the water, corn syrup and sugar mixture, you want to make sure that you keep the sugar crystals off the side of the pan or else you can end up with some "crunchies" in your caramel. I do this easily by putting the lid on the pot for about a minute as soon as it comes to a boil. This traps the moisture in and "washes" any sugar crystals back in to the mixture.
It's not the end of the world if you have those "crunchies", but most people do prefer the smooth creaminess of caramels without the crunchies!
One last thing - when you are adding the cream and butter to your sugar syrup mixture, make sure to do it very slowly or else you can have a bubbled up mess! Just trust me on this one!
Scroll down for the directions!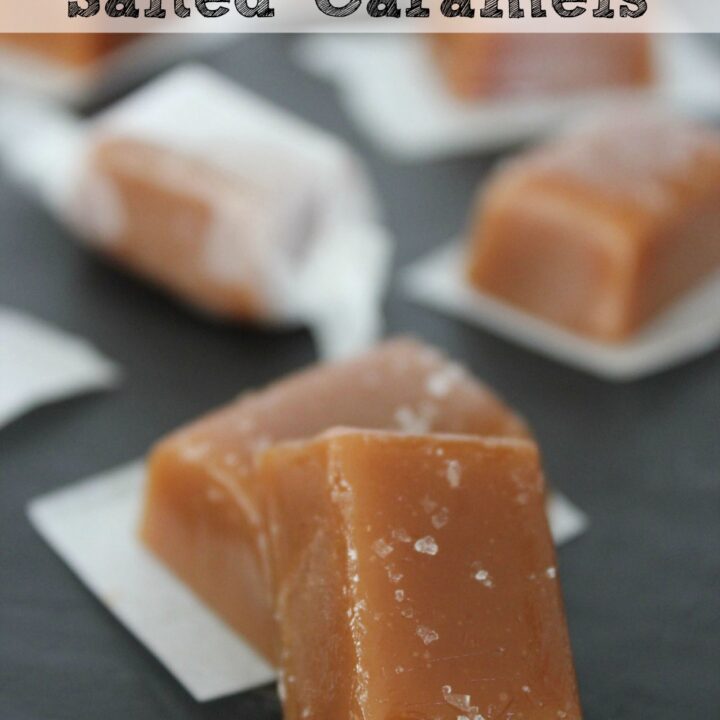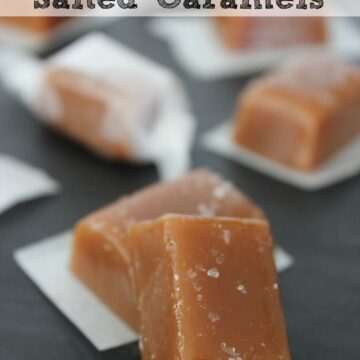 Homemade Salted Caramels Recipe
Sweet and salty come together with these easy to make salted caramels.
Print
Pin
Ingredients
1

cup

heavy cream

1 1/2

cup

sugar

1/2

cup

Butter

1/4

cup

Corn Syrup

1/4

cup

Water

1/2

tsp

Vanilla Extract

1/2

tsp

Course Sea Salt
Instructions
Spray with non stick spray and line an 9×5 loaf dish with parchment so that excess paper comes up the sides.

Cut up butter into slices and combine with cream and microwave 1-2 minutes until butter is melted.

In the medium to large saucepan, combine the sugar, corn syrup, and water.

Stir just until the sugar is moistened and uniform, being careful not to splash sugar on sides.

Heat over medium heat until the mixture comes to a boil.

Cover with a lid for 1 minute (this helps wash any sugar on sides back in).

Remove lid and do not stir the after this point.

Place the pot with the sugar mixture over medium to medium-high heat.

Let the sugar syrup come to a boil without stirring.

Cook until mixture reaches 320, the syrup will begin to darken slightly.

Turn off the heat and slowly add the warm cream and butter mixture a little at a time while gently whisking (will bubble violently).

Turn burner back on to medium-high.

Let the caramel come to a boil and reach 240 without stirring.

Remove from heat and whisk in the vanilla.

Pour into the prepared pan.

Cool 20 to 30 minutes then scatter the salt over the caramel.