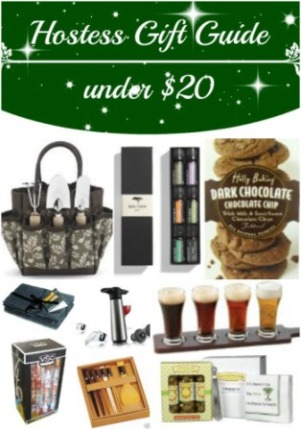 Tis the season for plenty of parties and if you are invited to someone's home for a party or cookie swap, it is just good etiquette to bring a gift for your host or hostess. It doesn't need to be expensive, but it is a nice way to thank your host for their hospitality.
I am usually a fan of just bringing a bottle of wine, but I know that many people don't drink or give alcohol for 1 reason or another. Here are a few gift ideas that you can get for less than $20. You might even want to pick up a few extra to keep in your gift closet for those last-minute gift needs!
(Please note:  prices current at the time of posting this, but could change at any time!)
Hostess Gift Guide under $20

Moon Dance Baking Chocolate Chip Cookies, Dark, 6oz $5.90

Boska Holland Monaco Collection Slate 6.5-Inch by 4.5-Inch Dessert Cheese Board, Set of 4 $17.36

Maynard&Child Premium Variety Gift Pack of Stuffed Olives, Olive Tongs & Cocktail Napkins $17.99

The Swiss Colony Top 10 Rewards Food Gift$14.95

Adorable Brown & Green Floral Garden Tools Tote 6.5″ $14.95

Aromatherapy Top 6 100% Pure Therapeutic Grade Basic Sampler Essential Oil Gift Set- 6/10 Ml $18.65

Vacu Vin Stainless Steel Wine Saver Gift Set $19.22

Japanese Chopsticks Gift Set (Rice Paddle Included) $7.70

Very Special Liquor Filled Chocolates 48 Count Christmas Holiday Gift Box Chocolate Gift Pack $18.64

Craft Brews Beer Flight 6-Oz Clear Pilsner Glass Set, 5-Piece $19.99
What are some of your favorite gifts for a host or hostess?