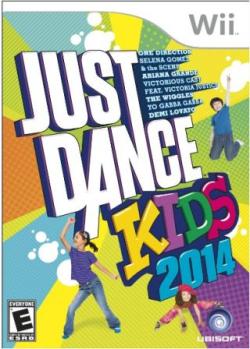 I have 3 children and while two of them just love to go out and play when the weather is nice, my oldest is very hard to pry away from the computer or XBox! And once the weather gets cold?  None of them have any interest in going outside.  Just like their mom, they prefer to stay in out of the cold with a blanket and a book (or remote control)
This makes getting exercise in fairly difficult, especially in the winter and especially when one of them doesn't like to exercise in the first place!
Just Dance Kids 2014 is the perfect way to disguise exercise as fun.  With more than 30 dances with songs geared towards all ages (everything from Yo Gabba Gabba to The Wiggles to One Direction to Kenny Loggins, including some of today's hottest hits), the entire family can get up off the sofa and get their body moving! Since this game is geared towards the entire family, the dance moves are not overly difficult, but more than enough to get your blood pumping!
Just Dance Kids 2014 is available for the Wii, Wii-U and XBox Kinect.  We were given Just Dance 2014 for Kinect and I asked my children to give it a try.  My oldest (the one that I have to beg to exercise) was very reluctant to try (not only does he not like exercise, he also has inherited my husbands "dancing abilities") but agreed to give it 1 song before he gave up.
We started slow with "Fireflies" and by the time we got halfway through it, he was having fun and getting the hang of it.  Once we moved on to "Footloose", he was having a ball.  Best of all, he WON on points against his younger brother and sister!
One great thing about Just Dance 2014 is that you can create playlists from the songs available.  This not only makes it so that you go right from one song to another (which is great to keep the kids moving), but let's it act as an electronic babysitter!  Your children will probably know most of the songs on Just Dance Kids 2014, but just in case they don't, the lyrics are right there for them to sing along (as you can see from my video, my 2 youngest were NOT shy about doing!)
Just Dance Kids 2014 is available at most major retailers and online at sites such as Amazon.com for just under $30, making it a great gift or stocking stuffer!
Have you ever tried any of the Just Dance games?