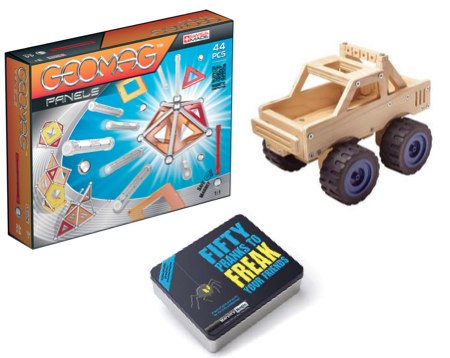 As my children get older, they are less and less interested in toys and games and more interested in video games, electronics and clothes. But one thing that I love is still giving them things that stimulate their mind, imagination and creativity. They do still like building toys and making things and these toys that Reeves sent me are going to be great additions under the tree this year!
I know that Jonathan (my middle one) will just love building the Red Toolbox Monster Truck and this will give him a nice project to work on with Daddy! Thomas will go nuts for the GeoMag Panels and I can see them taking up permanent residence on my kitchen table for a few weeks.
But I have to say - I am a little nervous about giving them the Marvin's Magic 50 Pranks to Freak your Friends Gift Tin. It SAYS they are pranks to play on your friends, but I have a feeling that this will be one of the first toys opened and they will spend the car ride Christmas morning to my mother's house figuring out the best pranks to pull on everyone while they are at Granny's house!
If you are looking for some toys that stimulate the mind and imagination, these would be good ones to add to your list this Christmas!
The toys included in this giveaway are:
Kids construct, then decorate, and then play with their own handmade wooden toy
Encourages teamwork between parent and child as they work together to problem solve
Red Toolbox has multiple levels designed to challenge a range of levels
Red Toolbox toys can be built with mom or dad's toolkit and some glue, but Red Toolbox tools can also be purchased, which are specially designed to fit a child's smaller grip.
Geomag consists of magnetic rods, which, when combined with non-magnetic spheres (balls) and plastic panels, allow the creation of unlimited structures!
There are no limits to what you can do with Geomag; the variety of shapes and their transformations make it possible to renew structures continuously
Stimulates creativity, logic, dexterity, sense of space, and helps teach principles of magnetism and geometry
Marvin's Magic 50 Pranks to Freak your Friends Gift Tin
Includes everything you need to be a professional prankster, all in an amazing gift tin.
Practical jokes and stunts for the truly mischievous!
WIN IT!
1 Moms Need To Know reader will win a Reeves Toy Prize Pack which includes the 3 items above! 
To enter to win (each counts as a separate entry, so leave a separate comment!)
1. Leave a comment letting me know which of the toys listed above you think your children will enjoy the most.
To increase your chances of winning, there are optional entries available for you, which are:
:: Quick Message to Copy and Paste on Twitter or Facebook ::
Enter to win the @ReevesIntlToys giveaway on @mindicherry at https://momsneedtoknow.com/?p=88724
This giveaway will remain open until Wednesday, November 27, 2013 at 3:00pm (EST). The winner will be contacted via email and will have 72 hours to contact me. If I do not hear from the winner by that time, a new winner will be selected
Visit my fellow Win Giveaways teammates and enter their Giveaways too!
Good luck!
(and don't forget to check out my other open giveaways!)
Full Disclosure: Reeves Toys gave me a set for review purposes along with another to give away. This post was written entirely by me and was not edited by the sponsor.