After many tries and many different recipes, I have finally found the ultimate creamy macaroni and cheese recipe! It is so easy to make and absolutely delicious!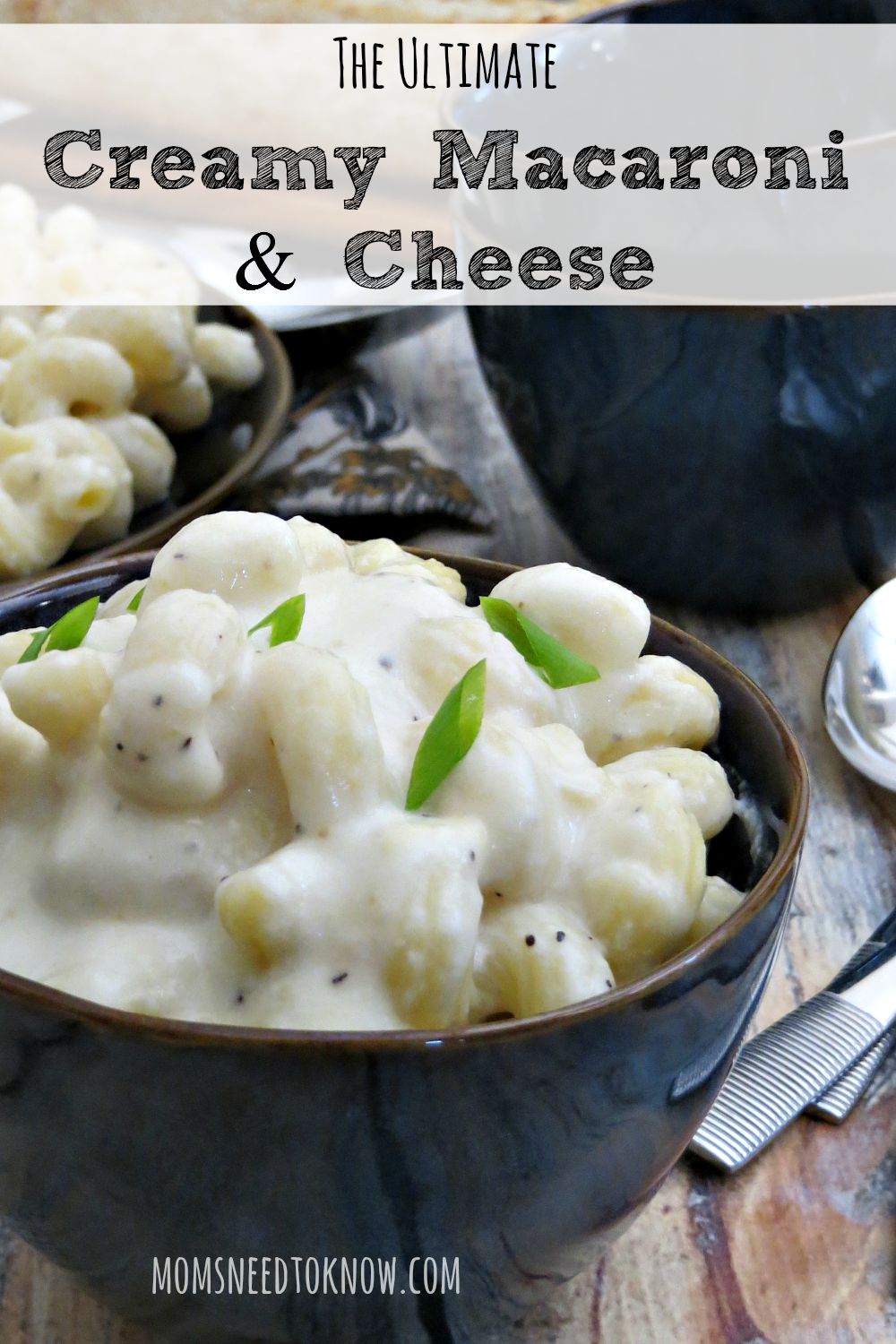 As I have mentioned before, I have been on a sort of "quest" to find the ultimate creamy macaroni & cheese recipe. It is one side dish that the entire family loves, but I stopped buying the "blue box" a long time ago and have been trying to create something that they enjoy just as much.
The really do like my creamy crockpot mac & cheese, but that uses canned cheese soup and I wanted to get away from using that as well (too processed) and have yet to try making my own "condensed cheese soup recipe". My first attempt at creamy homemade baked macaroni & cheese was a hit with 2 of my children, but my husband and daughter weren't crazy about it.

I changed up the cheeses for this one and didn't bake it this time and I think we hit the jackpot! This is one recipe that everyone loved!
A few tips:
If your cheese sauce becomes grainy or breaks, it's usually caused by a few things:
Overheating the milk/cheese mixture is the most common, so be sure to remove it from the heat and melt the cheese in slowly.
Over whisking while adding the cheese is another mistake. Slowly and steadily stir with a wooden spoon while the cheese is melting.
Never use pre-shredded cheese as it's coated with a wax that results in a grainy sauce.
If your sauce is too thin, add more cheese to thicken it up. Parmesan is a great thickener, but keep in mind that adding too much can also cause the sauce to be grainy. If your sauce is too thick, just add some more milk or half and half.
Feel free to change the types of cheese up to suit your tastes. Macaroni and cheese purists swear by just cheddar, while those who are more adventurous use up to five or six different kinds.
You could even make this in to a complete meal by adding in some steamed broccoli, cooked bacon, peas, ham or even grilled chicken!
Scroll down for the recipe!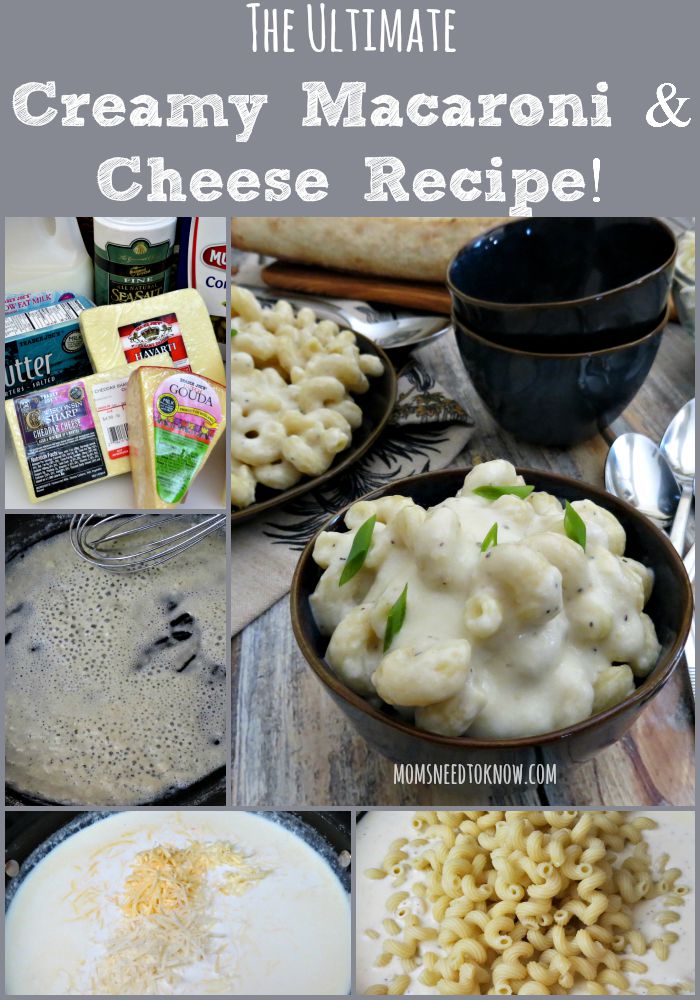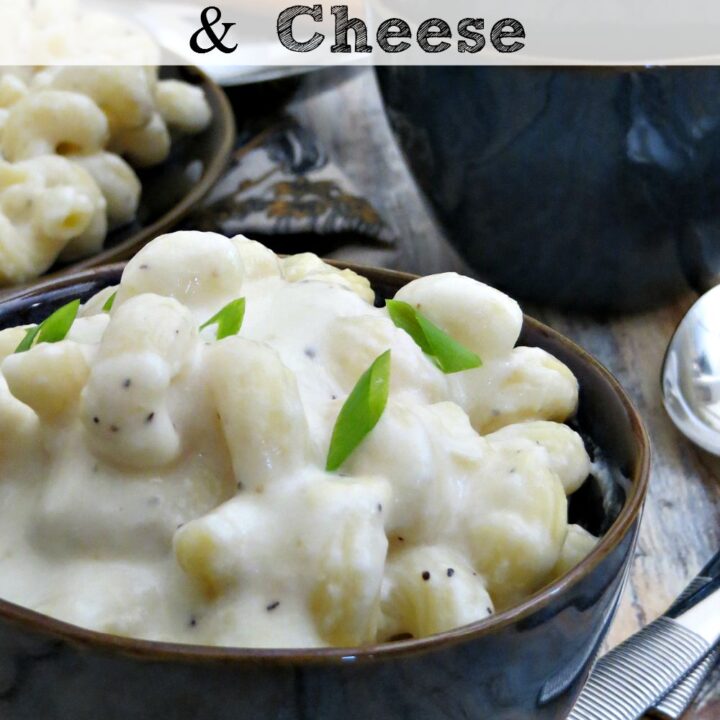 The Ultimate Creamy Macaroni and Cheese Recipe!
After many tries and many different recipes, I have finally found the ultimate creamy macaroni and cheese recipe! It is so easy to make and absolutely delicious!
Print
Pin
Ingredients
16

ounces

pasta

any shape

4

tablespoons

butter

4

tablespoon

flour

2

cups

milk

1/2

cup

half & half

1/2

cup

shredded sharp white cheddar cheese

1/2

cup

shredded Gouda cheese

1/2

cup

shredded Havarti cheese

1/2

cup

grated Parmesan cheese

1/4

teaspoon

salt

1/2

teaspoon

pepper
Instructions
Cook the pasta according to the directions on the package, drain and set aside. Be careful not to overcook it. I actually prefer it al dente, which means firm to the bite. You can achieve this by under-cooking the pasta by a couple of minutes.

In a separate pan, heat the butter and flour over medium heat. Cook for 4-5 minutes, stirring frequently. You want this to be smooth and golden brown in color.

Slowly add the milk to the flour/butter mixture, whisking constantly. Continue cooking and whisking over medium heat until the mixture becomes thick enough to coat the back of a wooden spoon. Add the half and half and heat for one minute longer.

Remove the pan from the heat and add all of the cheese 1/2 cup at a time, stirring slowly and constantly with a wooden spoon.

Taste the cheese sauce and add salt and pepper to your liking.

Mix in the pasta, stir to thoroughly combine and serve immediately.