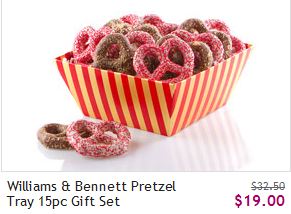 Do you still have your $20 Rue La La credit (no longer available) sitting in your account?
Check out the Williams and Bennett sale that is going on at Rue La La right now.  They have some really nice candy/cookie gift baskets priced at $19.  With the credit and after shipping ($9.95), you can get them for as low as $8.95 shipped!
I still had a credit, so I just picked some up for my childrens' teachers for their Christmas gifts!
(cough cough - and I know some of their teachers past and present read this site so I am NOT saying which one I bought!)
Check out the Rue La La site to see the entire selection!