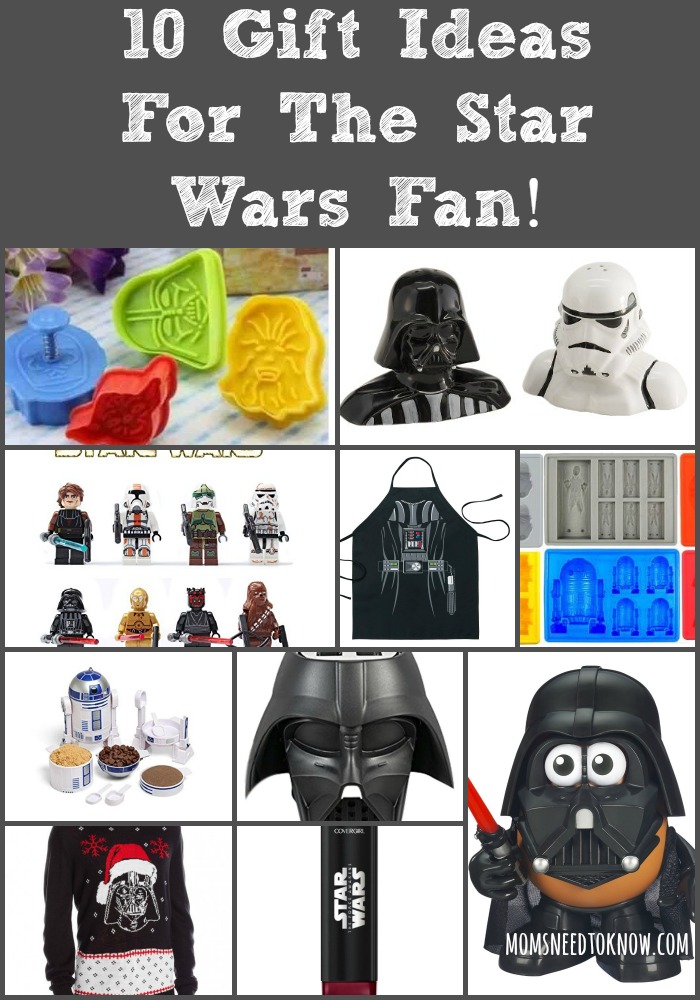 We are so excited for the release of the new Star Wars movie in this house! My husband and I remember watching the very first Star Wars movies in the theaters as children (we are OLD!), own all of the movies on DVD and can't wait to take our children to see The Force Awakens!
Because we love the Star Wars movies so much, we aren't ashamed to "Geek Out" and have some fun! If you need a gift idea for the Star Wars fan in your life, here are 10 items that they are sure to love!
See all of my Holiday Gift Guides at the end of this post + stay tuned for more guides to be posted in the next couple of weeks!

1.
- Jollylife Star Wars Silicone Ice Tray Set of 6 - use these molds to make candy, chocolates, ice cubes, candles and even crayons! Includes: 1 Darth Vader, 1 Stormtrooper, 1 Millenium Falcon, 1 X-Wing Fighter, 1 R2-D2 and 1 Han Solo Carbiner. Safe for use in freezer, fridge, dishwasher, oven, microwave
2.
- Star Wars Darth Vader Apron - The Star Wars Darth Vader Apron is an officially licensed character apron made of 100% cotton. The apron bib measures 31.5" long without straps and is one size fits all. Machine washable. Printed in the USA.
3.
- Playskool Mr. Potato Head Star Wars: Darth Tater Toy - Comes with all mix-and-match parts to make the famous Star Wars villain. Potato body comes with 1 pair of eyes, 2 arms, pants with feet, mask, helmet, lightsaber accessory and cape (and if you really want to go nuts, you can combine it with the Mr. Potato Head Spudtrooper and the Mr Potato Head Luke Frywalker!
4.
- Exclusive Star Wars R2-D2 Measuring Cup Set - Limited Edition - these measuring cups are definitely on my Wish List this year! I'm not sure if I actually want to use them or just display them on my kitchen counter!
5.
- Star Wars Darth Vader Toaster - this will look great on the counter at any Star Wars fans house!
6.
- Star Wars Darth Vader and Stormtrooper Salt and Pepper Shakers, Black/White - These hand painted, sculpted ceramic salt and pepper shakers are both fun and functional. Packaged in a full color gift box, this set makes the perfect gift for that ultimate Star Wars fan
7.
- CoverGirl Star Wars Limited Edition Colorlicious Lipstick, Red No. 30, 0.12 Ounce - Unleash the light within or dare to discover your dark side with a colorlicious shade from the Star Wars Limited Edition Collection
8.
- Star Wars Figures 8pcs/lot Building Bloks Sets - get the most popular Star Wars characters at a great price. While not LEGO brand, they are compatible with your LEGO sets!
9.
- 4 pcs Star Wars Cookie Cutters - Ideal for sugar paste, petal paste, marzipan and craft clays Characters include Darth Vader, Yoda, Chewbacca & C3P0.
10.
- Star Wars Men's Vader Claus Sweater - the way I see it, if you are going to go out and buy an "ugly Christmas sweater", you may as well go all out.
Do you have any more ideas for a gift for the Star Wars fan in your life?
See the rest of my Holiday Gift Guides:
12 Gift Ideas for Dad - coming soon!
12 Gift Ideas For Mom - coming soon!
12 Gift Ideas for Your Husband - coming soon!
12 Gift Ideas For Your Holiday Party Host - coming soon!
12 Gift Ideas For the Computer Geek In Your Life - coming soon!
12 Gift Ideas for Someone Who Loves to Bake - coming soon!
12 Gift Ideas for the Coffee Lover - coming soon!
(a huge thanks to A Frugal Home for compiling this list!)