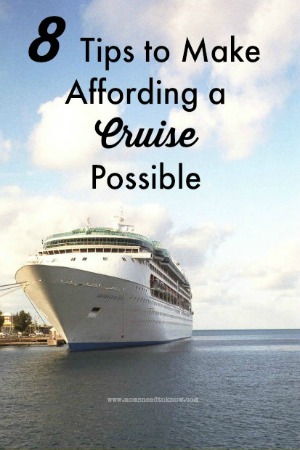 Would you love to take a cruise but are afraid it's just out of reach financially? Cruises are in reality one of the most inexpensive vacations people can take. They are also a ton of fun. We took the family on a Disney Cruise last year and we all still consider it the best vacation that they have ever had!
With a little bit of planning and research you can be on your way to an amazing getaway!  Here are some tips on affording a cruise:
Plan Ahead - You've seen lots of lists online stating when the best time is to book airfare or a hotel room to see the best prices. When it comes to cruises, booking far in advance can yield the best savings, especially if you have a family. Even 12-18 months out is not too far in advance to make reservations. Start planning your vacation and doing your research now and you can save a bundle!
Subscribe to Newsletters - Sign up to receive newsletters from cruise lines or travel websites that interest you. They regularly send out specials like "kids sail free" or free onboard credit. If they have any last minute specials you'll find out about them first through these newsletters. You can also like their Facebook pages to discover promotions.
Pay as you Go - One of the best features of paying for a cruise is that you don't have to pay the entire balance at once. When you make a reservation you can pay a deposit and then pay as you go. Most final payments are due by 60 days before sailing. This is a great way to space out payments without putting the trip on a credit card and having to pay interest. If you can pay the total at once, you may be able to get a discount as well. Call the cruise line to find out what's available.
Book an Interior Room - The least expensive rooms on a ship are the interior rooms. The downside is you won't have a window but if all you plan to do is sleep in the room you won't really miss out. Before sailing or when you check in ask if there are any complimentary upgrades available. If rooms haven't sold you may be able to move into a better room for no additional cost!
Be Flexible - You'll get the best price on a cruise if you can be flexible. Cruising around holidays and school vacations will be the most expensive. Caribbean cruises in the spring will be expensive, but if you can go in summer you'll likely find better deals. European cruises in the winter will also net a big savings. It may not be ideal but it can save a lot of money.  We went on a cruise to the Bahamas in August and I can honestly say that the only "bad" day that we had was when we were in port at Nassau. We chose not to do a shore excursion (see below for why) and instead spent some time walking around doing some shopping and taking a quick carriage ride, then we went back to the ship to enjoy the pool.  It was HOT (but not miserable).
Seek Alternative Departure Ports - There are numerous ports in the United States to depart from however most cruises leave from Miami or Ft. Lauderdale. Instead consider leaving from Galveston, Texas, New Orleans, or even Puerto Rico. Not only can you save on the cruise but you also may save on airfare to get there.
Limit Shore Excursions - A big cost in cruising is the port activities. When we went on our cruise, most of port excursions were about $150 - $200 per person! With a family of 5, that could have added up to $1000 to our trip for just a single day! Instead of choosing an activity at every port, pick just one or two activities, and spend the other days and time exploring on your own! Check to see if your cruise still has a full itinerary on port days as this is often a great way to do some of the activities on the ship that are often more crowded!
Stick With What's Included There are lots of ways that cruise lines can add to the cost of your vacation. It's easy to rack up a bill before you know it. Instead of buying lots of fancy drinks or eating in the specialty restaurants stick to the food and drink choices that are included. You'll save a lot of money this way. If you know that you will want to have beer or wine on your cruise, check to see if your cruise line will allow you to bring your own (to enjoy in your room or for a corking fee in the restaurants).
With a little bit of planning and enough lead time you can have a wonderful cruise experience without breaking the bank!
Do you have any other tips on affording a cruise to add?