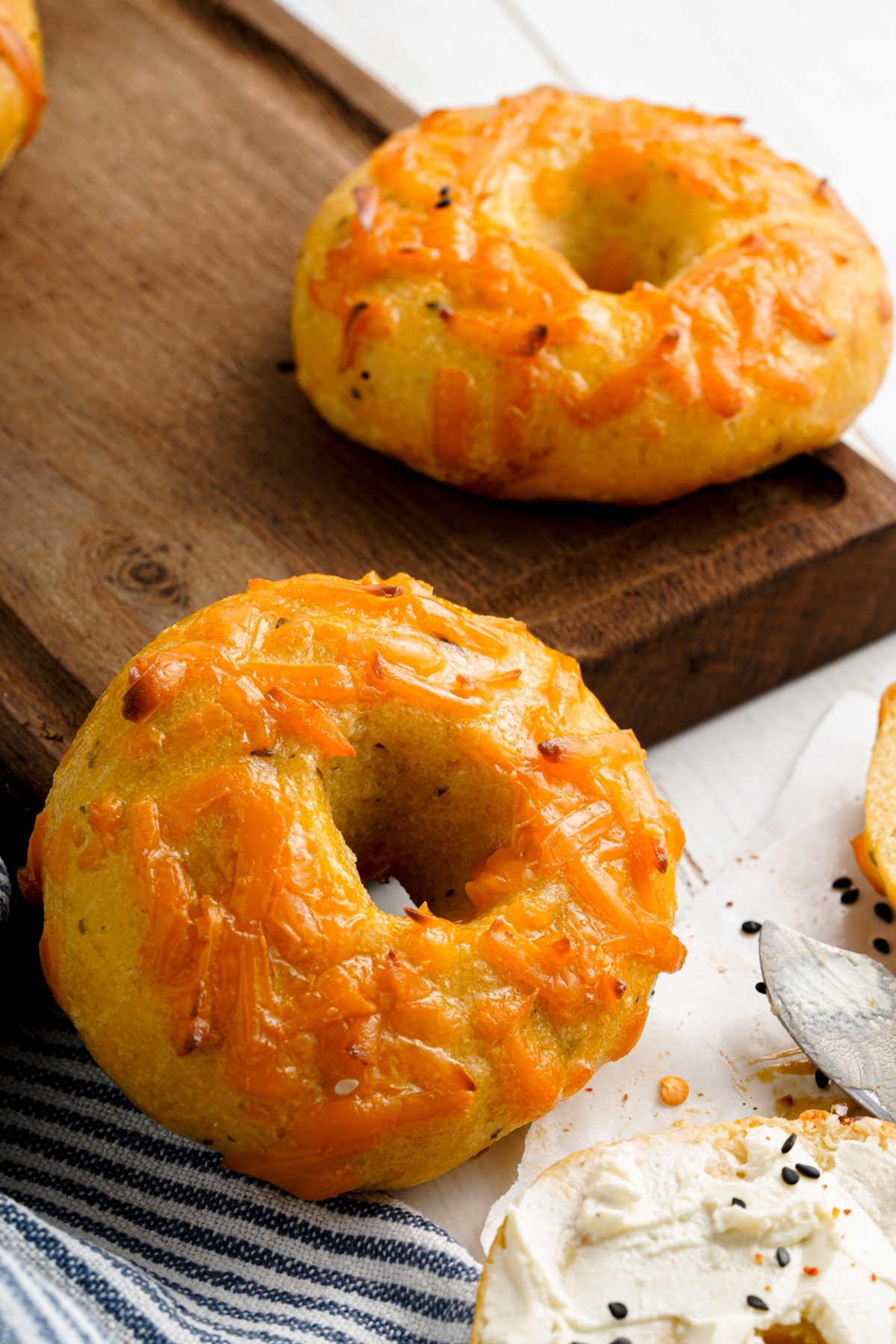 This keto bagels recipe makes the best gluten-free low carb bagels! They are chewy, dense, delicious, easy to make, and are ready in less than an hour! There is no yeast and no boiling needed.
Jump to:
We've gone through a bunch of changes in my house since my boys left for college. First my daughter became a vegetarian. Then she was trying to watch her carbohydrates (because when she first gave up meat, she was eating nothing but pasta and she gained a few pounds). Now she is trying to follow a keto diet.
The problem is, she absolutely loves bagels...bagels with cream cheese, bagels with butter and cinnamon, using a bagel to make a sandwich...you name it! There is a store near us that DOES sell ketogenic bagels however they want about $1.50 each for them and there was no way I way paying that!
The Ingredients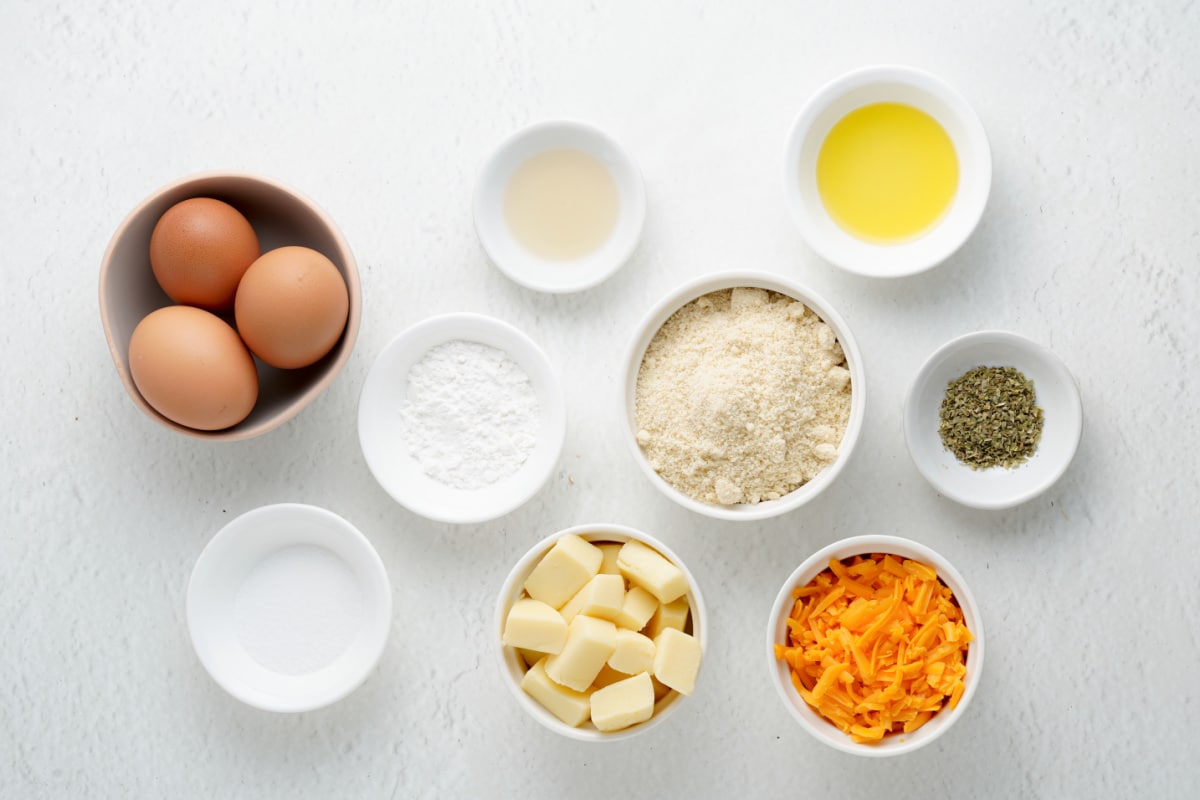 The ingredients for this keto bagels recipe are pretty simple and chances are that you already have everything you need in your kitchen!
almond flour
eggs (at room temperature)
shredded mozzarella cheese
olive oil
apple cider vinegar
baking powder
salt
oregano
your choice of your favorite bagel topping: cheddar cheese, poppy seeds, everything bagel seasoning, sesame seeds, onion flakes, etc
What do keto bagels taste like?
Despite this keto bagel recipe being mostly made with almond flour and cheese, the finished bagels will taste nothing like almonds or cheese.
You should find that the texture and flavor should be very similar to the type of bagel that you buy in the bread aisle of the grocery store. They won't have the crispy outer crust that a "true" New York-style bagel has, but if you toast them, they will have plenty of crunch.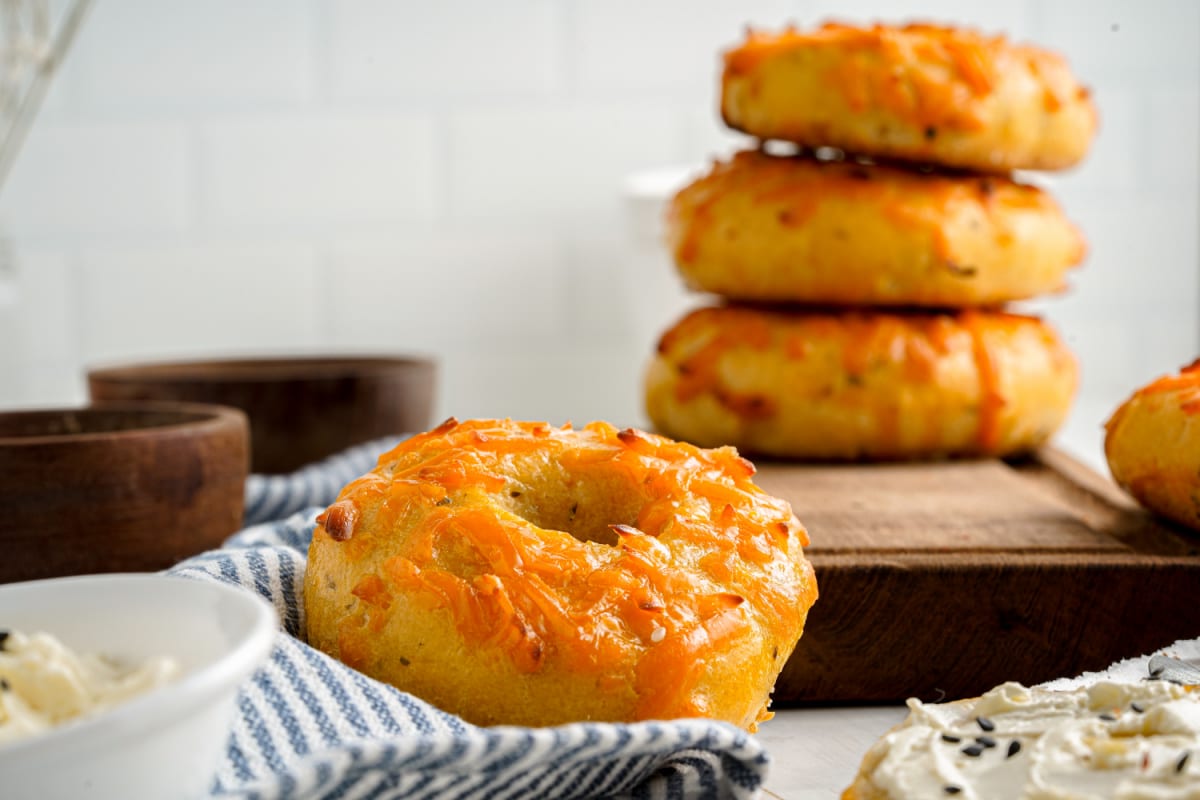 Fathead Dough vs Cheese Dough
I call this dough a "cheese dough" because I had never even heard of Fathead Dough until after I made this keto bagel recipe! I now know that Fathead Dough is a "staple" of keto recipes. This recipe is a tweak of something my daughter found on TikTok!
From everything I learned since my daughter went Keto, the entire purpose of the cream cheese (or butter) in Fathead Dough is because is helps the cheese mixture become creamy.
I found that it was plenty creamy with olive oil!
Going forward, I will probably make more with Fathead Dough...but for now, this keto bagel recipe just works!
Almond Flour or Coconut Flour?
We used almond flour for his recipe because that is what we had in the kitchen. I know that many people prefer coconut flour.
If you choose to use coconut flour, you will need to reduce the amount of flour as coconut flour tends to absorb more moisture. Coconut flour also tends to make a slightly sweeter dough.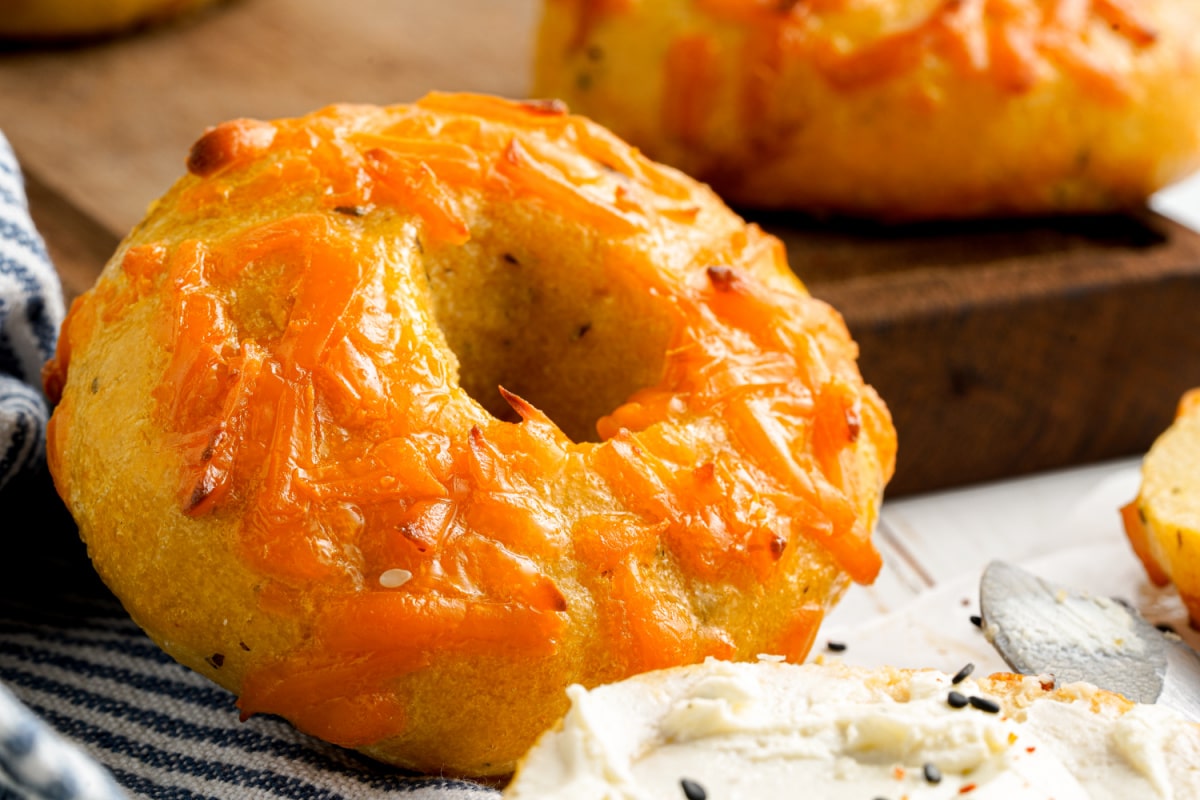 Tips for making the dough
You can either melt the mozzarella in a non-stick saucepan on the stove, or in a microwave safe bowl in the microwave.
If you don't have a food processor then you can can use a high-powered blender or a stand mixer. Just make sure to pulse (or mix) until the batter is very smooth!
I put oregano in the dough because I love oregano...but you can easily substitute your favorite spice. Onion powder or garlic powder would be a nice substitute. My daughter once added chia seeds because she wanted to up the fiber!
Topping Suggestions
I chose cheddar cheese because that is what we were on the mood for that day. You can substitute everything bagel seasoning, poppy seeds, sesame seeds, etc. It's all up to you!
Storing and reheating
Store in a Ziploc bag for 3-4 days.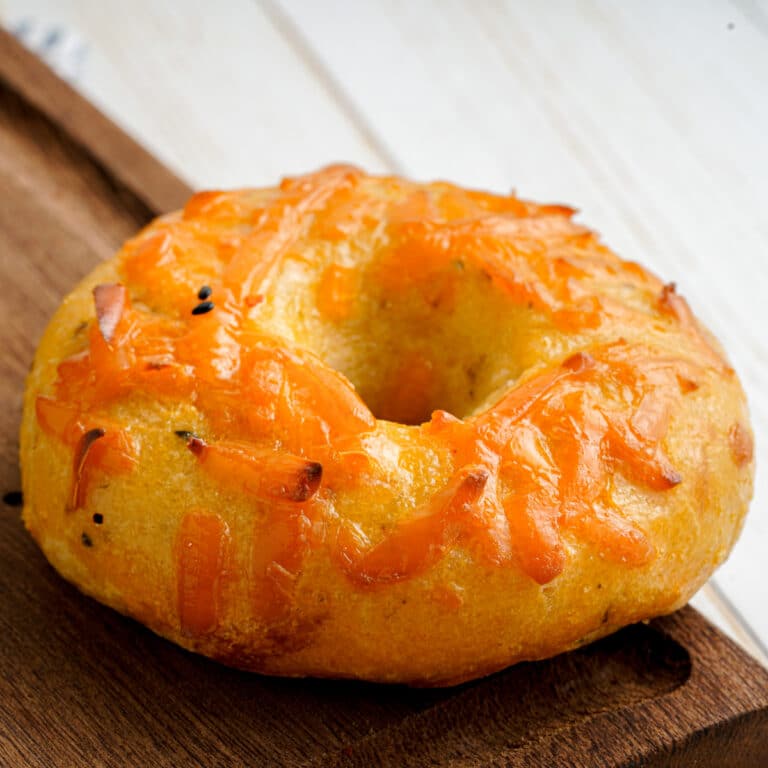 Easy Keto Bagels Recipe
This keto bagels recipe makes the best gluten-free low carb bagels! They are chewy, delicious, easy to make, and are ready in less than an hour!
Print
Pin
Equipment
Ingredients
For the bagels
2 1/3

cup

Almond flour

3

eggs

room temperature

1

tbsp

olive oil

9

oz

mozzarella cheese

shredded or cubed

1

tbsp

baking powder

1

tsp

garlic powder

1/2

tsp

apple cider vinegar

1

tsp

salt

1

tsp

dried oregano

optional
For the topping
1

egg yolk

room temperature

1/2

cup

shredded cheddar cheese

optional

3

tbsp

everything bagel seasoning

optional

3

tbsp

sesame seeds, poppy seeds or dried onion flakes

optional
Instructions
Line a baking sheet with parchment paper
Make the bagels
Beat the 3 eggs in a medium bowl with the vinegar, garlic powder, baking powder, oregano and salt

3 eggs,

1 tbsp baking powder,

1 tsp garlic powder,

1 tsp salt,

1 tsp dried oregano,

1/2 tsp apple cider vinegar

In a small non-stick saucepan or skillet, combine the mozzarella and olive oil. Heat over medium heat until the cheese is melted. (you can also do this in a bowl in a microwave). Allow to cool slightly.

1 tbsp olive oil,

9 oz mozzarella cheese

Add the egg mixture and the melted cheese to a food processor or high powered blender. Pulse until you have a smooth batter.

Transfer egg/cheese batter to a medium bowl and add the almond flour. Gently stir until it forms a soft dough. The dough will be slightly sticky, but shouldn't be too wet.

Test the dough by taking some and forming a ball with it. If the ball won't keep it's shape, return the ball to the bowl and add more almond flour, a tablespoon at a time, until you are able to form a stable ball ** NOTE: you don't want a "dry and firm" ball..just one that doesn't immediately collapse! **

Divide the dough in to 6 equal portions.

Form the bagels by rolling each piece in to a ball, then press to slightly flatten it. Use your finger to poke a hole in the middle of the dough

Set the bagel on the prepared baking sheet.

Beat the egg yolk and brush the tops of the bagel with the yolk

Sprinkle tops with cheddar cheese, poppy seeds, everything bagel seasoning, onion flakes or topping of your choice.

Bake for 20 minutes or until golden brown and an inserted toothpick comes out clean.

Allow to cool slightly before transferring to a plate.
Storage
Bagels will keep for up to 3 days in a Ziploc bag.
Notes
About the mozzarella cheese: 9 oz of mozzarella cheese is slightly more than 1/2 cup. When I was making these keto bagels, 1/2 cup of cheese was too little, and 2/3 of a cup was too much. If you don't have a food scale, just slightly overfill a 1/2 cup measuring cup with the cheese! Storing leftovers: these keto bagels will keep in a Ziploc bag for about 2-3 days on the counter or up to a week in the fridge Reheating: after a day or two, the bagels will be less soft. Simply reheat them in a microwave or toaster