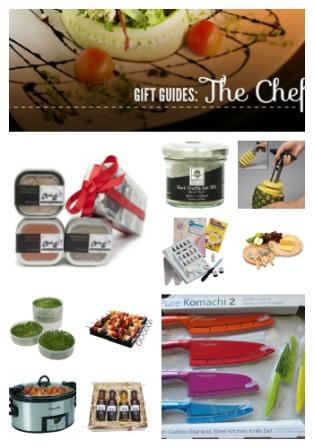 Everyone has that one person for whom it is just so hard to find a gift (both my mother and my father are on that list!).  If you have someone on your list that likes to cook (or eat), here are some suggestions for you! (Please note:  prices subject to change!)
Gift Guide for the Home Chef

Stainless Steel Pineapple Easy Slicer, Corer $4.40
 - I used to think that these things were stupid, until I bought one.  No more little pieces of the rind in my pineapple!

Victorio VKP1014 4-Tray Kitchen Seed Sprouter $16.95
 - perfect for the checf looking to start their own kitchen herb garden!
4 Pack Gift Set Pinky's Kitchen Gourmet Variety BBQ Sauce Blends (12 fl oz each) $35.00
 - this would also make a great housewarming or hostess gift!
3 Pack Pinky's Kitchen Gift Set Variety Gourmet Spice Blends (8 oz each) $18.90
 - this TOO would also make a great housewarming or hostess gift!

Crock-Pot SCCPVL610-S Programmable Cook and Carry Oval Slow Cooker $49.89
 - I love this one because of the things (that's a technical term) to keep the lid in place!

Kai Pure Komachi 2 6-Piece Knife Set 6 Stainless Steel Knives Colored Sheaths $37.50
 - this would also be great for the recent grad or newlywed setting up their home!

Selezione Tartufi Black Truffle Salt 10%, 3.5oz $20.78
 - this stuff is AMAZING.  Keep it right next to the stove for seasoning while cooking!

Artisan Cheese Making at Home: Techniques and Recipes for Mastering World-Class Cheese $12.79
 - this is one of my goals in life - to eventually learn how to make my own cheeses!

Picnic Time Circo Cheese Set $19.99
 - anyone who entertains needs to have a proper cheeseboard and cheese knives!

Wilton 2104-2546 53 Piece Supreme Cake Decorating Set $26.06
- I really think that anyone who bakes needs to have even the most basic of cake decorating sets. I use my set for everything from icing to whipped cream to my Halloween Deviled Eggs!
Do you have any other suggestions for gifts for the home chef?