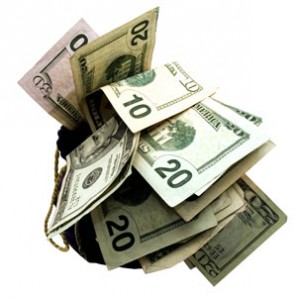 If you are trying to get out of debt, you may be following Dave Ramsey and his Total Money Makeover or some variation of his advice.
When I first bought the Total Money Makeover 6 months ago, I read it in two days and told Brad "This is what we are going to do!".  He was on board with everything except Baby Step 1 - Building a Baby Emergency Fund of $1000.  He didn't see a need for it and he wanted to skip straight to Baby Step 2 - The Debt Snowball.  After much discussion and me telling him that this is what I needed to feel secure, he agreed.
And our $1000 has sat in the bank since that day.  A few times he has mentioned using it for something (like Christmas Shopping or even just putting it toward the one credit card to speed up our Debt Snowball) because "nothing has happened" to us, but I held firm.
Events in the last 2 weeks have shown me how important that fund is!
As you may remember, we now operate on a cash system in our house and as part of our Total Money Makeover, we have every single dollar that comes in to our house budgeted, with every extra dime going to paying off our credit card & cars (which will be complete with our tax return this year).  We DO live paycheck to paycheck, but that is because I have budgeted us as such in order to pay off our debt.  Of course, if something is coming up we can (and do) rework the budget, but my husband gets paid every other Friday, I go to the bank and cash a check for our expenses for 2 weeks, pay bills on Saturday and then the cash that I took out of the bank on Friday is all we have until the next paycheck.  This has worked fine for us (although my sister thought I was a bit odd when we were in Indiana and I only spent $40 at Hobby Lobby...we LOVE that store and it has always been a several hundred dollar shopping spree for both of us when we go to Indiana and are able to go to Hobby Lobby).
But in the past two weeks Murphy has hit our household.
Two weeks ago, I found out that my identity thief had hit my bank accounts again.  Once again, I got all my money back, and the minute Brad's check had been Direct Deposited, I closed all of my accounts and opened new ones.  I took out the cash we needed for 2 weeks, paid my bills and thought everything would be fine.
The next day (after all the money was taken out for our cash or used to pay bills), my grandfather died and I found myself needing $300 to drive back & forth to Indiana as well as pay for a hotel, meals, etc. In the past, the solution would have been to simply put those expenses on the credit card.  But because I now had that Emergency Savings Fund, I took the cash out of there (and the Debt Snowball gets put on hiatus until that $300 is replaced)
Yesterday was payday again.  When I went to my online banking, I found that someone who shall remain unnamed (but rhymes with "my Nusband Trad") forgot to change his Direct Deposit for the new accounts and our bank refused the attempted deposit in to the old account.  We have no money except for the $40 left over from the last paycheck that I didn't spend.
We got the paycheck situation figured out and we will have his check by Wednesday or Thursday, but by having the Emergency Savings Fund, it doesn't have to affect our daily living (except I am supposed to pay bills today and now won't be able to until we get that money...and being borderline-OCD, I don't like my "schedule" interrupted....but then again, I'm a lunatic).  I simply took the cash for our expenses for 2 weeks out of the Emergency Savings Fund and will replace that money as soon as we get his check.
My purpose for telling you this story?
Because I know the temptation to skip Baby Step 1 - Creating a Baby Emergency Fund.  If you are trying to get out of debt, you want to just GET OUT OF DEBT.  But please don't skip this important step of creating a "backup".   Once you have that "backup", resist the temptation to just grab that money to speed up your Debt Snowball or for any other non-emergencies.
Our fund sat there for 6 months unused.  If we hadn't had that money in savings, we would have been pretty much screwed with the Direct Deposit mix-up.  I can't tell you how glad I am that it was there when we needed it!
(originally posted in December 2008)