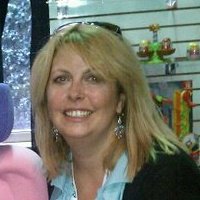 Who are you?
I'm Mindi!  Mom to 3, wife to 1, and bane of cashiers everywhere!
UPDATE: When I wrote this "About Me" in 2008, I was the mom of 3 toddlers/pre-schoolers. Now I have one in college and 2 in high-school. My perspective on parenting issues have changed since then!
Why did you start this site?
I had been reading "frugal blogs" for quite some time, but the problem was that I could never seem to find ones with the deals for MY area grocery stores.  Then I figured that I wasn't the only person in the Philadelphia area looking for deals.  And thus, yet another frugal blog popped up on the Internets
UPDATE: Once TV shows started promoting "Extreme Couponing", they ruined it for the rest of the couponing community. I NEVER had 200 cans of diced tomatoes or needed to store toilet paper under my children's beds. I always promoted responsible stockpile building. Knowing that my favorite laundry detergent would be on a "great deal" about every  6 weeks - and that I should stock up in that week enough to last me the next 6 weeks
What else do I need to know about you?
You seem cool!  I want you to promote my product!
Please know that I get at least 50 emails per day asking me to promote their latest iPhone app, weight loss product or (I swear this is true) "pole for mom to learn how to pole dance for Mother's Day".  I can't promote everything and I will only promote those sites/products that I think are relevant to my readers.  You can submit your pitches here and hope for the best!
Why didn't you answer my email? There are a few reasons that could have happened
You emailed me in ALL CAPS. Those get deleted the moment that I open them. Your entirely relevant and legitimate question was lost by you not knowing basic email etiquette.
You asked me how you can decode coupons. I instantly hate you.
You emailed me bragging about photocopying coupons. I want to turn you in to the police!
UPDATE: while this site has transitioned away from couponing, I still coupon heavily and the above 2 statements still hold.
You are a PR person who emailed me thinking that I can't WAIT to promote the latest thing in support hose or Viagra.
You are a PR person offering me a free $0.99 app, as long as I write 250 words about it, Tweet it 4x and post it to my Facebook page.
Any more Questions?