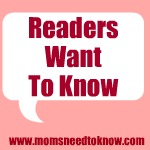 Photocopying coupons that you have printed from the Internet?
Welcome to Readers Want to Know! These are your questions answered from the emails that I receive and responses to surveys that I periodically post. For more answers, make sure you check out my Coupon 101 posts which will also include other "Readers Want To Know" posts! Any other questions? Use this form to ask them!
Welcome to my newest series...Readers Want To Know (heh! Get it?). In this series, I will be posting real questions that I have received from real readers. So let's get started!
Can I photocopy coupons that I have printed from the Internet?
The short answer? No! The semi-short answer? NoNoNoNo, A Thousand Times No!
The long answer? Here's a few reasons why:
If you wouldn't consider trying to photocopy a coupon from a weekly insert, why would you think it was ok to photocopy a printable coupon?  I have said many times that coupons are a form of payment, not a discount.  It really is the same as trying to photocopy the $20 bill in your wallet and trying to use that as payment.
Aside from that, printable coupons have several security features to help reduce fraud (which photocopying of coupons is)...the most noticeable being the unique serial number in the upper right-hand side of the coupon (click on the picture below to enlarge it and read about the different features).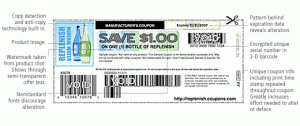 That number is unique to each coupon. Print out 2 copies of a coupon from almost any site (most coupon sites will allow you 2 prints per computer) and you will see that the two coupons may have identical UPC barcodes, but different serial numbers. The companies will only reimburse ANY store for that one serial number one time.
Bottom line: Copy coupons and use them? The coupons WILL scan at the store, but once they hit the clearinghouse (where the coupons are processed and the stores get reimbursed) any duplicate serial codes will be rejected and the store won't get paid for your photocopied coupons. So you save money, the store doesn't get paid and once "corporate" finds out, the cashier and store manager possibly both get "written up".  Does that seem fair?
I am choosing to assume that the 8 variations of this question that I received on a recent survey were honest questions from people who didn't KNOW that you can't photocopy coupons. If you have been photocopying coupons because you didn't know that you couldn't, I hope that this inspires you to please STOP RIGHT NOW.
...because photocopying printable coupons is Coupon Fraud.
Any other questions? Head to this form to ask them! Please know that at any given time, I have over 100 questions to respond to. I try to respond to the "most asked" first!