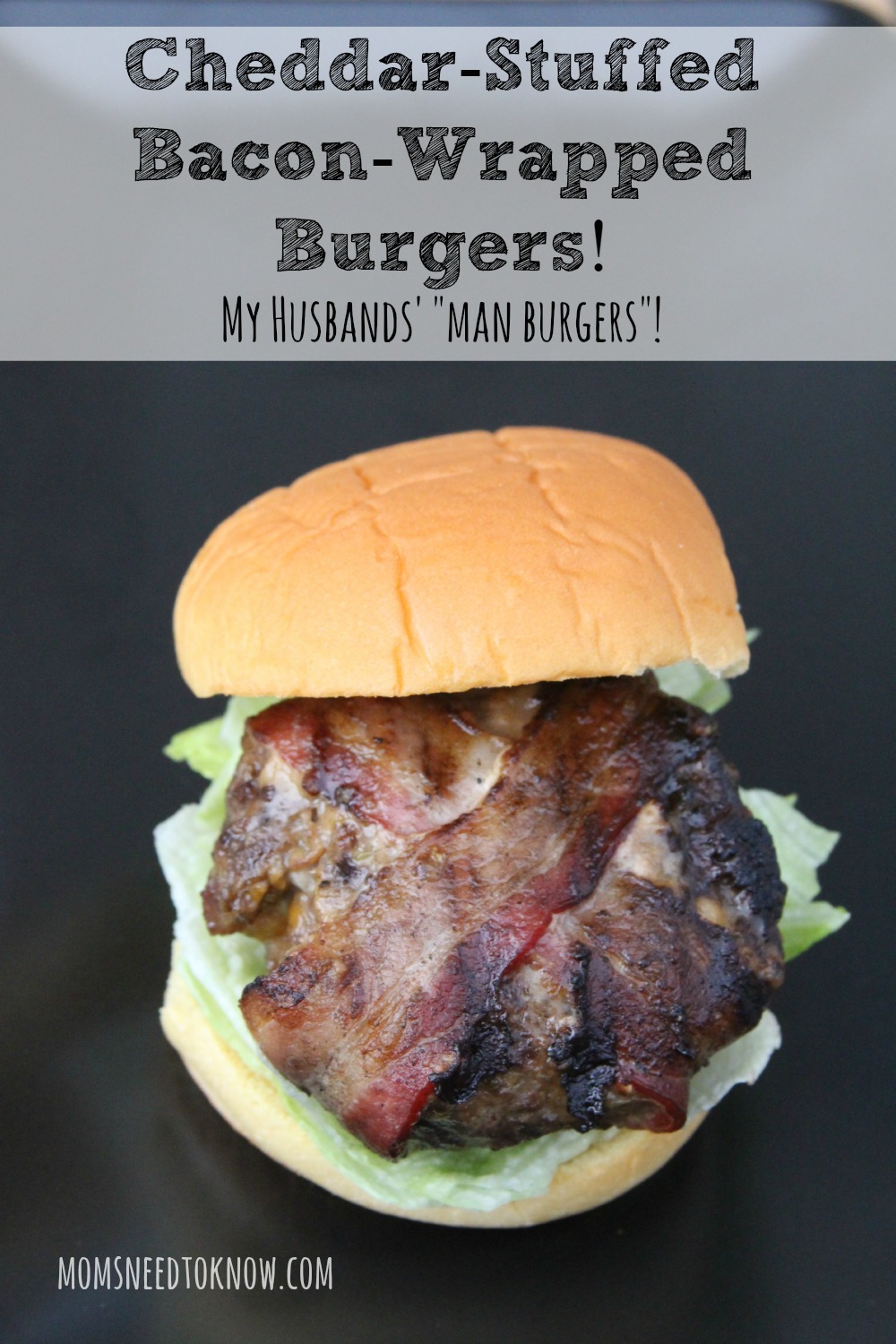 I'm going to let you in on a little secret:  these bacon wrapped cheddar-stuffed burgers are not my favorite - but I seem to be in the minority because everyone else who has ever had them just goes nuts for them! I'm not a huge fan of red meat and I like bacon even less (yes - I know that that makes me "weird" these days)...so when Brad makes these, I just make myself a huge salad and my creamy poppyseed dressing and be happy with that!
Of all the recipes that I have posted over the years (have you checked out my new and improved Recipe Index yet?), most of them were the result of me wanting to make it.  This is my husbands recipe and he has nicknamed them "The Man Burgers" (insert caveman-like grunting here)!
My boys 2 best friends live about 6 houses away from us and over the years, Brad has become very good friends with their father (as have I).  They hang out together all the time, we have dinner at each others' houses about twice a week - and unless there is snow in the ground, at least one of those dinners includes cooking on the grill.  Brad came up with these bacon wrapped cheddar stuffed burgers about 2 months ago and they are now included in just about every grilling meal that we have with them.
This recipe will make 8 large burgers - so if your family is smaller, just decrease the proportions by a quarter or half to suit your family.  When we make them, we are feeding 4 teenage boys and 2 dads (and all 8 burgers get eaten, along with a second meat like chicken, ribs or steak!).  It also works perfectly because 1 pound of bacon is usually 16 slices (may vary slightly by brand), so we never have to figure out what to do with the leftover bacon!
I know that someone is going to point out that these technically aren't "cheddar stuffed" because we don't make a hole in the burger and stuff a big glob of cheese in there that oozes out when you bite in to it - but who wants that kind of a mess anyway? This has just the same amount of cheese in it as when Brad first tried making them with the "glob of cheese" (it's a culinary term!), but now the flavor of the cheese is spread throughout the burger!
The recipe and directions are below, but I just want to mention one thing...do NOT forget to remove the toothpicks from the burgers before serving them. I know that sounds silly to say - but you would be shocked at the number of times Brad and his friend have forgotten to do it (although the beers that they drink while grilling may have something to do with it)
Scroll down for the recipe and directions!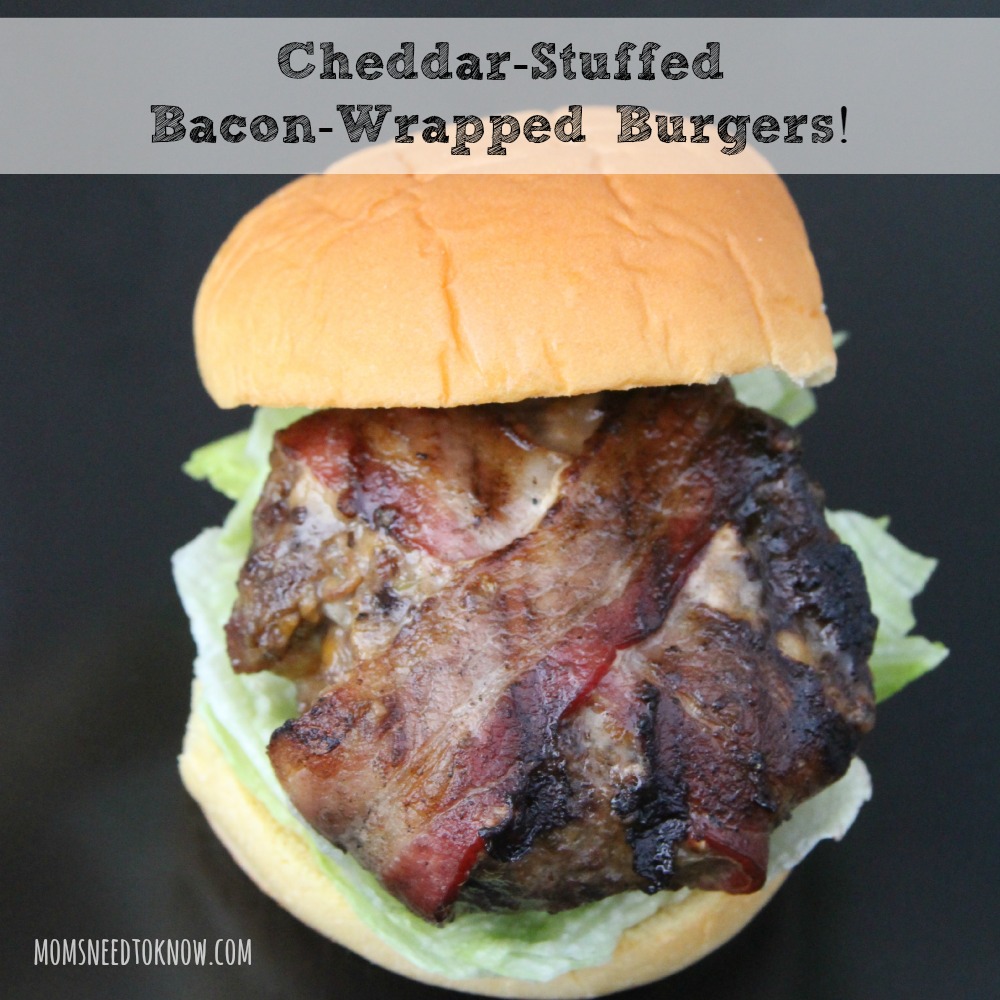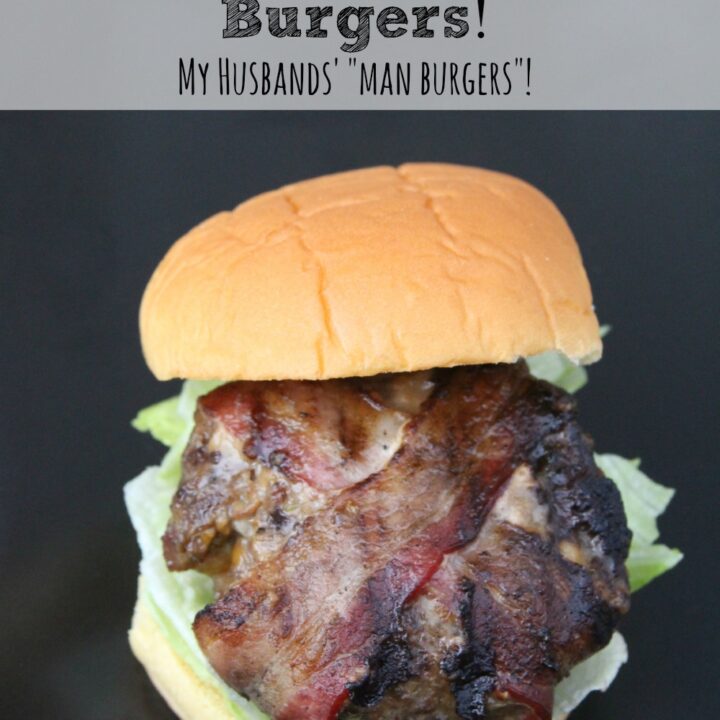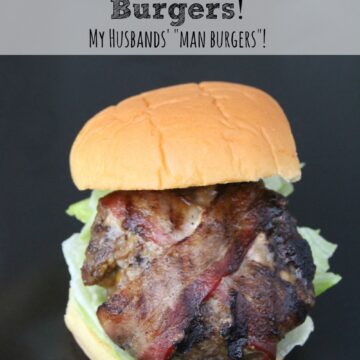 Bacon Wrapped Cheddar Stuffed Burgers | My Husbands Favorite!
These bacon-wrapped cheddar stuffed burgers are so easy to make and perfect for throwing on the grill. Not a recipe for anyone watching their weight, but everyone loves them!
Print
Pin
Ingredients
2

lbs

lean ground beef

2

cups

cheddar cheese

2

eggs

1

large yellow onion

diced fine

1/2

cup

Italian-style breadcrumbs

1

Tbsp

dried parsley

4

cloves

garlic

minced (more or less to taste)

1

tsp

salt

1/2

tsp

pepper

1

lb

bacon

16 slices
Instructions
Combine all ingredients except the bacon in a bowl. Mix until completely combined.

Divide mixture in to 8 patties.

Wrap a slice of bacon around each patty. Wrap a second slice around the patty crosswise.

Secure the ends of the bacon with toothpicks

Grill burgers 6 - 8 minutes per side until bacon is cooked and the burgers are the cooked to desired temperature

Remove toothpicks, serve and enjoy!