Sun dried tomatoes, arugula, mozzarella and Parmesan cheese make this BLT recipe so much more than the ones that you grab at your local sandwich shop!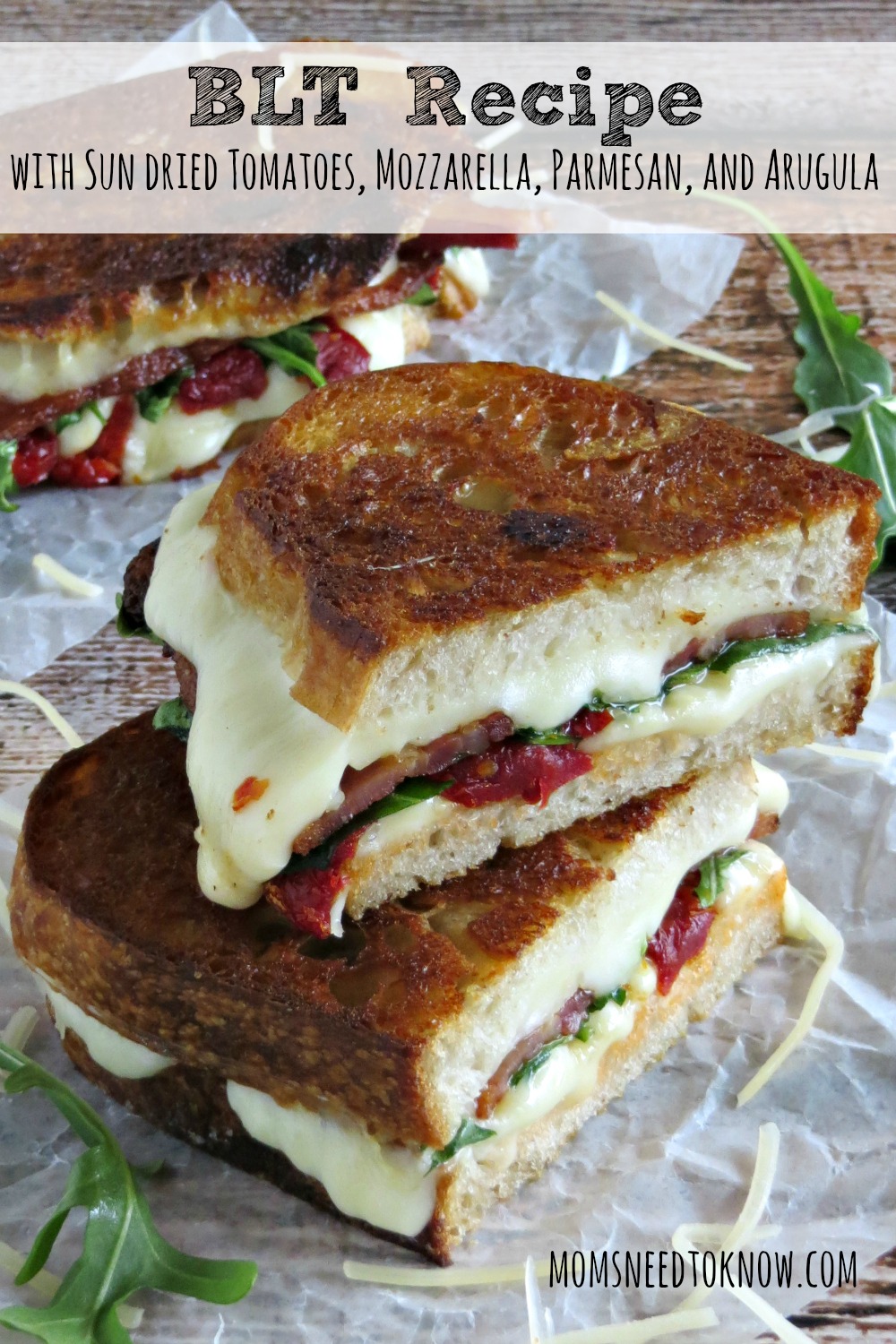 Growing up, my stepfather loved BLTs, so we had them quite often. And while there was nothing wrong with the way my mom made them (wheat bread, regular bacon, iceberg lettuce and beefsteak tomato), as I got older and got more adventurous in the kitchen, I'm always looking to "modernize" classic recipes and get more creative with them.
This is a more grown-up version of a BLT grilled cheese. The combination of the bacon, sun-dried tomatoes, arugula, and Parmesan give this BLT recipe a ton of flavor and texture!
You want to grill these low and slow, so the inside of the sandwich has a chance to get hot and the cheese can thoroughly melt. If you rush it, the outside will get overly done before the inside is. I cooked mine between medium and medium-low.
I used a block of fresh mozzarella, which created long, thin slices. If using store-bought, pre-sliced mozzarella, adjust the amount accordingly.
Do yourself a favor and use good quality bacon (thick-sliced center-cut bacon is best) and cheese for this. It will make the sandwich 100 times better!
The arugula gives this a peppery bite which adds another layer of flavor. If you don't have arugula, spinach would also work. If using a lettuce such as romaine or green leaf, I would wait until after the sandwich is grilled to add it.
Pressing the sandwich is completely optional. This is a big sandwich, so we prefer ours pressed. I'm not a fan of big, clunky kitchen gadgets, so I just use a pot. It's easier to control, and I don't have to wash it!
Choose a pot big enough to cover both sandwiches and put a piece of wax or Parchment paper between the sandwich and the pot. Then fill the pot with water, adding enough to press the sandwich but not completely smash it. This works great for sandwiches that are more "sturdy". If using regular bread, you wouldn't want to do this, or it would completely flatten it (which is why I recommend using a nice crusty sourdough from the bakery section of your grocery store!)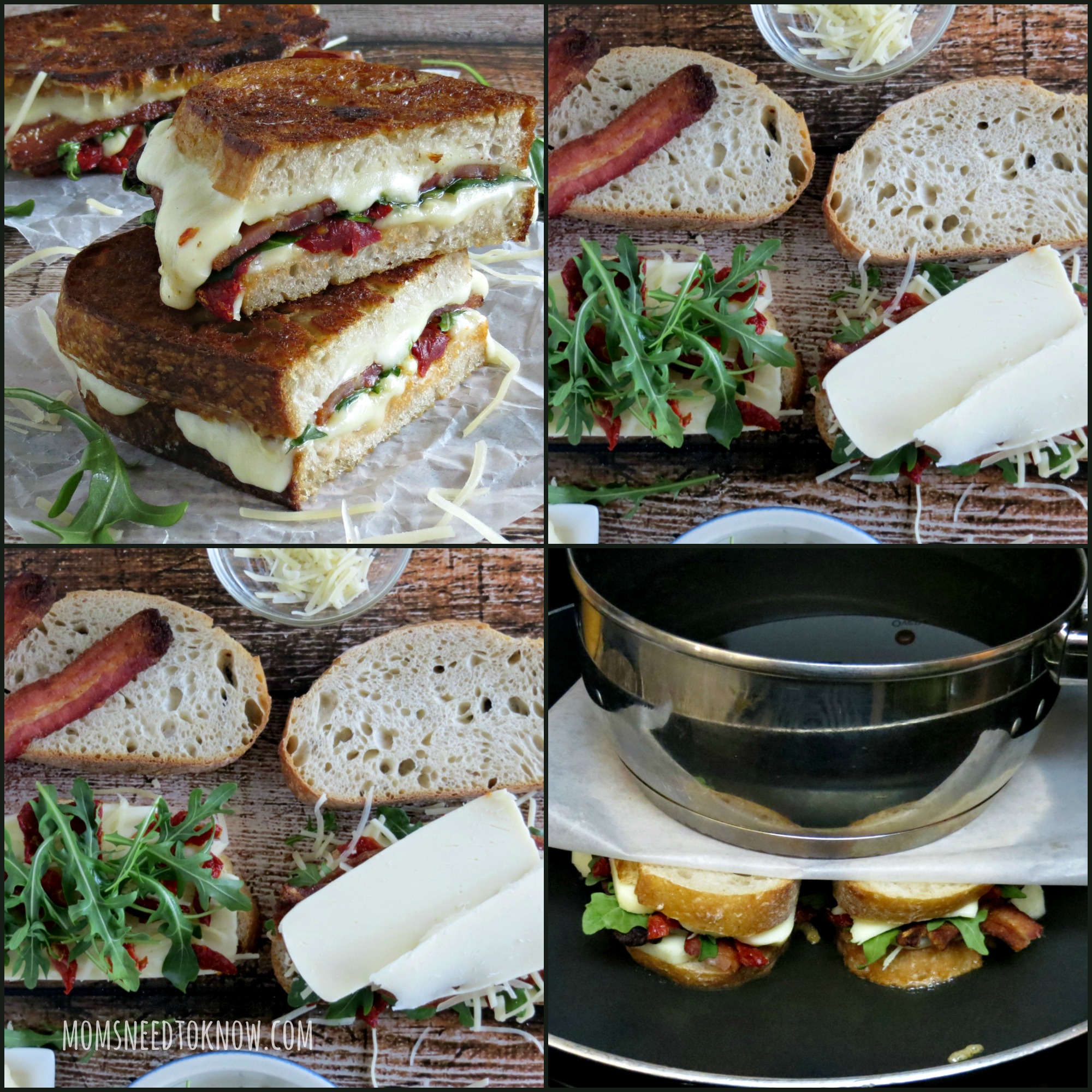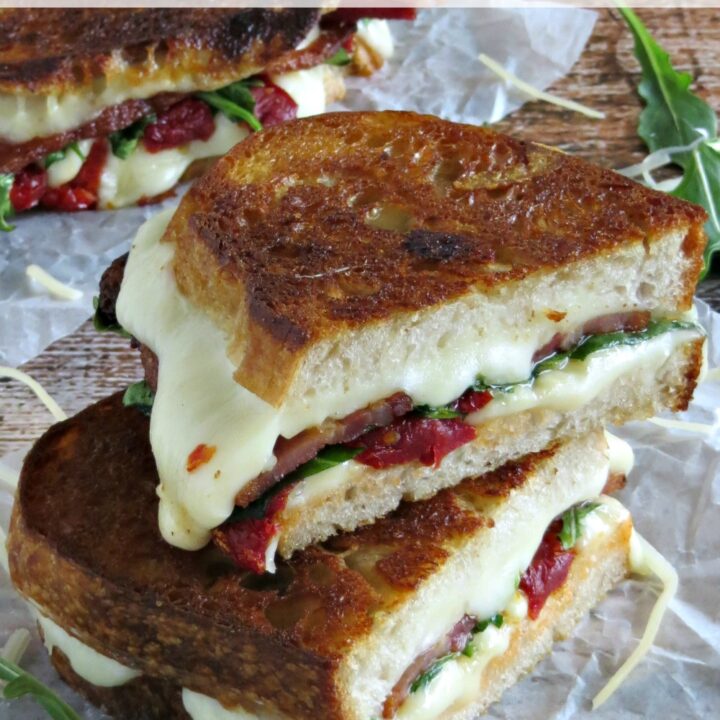 BLT with Sundried Tomatoes, Mozzarella, Parmesan, and Arugula
Sun dried tomatoes, arugula, mozzarella and Parmesan cheese make this BLT recipe so much more than the ones that you grab at your local sandwich shop!
Print
Pin
Ingredients
4

slices

sourdough bread

sliced 1/4" thick

2

tablespoons

butter

softened

8

thin slices mozzarella cheese

4

tablespoons

freshly grated Parmesan cheese

4

slices

good quality

thick bacon

6

sun-dried tomatoes packed in oil

chopped

Small handful arugula
Instructions
Spread 1/2" tablespoon of butter on each slice of bread, making sure to go all the way to the edges.

Place the bread, butter side down, and lay two slices of the mozzarella on the bottom.

Top the mozzarella with one tablespoon of Parmesan cheese, then the sun-dried tomatoes, dividing them evenly over both sandwiches.

Add a small handful of arugula on top of the tomatoes, followed by two slices of bacon on each sandwich.

Sprinkle the remaining Parmesan cheese on top of the bacon followed by two more slices of mozzarella.

Place a 12" skillet on the stove over medium heat.

When the pan is hot, carefully lay both sandwiches in the pan.

If desired, you can press the sandwich, but this is completely optional. ** see note below

Cook for two minutes and then rotate the sandwiches (don't flip them yet). Rotating them just helps them evenly brown. Grill for another two minutes or until the bottom is browned.

Carefully flip the sandwich over and grill for an additional 3 to 4 minutes or until the cheese is thoroughly melted and the bottom side is nicely browned.

Serve immediately!
Notes
To press the sandwich: Choose a pot big enough to cover both sandwiches and put a piece of wax or Parchment paper between the sandwich and the pot. Then fill the pot with water, adding enough to press the sandwich but not completely smash it. This works great for sandwiches that are more "sturdy". If using regular bread, you wouldn't want to do this, or it would completely flatten it
BLT Recipe with Sundried Tomatoes, Mozzarella, Parmesan, and Arugula