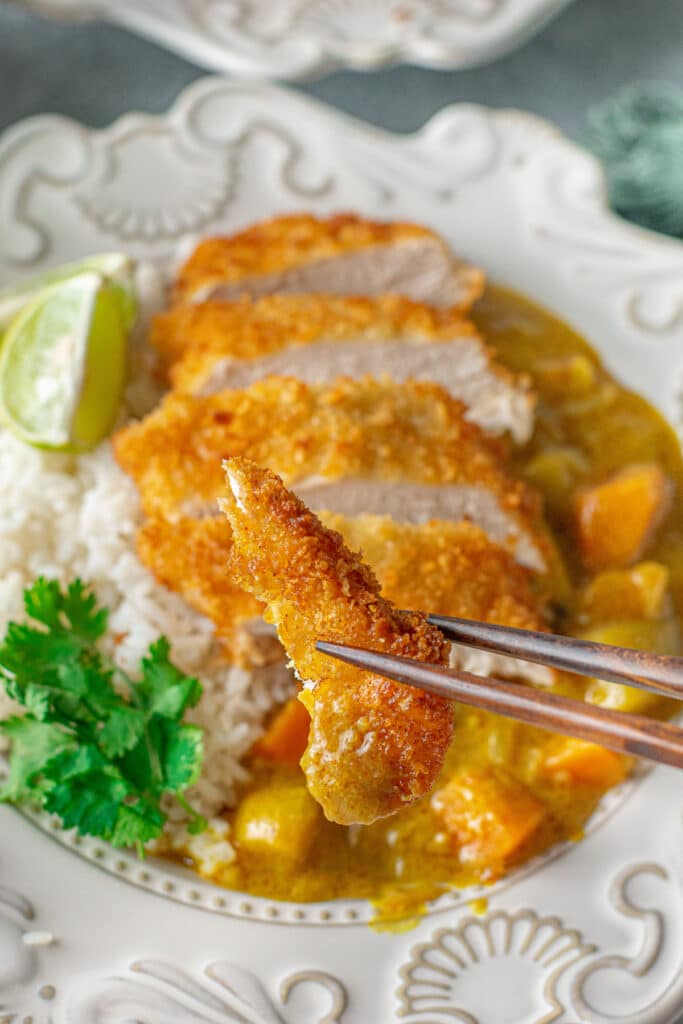 This Japanese comfort food dish is easy to make and very filling. The sauce and sides remain the same, so you can easily replace the chicken with pork, tofu or even sliced eggplant!
Jump to:
What is Katsu Curry?
Chicken katsu curry is a Japanese dish of breaded chicken cutlets served with a rich, creamy curry sauce with potatoes and rice. It's an easy weeknight dinner that you can get on the table in under an hour!
It is considered a Japanese "comfort dish" and is absolutely delicious. My husband recently ordered it at my favorite Japanese sushi place and it is now one of his favorite dishes (he doesn't eat sushi)!
I mean, katsu curry recipes are so popular in England that McDonald's once had Katsu Curry McNuggets!
The ingredients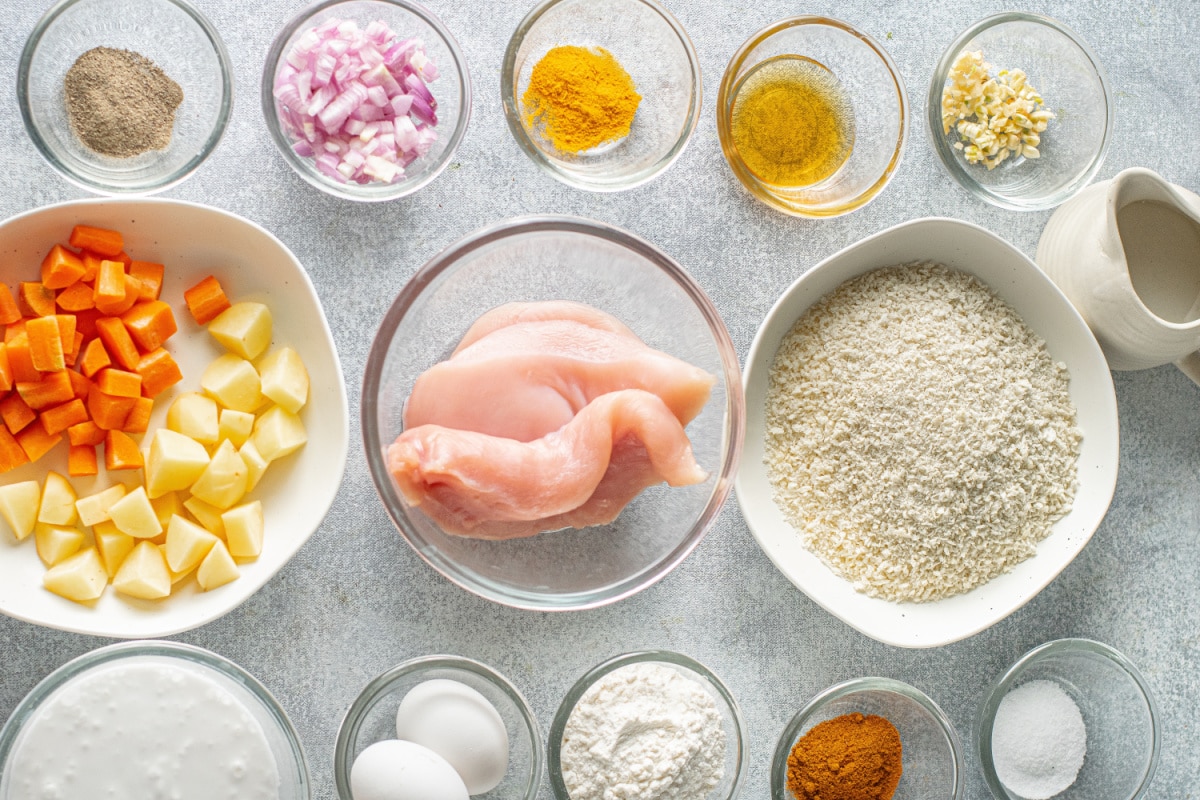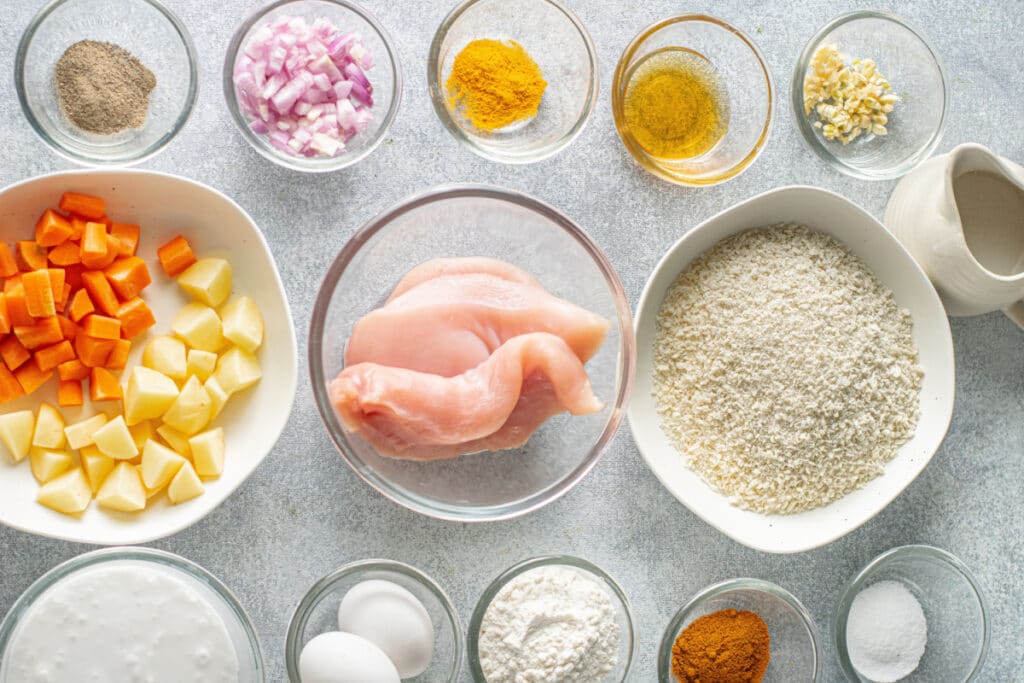 You should already have almost everything you need already in your pantry. Boneless skinless chicken, curry powder, onions, carrots, etc.
If you don't typically keep coconut milk in the house, you really should! (and just to be clear, we are talking about canned coconut milk that you find in the Asian food section of your grocery store)
Just in case you don't keep fresh ginger in your fridge (or don't want to deal with peeling it), you can always use jarred minced ginger!
What kind of chicken should I use?
If you order chicken katsu curry in a restaurant, most times they will use a chicken breast. That is actually my preference, but I have made it with a boneless chicken thigh and one of my boys even prefers it that way!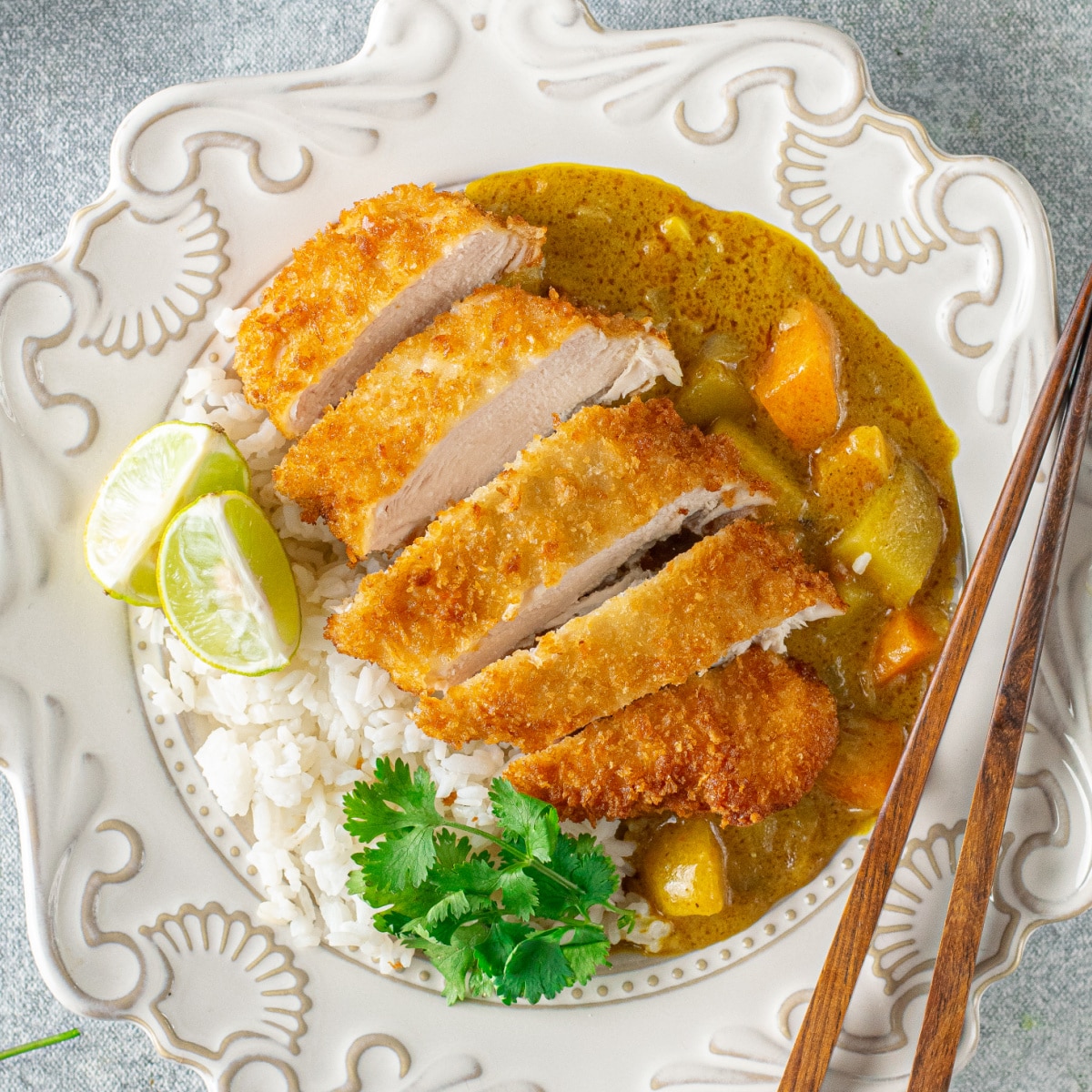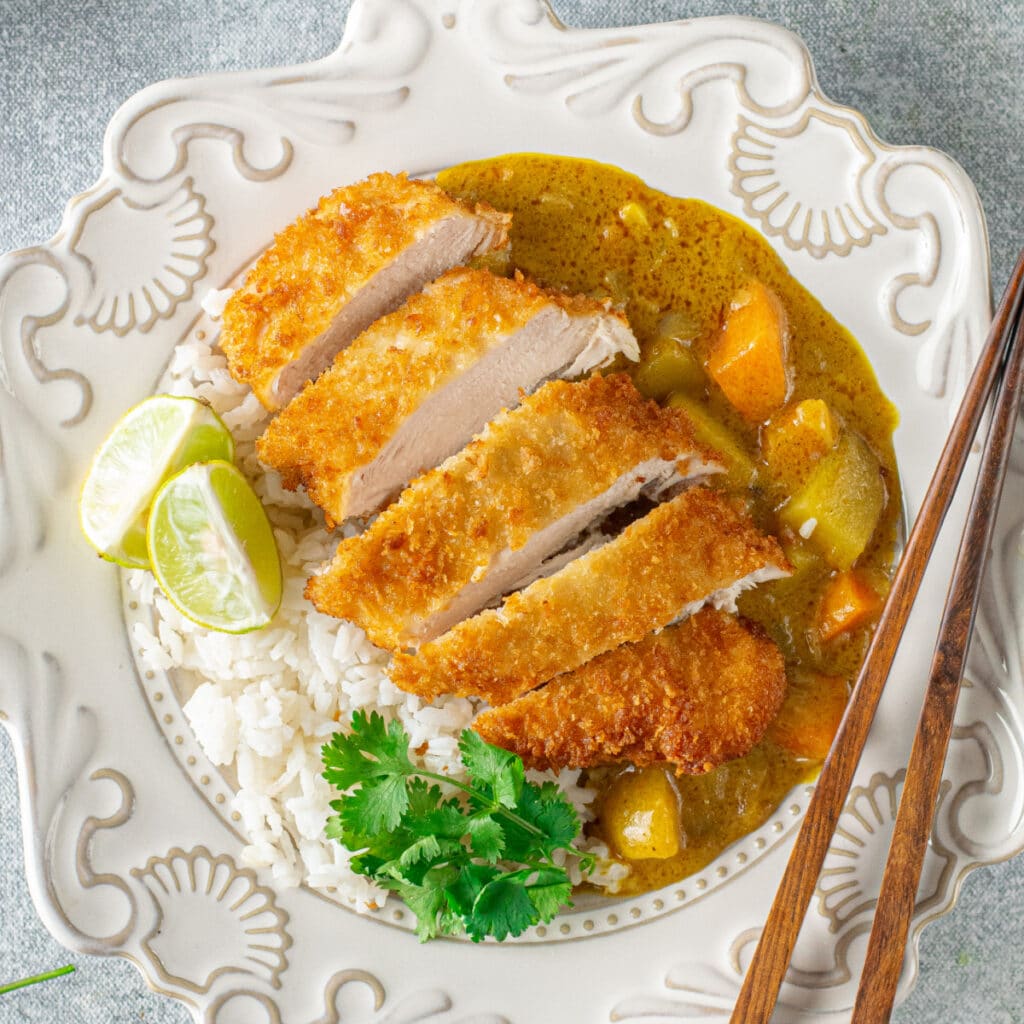 Can't I just use a ready-made curry roux?
Well - you CAN, I guess. Like you, I go to the grocery store and see plenty of mixes and packets of Japanese curry roux mixes. I also look at the sodium count of those mixes so I choose to make it from scratch.
But because I need to be honest, I now keep a few packages of Vermont Curry in my pantry, just in case....
Can I use another protein?
Chicken and pork (tonkatsu) are the most common types of katsu curry recipes, but you can get creative! My daughter is a vegetarian so we have made this exact recipe with tofu. Just make sure to prepare the tofu first!
What about my Air Fryer?
If you want, you can use your air fryer! Just set it for 350F and 18 minutes, flipping it halfway through.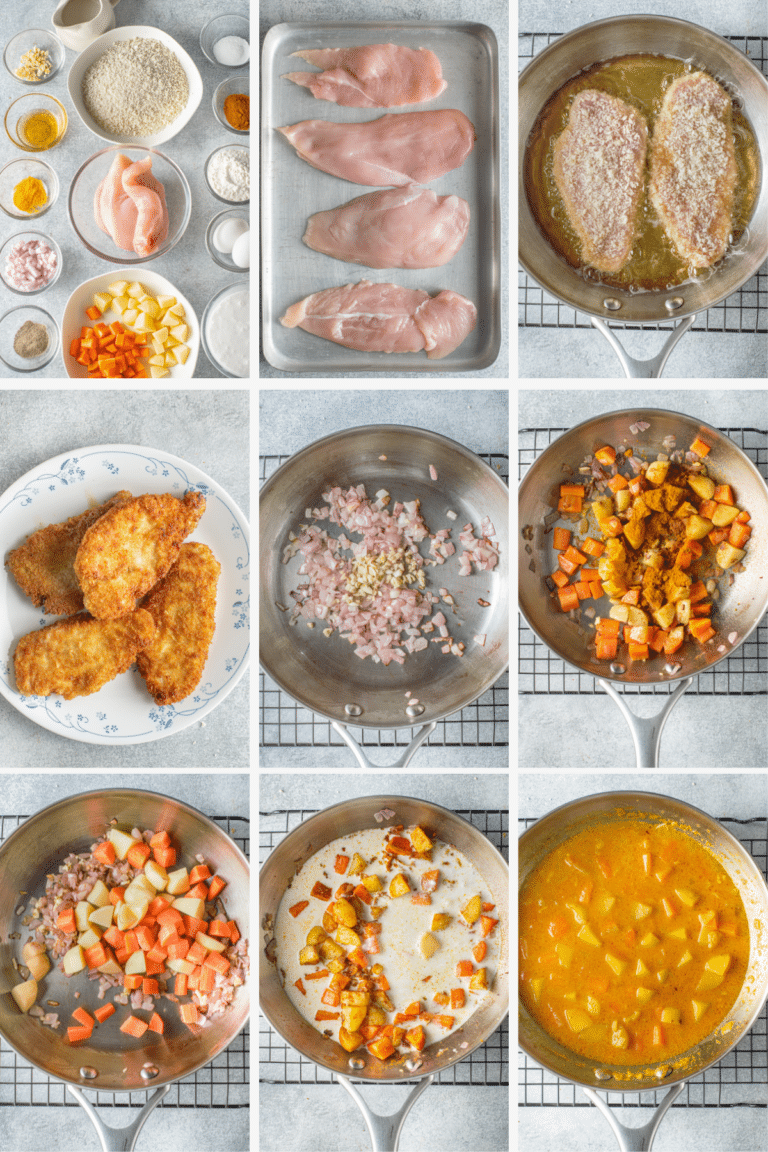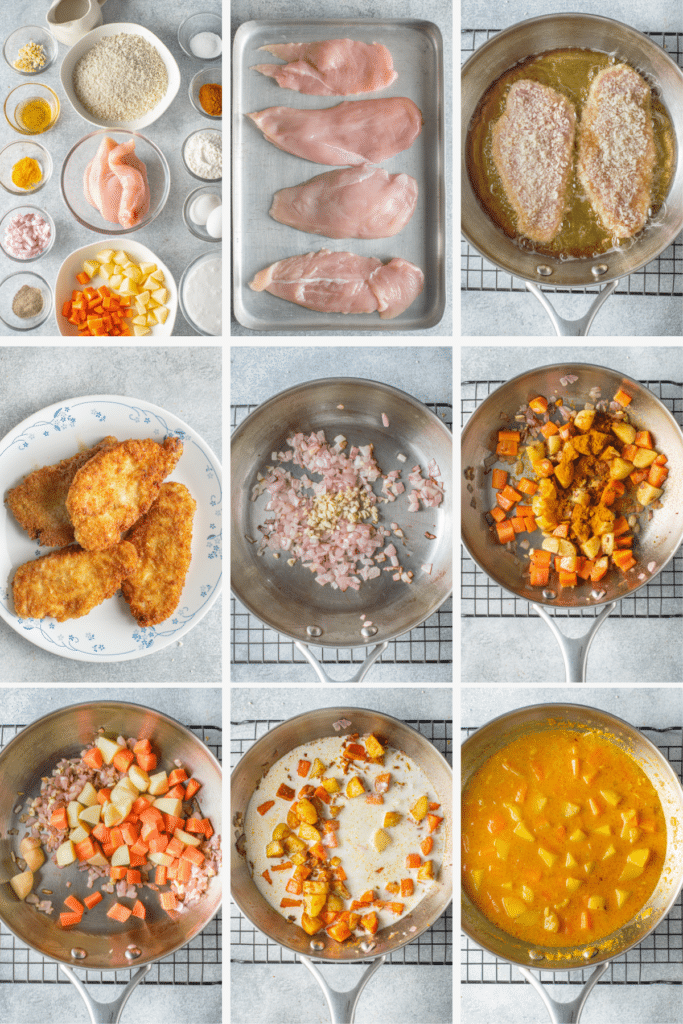 How do I store leftovers?
Yeah - like you are going to have any! But if you do, just like any other dish...just let it cool and store in the refrigerator in an air-tight container!
Can I make it ahead of time and freeze it?
I'm going to be honest with you - I love freezer cooking but this isn't a good one for that! The breading won't be as crisp and the entire texture will change once you reheat it!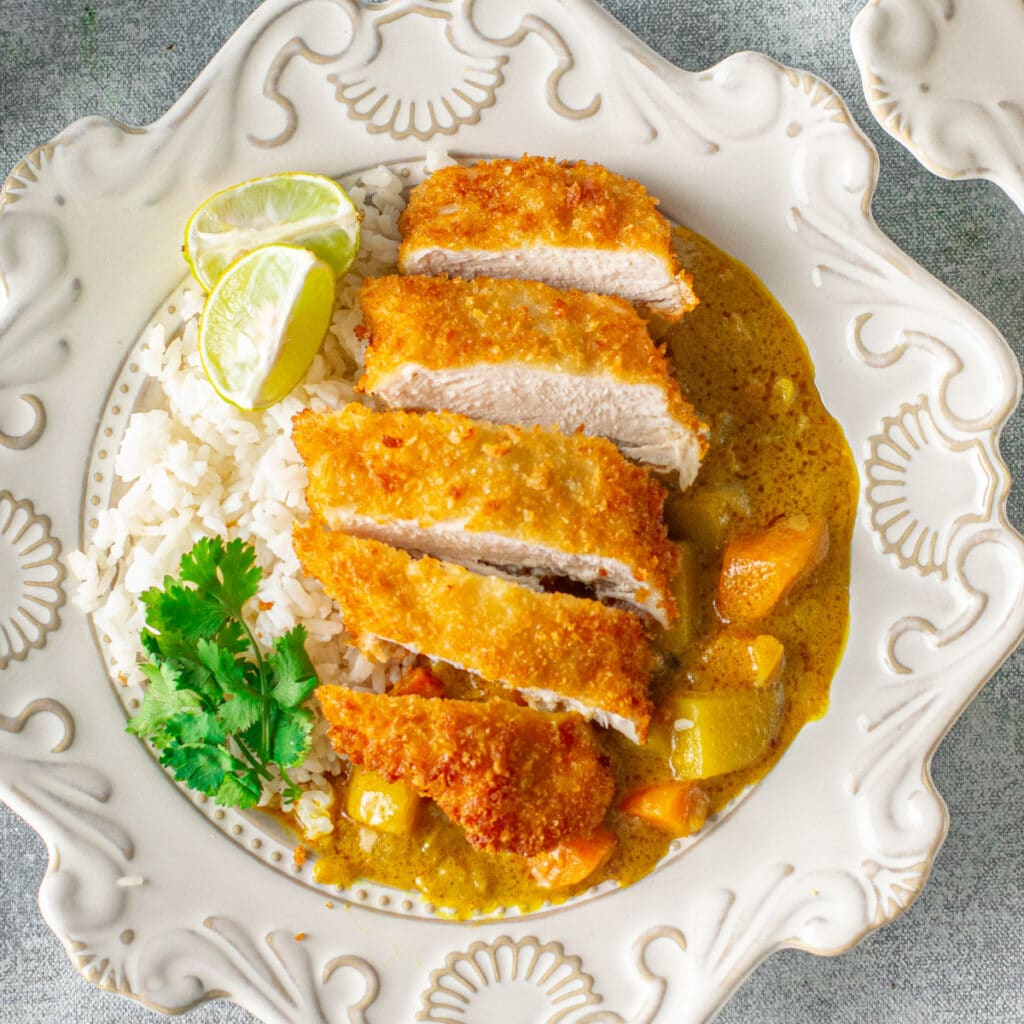 Anyway - on to the recipe....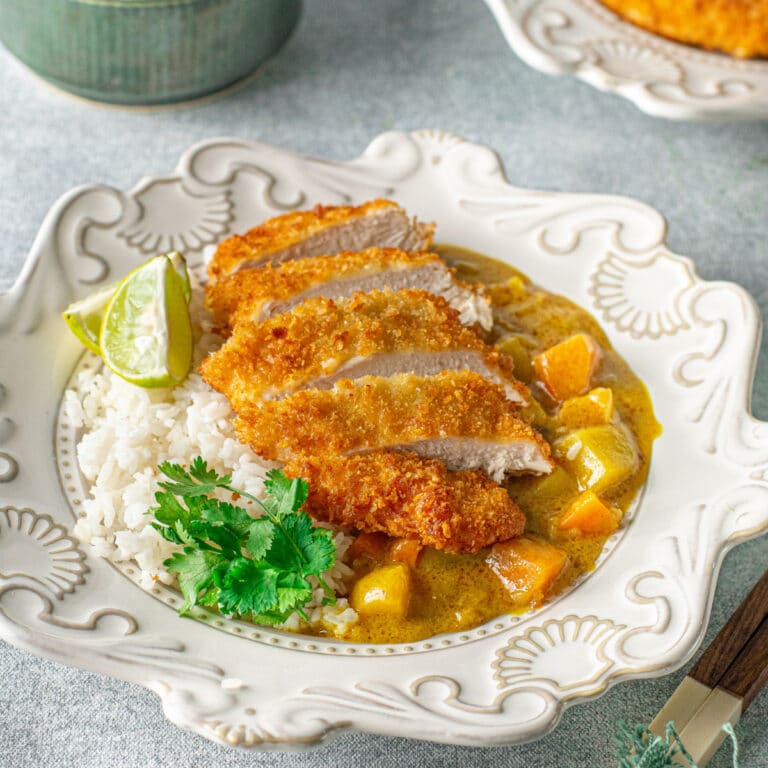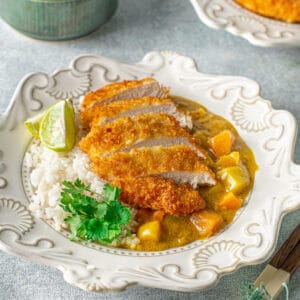 Ingredients
For the Chicken Katsu
1 1/2

lbs

boneless skinless chicken

breasts or thighs (approximately 2 large breasts or 4 thighs)

1

cup

all-purpose flour

2

Eggs

beaten

1

cup

Panko Bread Crumbs

1/2

tsp

garlic powder

1

tsp

salt

1

tsp

black pepper

oil for frying

olive or vegetable
For the Curry
1

tbsp

Vegetable Oil

1

large onion

chopped

2

garlic cloves

minced

1"

piece of ginger

peeled and finely chopped

carrot

peeled and cubed

russet potato

peeled and cubed

1/2

tsp

tumeric

1

tbsp

curry powder

1 1/2

cup

coconut milk

1

cup

water

2

tbsp

cornstarch

2

tsp

honey

1/2

tsp

salt

to taste
For Serving
2

cups

White or Brown rice

prepared
Instructions
Prepare the chicken
Butterfly the chicken breasts by cutting in half horizontally to make 4 thin cutlets (If using boneless skinless chiken thighs, trim the excess fat)

1 1/2 lbs boneless skinless chicken

Season the chicken on both sides with salt, pepper and garlic powder

1/2 tsp garlic powder,

1 tsp salt,

1 tsp black pepper

In a shallow bowl, whisk the flour with salt & pepper. Beat the eggs in a 2nd bowl. Place the Panko breadcrumbs in a 3rd bowl.

1 cup all-purpose flour,

2 Eggs,

1 cup Panko Bread Crumbs

Working with one piece of chicken at a time, coat the chicken on both sides with the flour. Shake off excess. Dip the chicken in the egg and then the breadcrumbs. Press well to make sure the breadcrumbs stick to the chicken. Place each piece on a baking sheet.

In a large skillet, heat about 1" of oil to 350F. Carefully place each piece of chicken in the oil and fry for about 3 minutes on each side until golden and crispy and cooked to an internal temperature of 165F

Transfer cooked chicken to a plate. Cover to keep warm.
Make the Curry
Heat the 1 tbsp vegetable oil in a pan over medium high heat. Add the chopped onions and saute until they are soft and translucent. Add the garlic and ginger and cook for a few seconds until the garlic is lightly brown.

1 tbsp Vegetable Oil,

1 large onion,

2 garlic cloves,

1" piece of ginger

Add the carrots, potatoes, tumeric and curry powder. Cook and stir for 30 seconds

carrot,

russet potato,

1/2 tsp tumeric,

1 tbsp curry powder

Pour in the coconut milk and water and bring to almost to a boil. Cover and simmer for 10 minutes or until the vegetables are almost cooked.

1 1/2 cup coconut milk,

1 cup water

Make a slurry by mixing the cornstarch with 3-4 tbsp water. Add to the pot. Continue to simmer amd stir until sauce starts to thicken (about 3-5 minutes).

Remove from heat and add honey and stir. Add salt to taste

2 tsp honey,

1/2 tsp salt
To Serve the Chicken Katsu Curry
Divide the rice between 4 plates and place a piece of chicken on it.

Pour 1/4 of the curry sauce over each piece of chicken