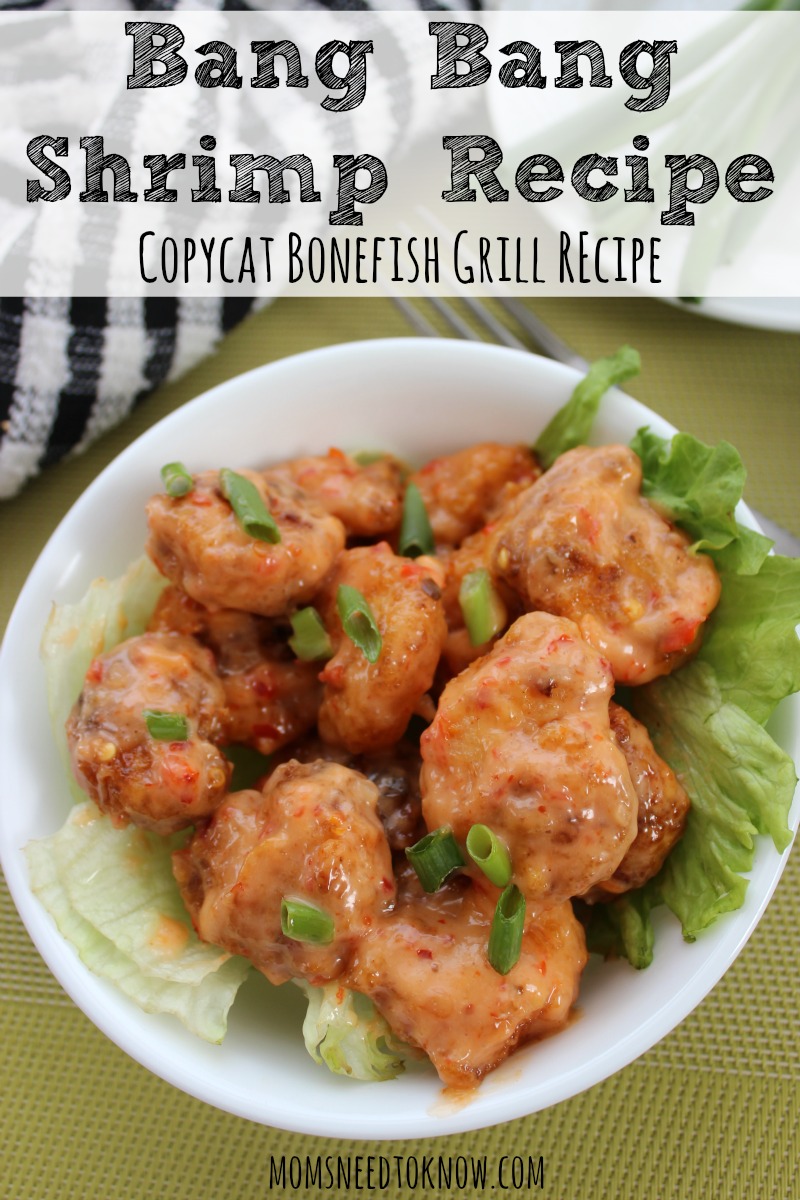 I am always trying to find copycat recipes for my favorite restaurant meals and this Bang Bang Shrimp recipe is just another in a long line-up of copycat restaurant recipes that I have accumulated over the years!
There are just certain dishes that I love to have when I go out to eat and Bonefish Grill Bang Bang Shrimp is one of them! Unfortunately, the nearest Bonefish Grill is not terribly convenient for me and my husband is more of a "meat & potatoes" kind of guy, so we don't often find ourselves there for meals.
But like most restaurant favorites, if you look and experiment for long enough, you are likely to be able to recreate the same recipe at home and this copycat Bonefish Grill Bang Bang Shrimp recipe is about as close as you are going to get to the "real thing" (and it is much cheaper to make it at home!).
This recipe calls for 2 sauces that may have unfamiliar names to you, but you should be able to find them in the ethnic food section of your supermarket (definitely the Huy Fong sauce....if you have a problem finding the Mae Ploy sauce, you can always get it on Amazon!).
Unless peanut allergies are an issue in your family, you want to make sure to use peanut oil for the frying. I know that there are cheaper varieties of oil that you can use but trust me when I say that the peanut oil will give the shrimp the flavor it needs to be a true copycat recipe!
Lastly - the Miracle Whip....I know not everyone is a fan of it but, once again, it is a key ingredient that shouldn't be changed. If you don't typically keep it in your house, just get the smallest jar possible at the supermarket!
To make it, you will need:
Ingredients:
Scroll down for the recipe!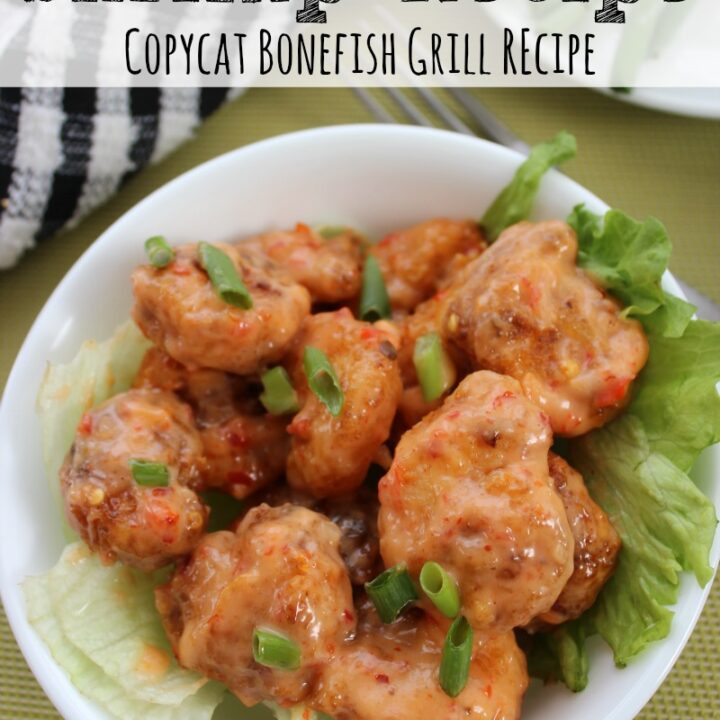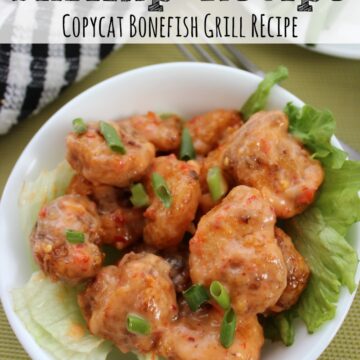 Bonefish Grill Bang Bang Shrimp | Copycat Recipe!
After years of going out to restaurants for this, I decided it was time to come up with my own bang bang shrimp recipe - I nailed it! This is delicious!
Print
Pin
Ingredients
10

oz

raw shrimp

shelled and deveined

1/3

cup

Miracle Whip

1/4

cup

Mae Ploy Thai Sweet Chili Sauce

1/2

tsp

Huy Fong Chili Garlic Sauce

1/4

cup

buttermilk

1/2-3/4

cup

cornstarch

3

Green Onions sliced

Peanut Oil for frying
Instructions
In a medium bow;, combine Miracle Whip and both chili sauces. Set aside

Preheat skillet filled with 1/2-1" peanut oil to 350.

Dip each shrimp in buttermilk and then then in the cornstarch.

Deep fry the shrimp until lightly brown. Do not overcook!

Remove shrimp from oil and place on a paper towel-lined plate to drain.

Toss shrimp in chili sauce mixture to coat.

Serve on bed of lettuce.

Top with chopped sliced green onions.
Enjoy!