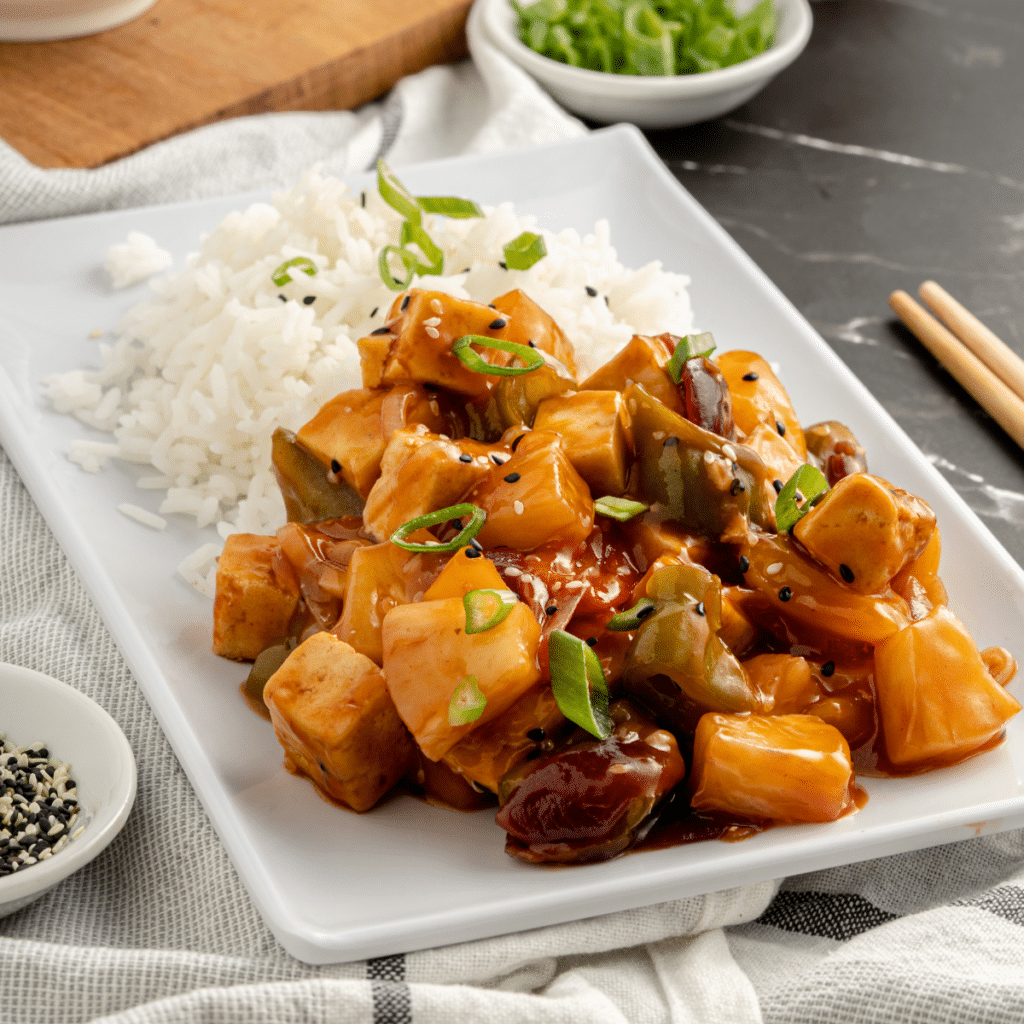 Whether you are a long-time tofu lover or just getting started to switching to a more plant based diet, this easy sweet & sour tofu recipe will satisfy your takeout craving while keeping it healthy.
I have to admit that I was never much of a tofu lover. I was a vegetarian for years when I was in my teens and 20s, but went back to eating meat after I met my husband. My daughter is a teenager and has pretty much gone all vegetarian. Unlike when I was her age, she has Pinterest, Tiktok and Instagram to teach her all sorts of recipes (I'm old so I'm still on Facebook) and we are now both tofu lovers (needless to say, my husband isn't thrilled with this development, especially now that our meat-eating boys are away at college).
Anyway - on to the recipe.....
Jump to:
🥡Will this really taste like takeout Sweet and Sour Tofu?
The simple answer to that is: it depends! Every restaurant has their own recipe and while this tastes almost exactly like the sweet and sour tofu at my favorite restaurant, it may not taste exactly like what you are used to.
All I can guarantee you is that it is delicious!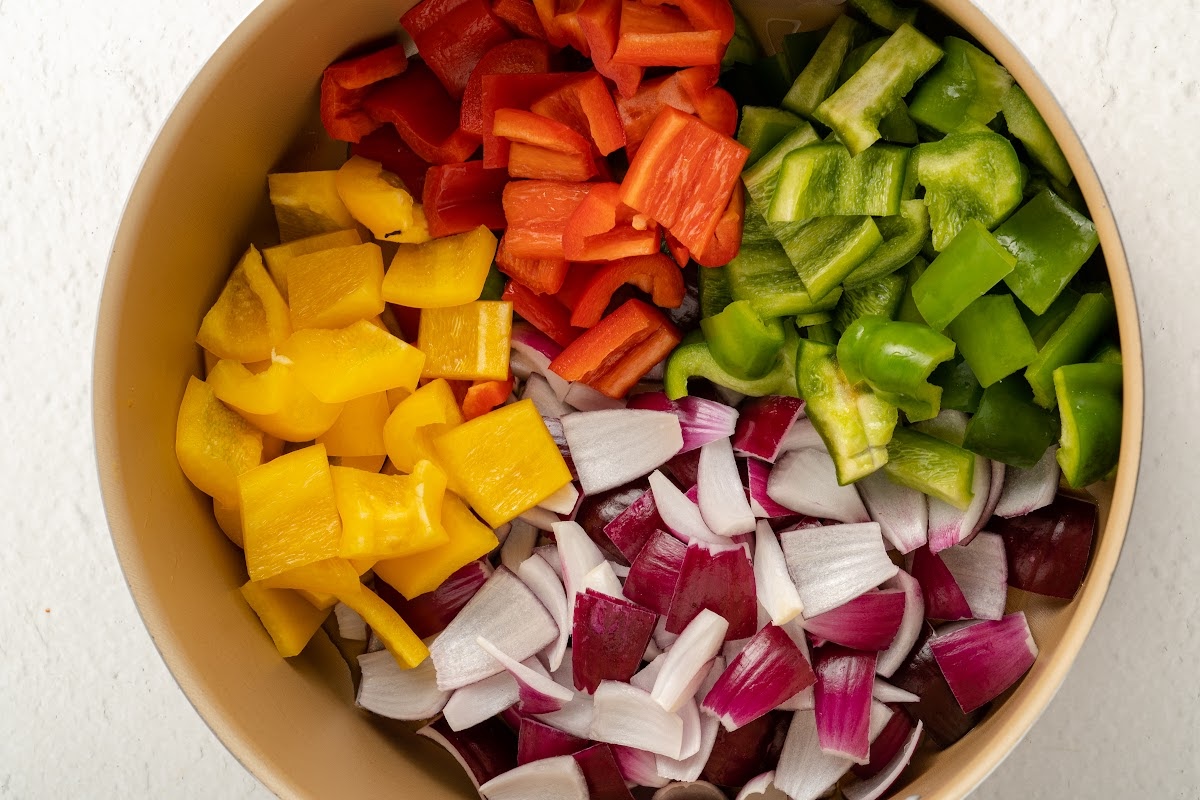 🍽Is this recipe gluten free?
My recipe does use soy sauce, which contains gluten. You can easily substitute tamari or coconut aminos.
Some brands of ketchup also contain gluten, so be sure to choose a gluten-free brand, if that is a concern of yours.
🥢What kind of tofu should I use?
You should only use firm or extra-firm tofu, as any other type of tofu will break up in the skillet.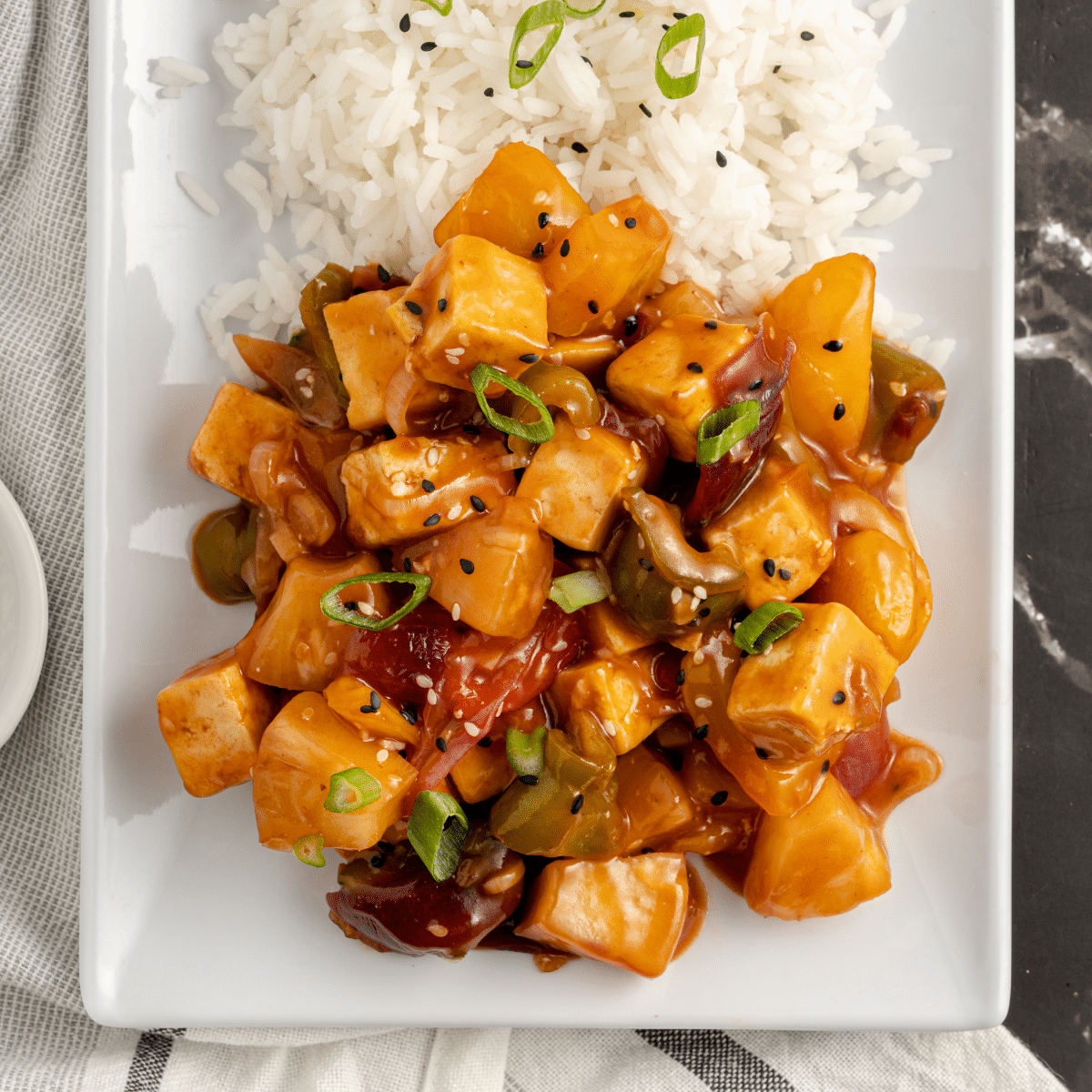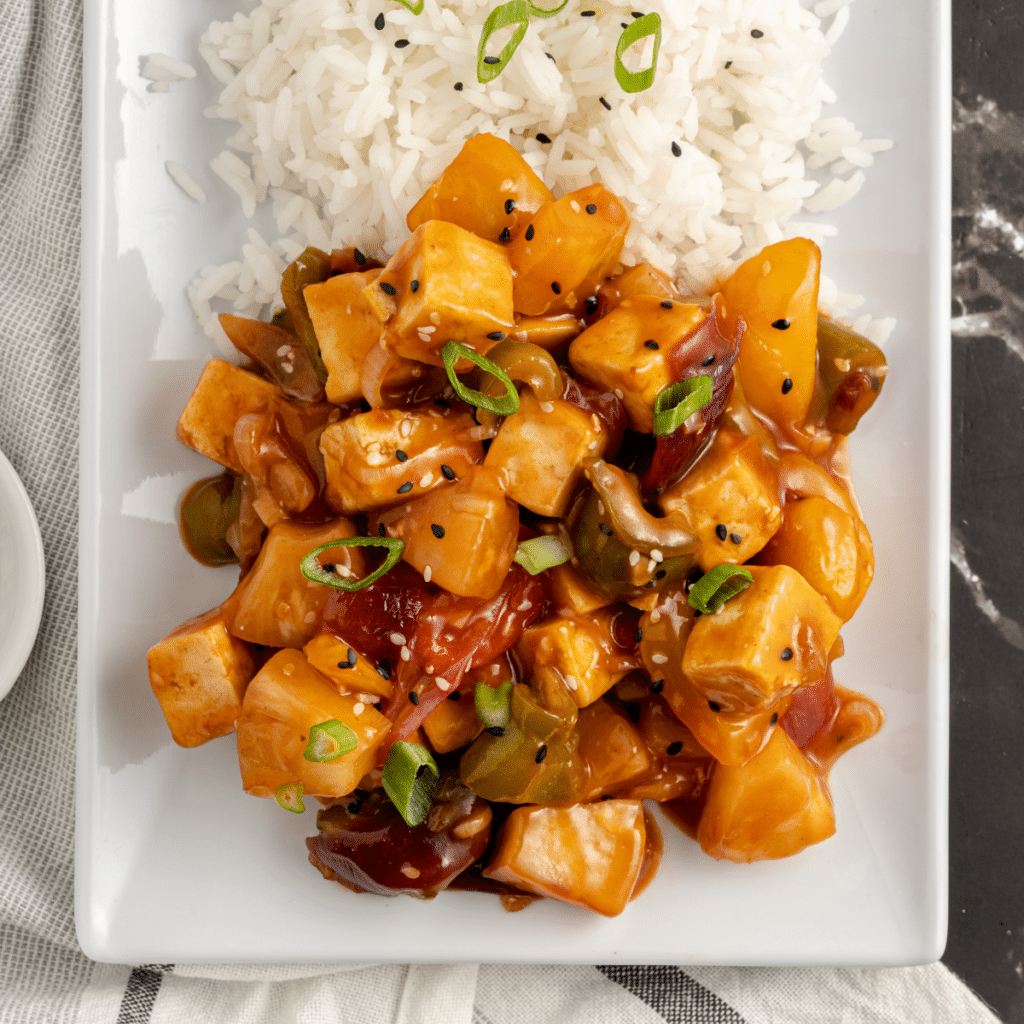 💭How to prepare tofu
One of the biggest "rookie mistakes" that people make (including me) if they are new to cooking with tofu is that they open the package and just start cutting it in to cubes.
You need to prep the tofu before you use it. Tofu has a very high water content - you want to try to remove as much of the excess water as you can. Otherwise, you will end up with a watery stir fry! This process is known as "pressing tofu"
The easiest (and cheapest) way to press tofu is to remove the tofu from the package and place it on a plate for about 5 minutes to let some of the water drain. Wrap the tofu tightly with a paper towel and allow the towel to absorb some of the moisture. Change the towel a few times until most of the water is absorbed and the size of the block is reduced by about 30%.
If you find yourself eating more tofu, you may want to buy a tofu press. They range anywhere from $15 - $200+, but we have been very happy with this inexpensive tofu press.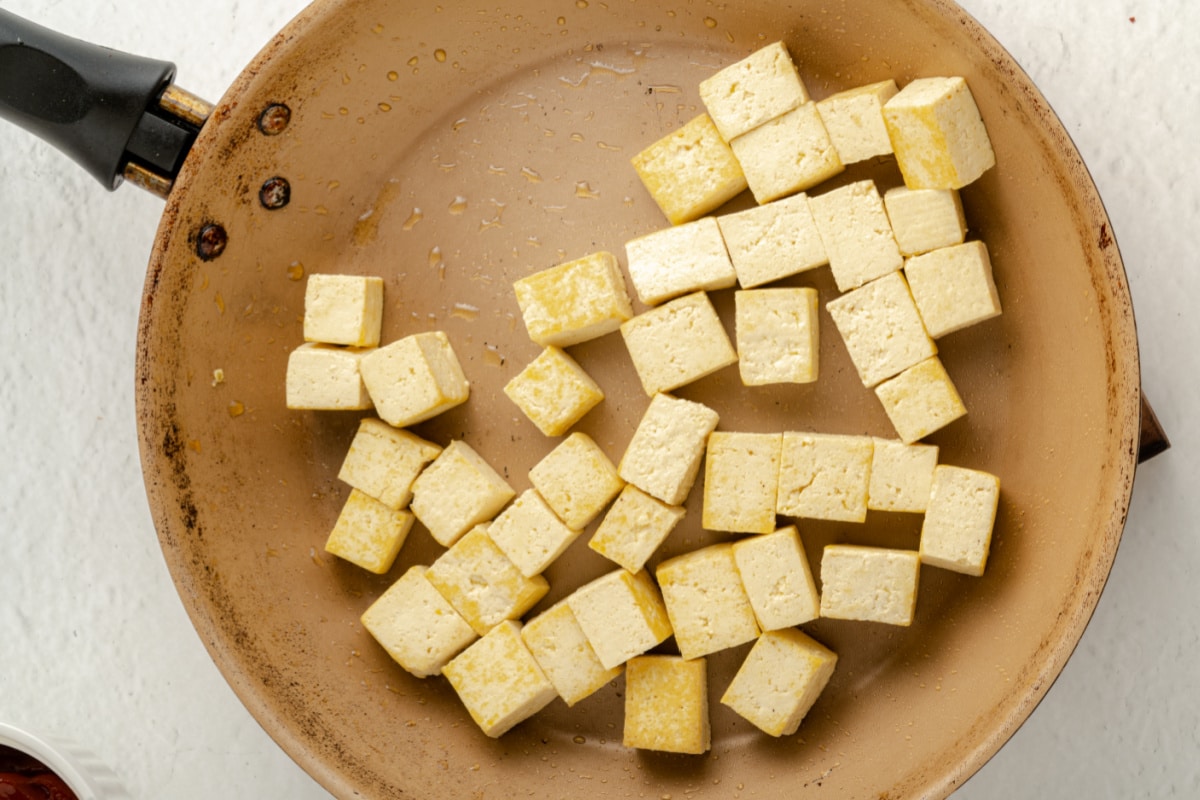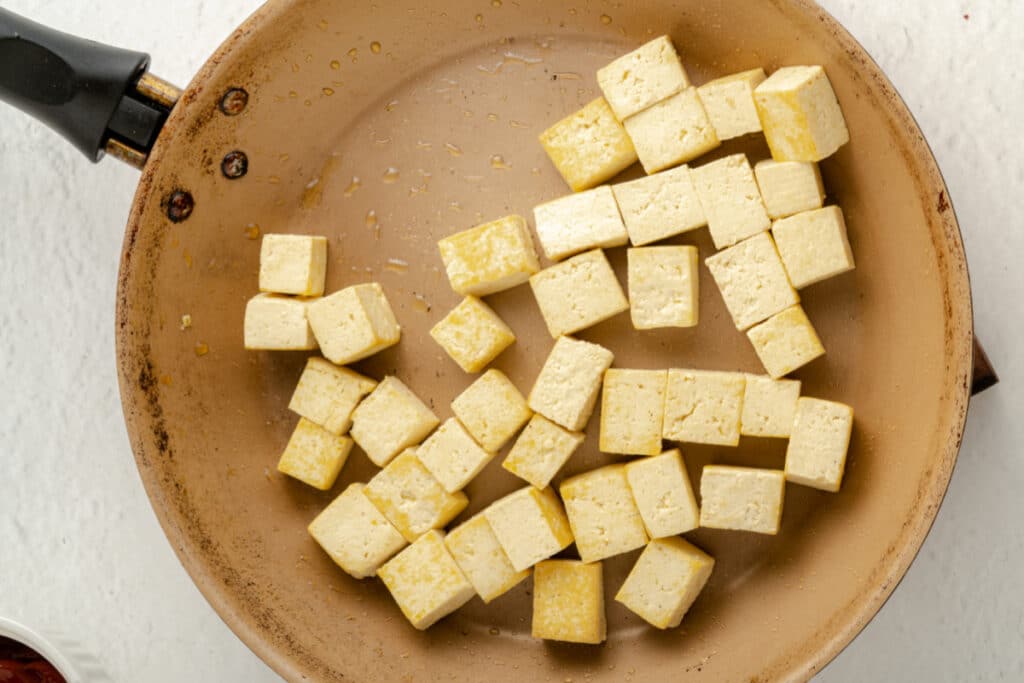 🍳How to get crispy tofu - 3 tips
There are 3 secrets to getting crispy tofu
Press your tofu (see above)
Toss the tofu cubes with corn starch (or arrowroot powder) to help draw out any leftover moisture and create a nice crust
A very hot pan - preferably a non-stick pan over medium-high heat.
When your pan is very VERY hot, add your oil and then add your tofu. It will cook quickly, so you want to make sure that you keep turning it until it is golden brown on all sides.
♨️Can I make it in my air fryer?
The sweet & sour sauce and vegetables should be cooked in a skillet. If you want to reduce the fat and calories from frying in oil, you can use your air fryer.
To make the tofu in the air fryer, you will still toss the prepared tofu in cornstarch. Heat your air fryer to 400F. Spray the basket of your air fryer with non-stick spray and add the tofu. Cook for 10 minutes, shaking the basket after 5 minutes.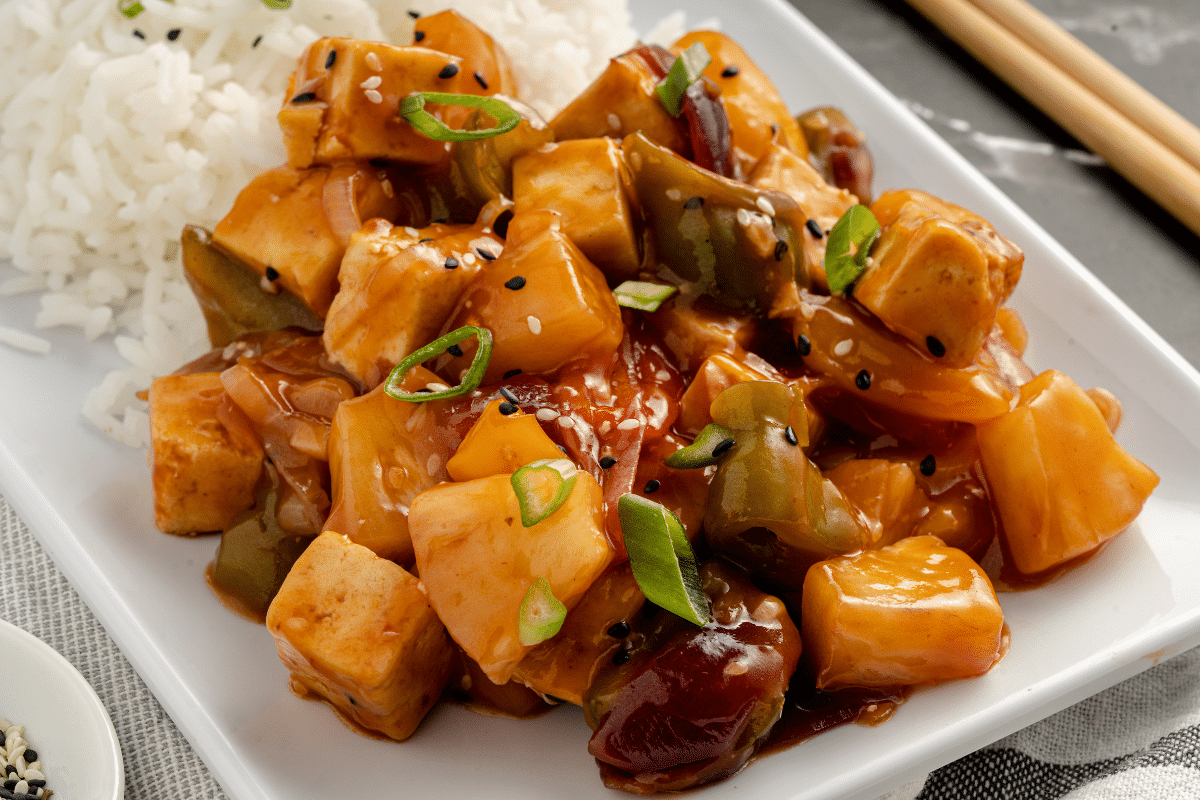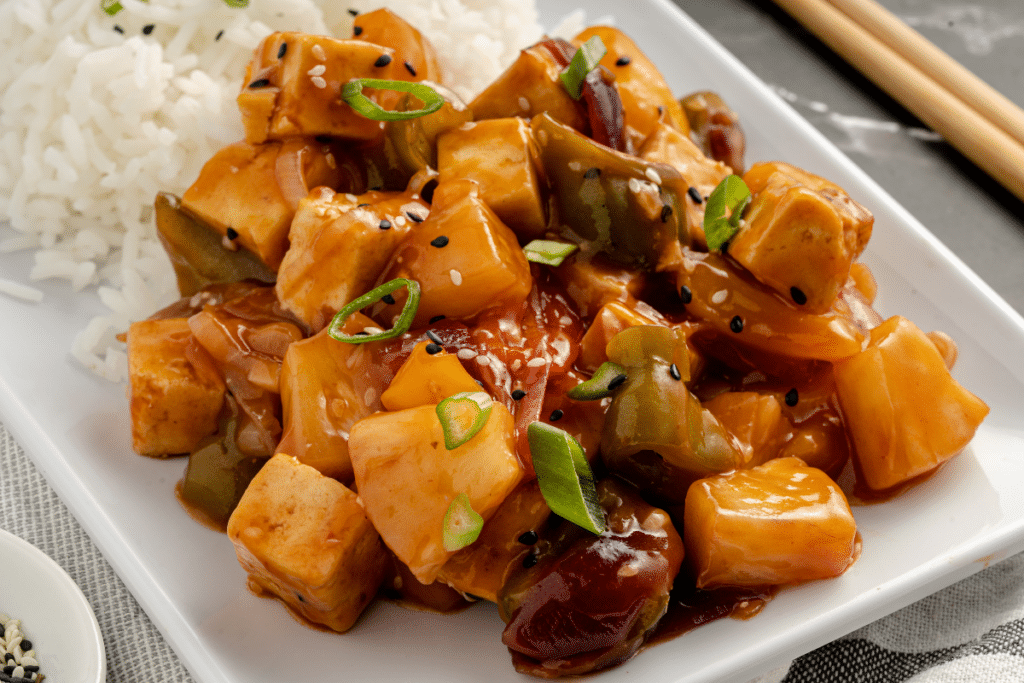 👩🏻‍🍳Tips & FAQ
Why canned pineapple? 
There are few things that I enjoy more than fresh pineapple. The only problem is that it isn't always at it's peak sweetness. Canned pineapple always is and you want that for your sweet and sour tofu!
What kind of oil should I use?
You want to use a neutral oil so that the flavor of the oil is not an issue. I like grapeseed oil, but that can be pricey. Try using canola or vegetable oil.
How do I serve it?
Serve over white or brown rice. Top with sesame seeds (if desired) and sliced green onions (scallions).
How do I store leftovers? 
You can store them just like any other - in an airtight container in the fridge. However, as the tofu sits in the sauce it's not going to stay crispy and the texture might change. This is not one of those dishes that tastes better the next day!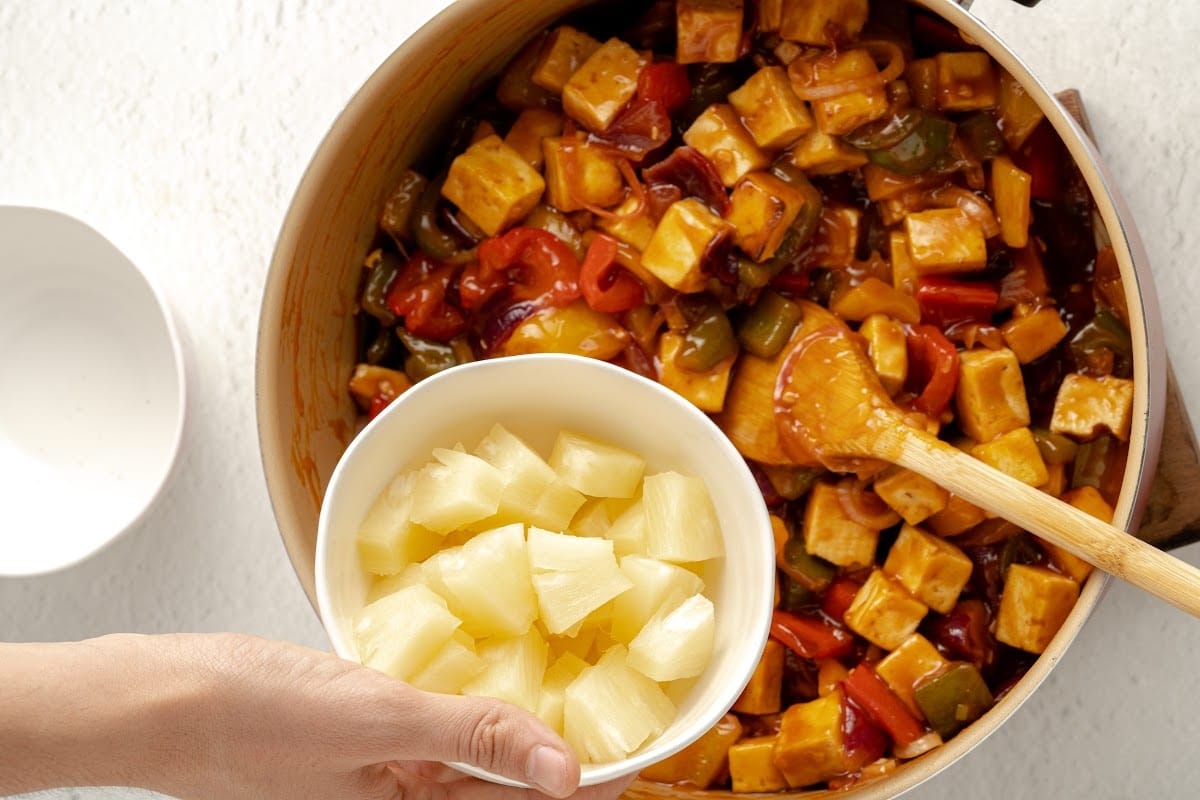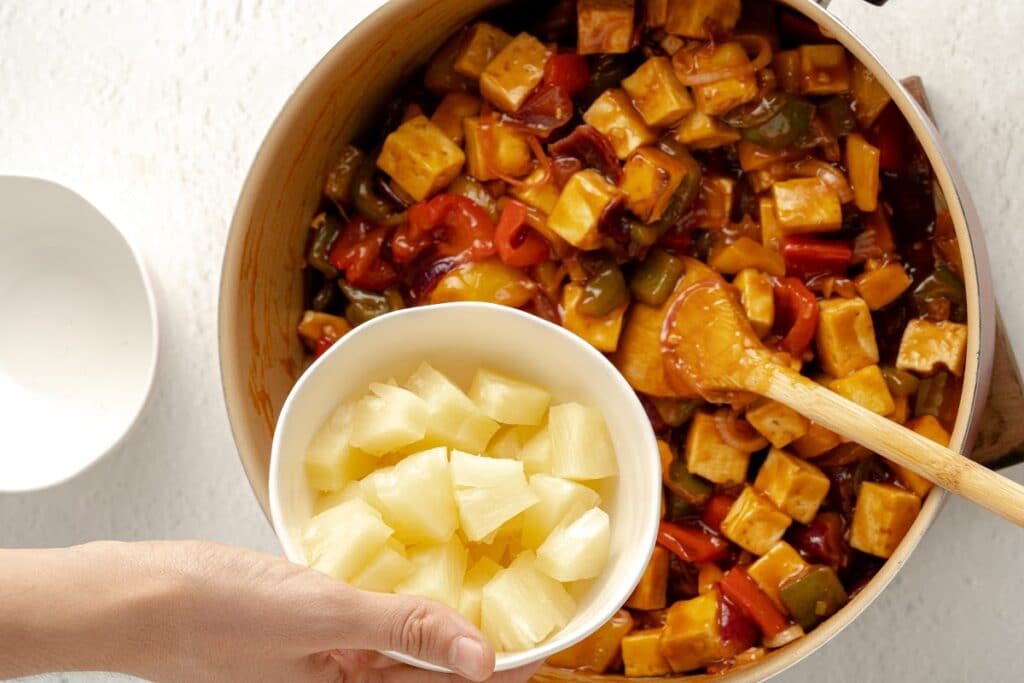 📖Variations
The sauce is really the star of this recipe. Substitute your favorite protein for the tofu and the results will be the same. This is the exact same sauce recipe that I use when I make sweet and sour chicken!
You should have enough sauce to completely coat everything. My husband likes extra sauce to pour over his rice, so I usually will double or even triple the sauce ingredients.
Some restaurants make their sweet and sour and include shredded or sliced carrots. If you want carrots in your dish, saute them in the pan for about 2-3 minutes before you add the peppers.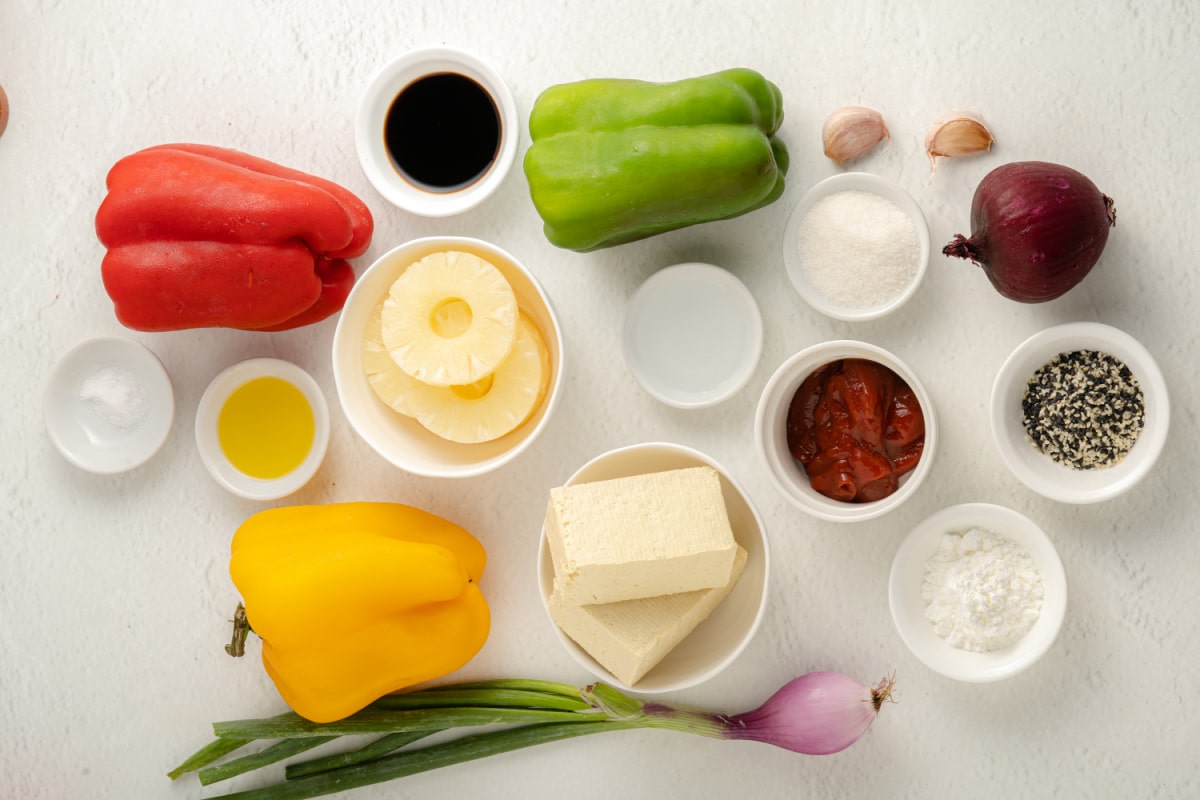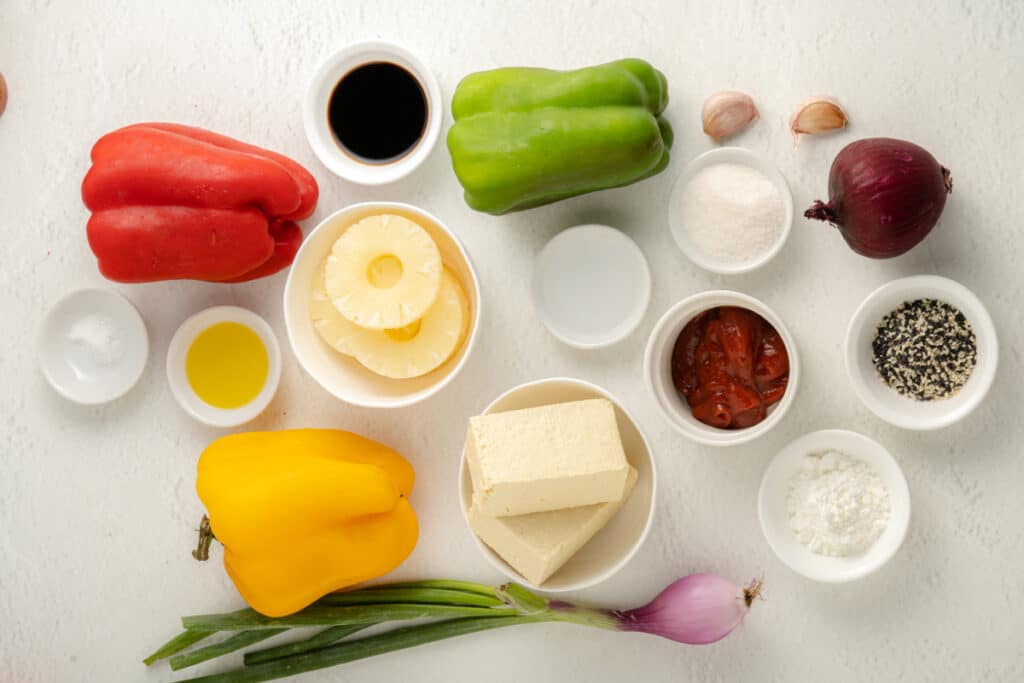 🥘Ingredients
1 lb extra firm tofu
2 garlic cloves, minced
3 tbsp oil (use a neutral oil like grapeseed, vegetable or sunflower)
green bell pepper (small)
red bell pepper (small)
yellow bell pepper (small)
1/2 - 3/4 cup pineapple chunks
red onion (small)
1 green onion (scallion)
1/2 ketchup
1/3 cup sugar
1/4 white vinegar (you can also use rice wine vinegar)
1/4 cup low-sodium soy sauce
3 tbsp cornstarch
3 tbsp warm water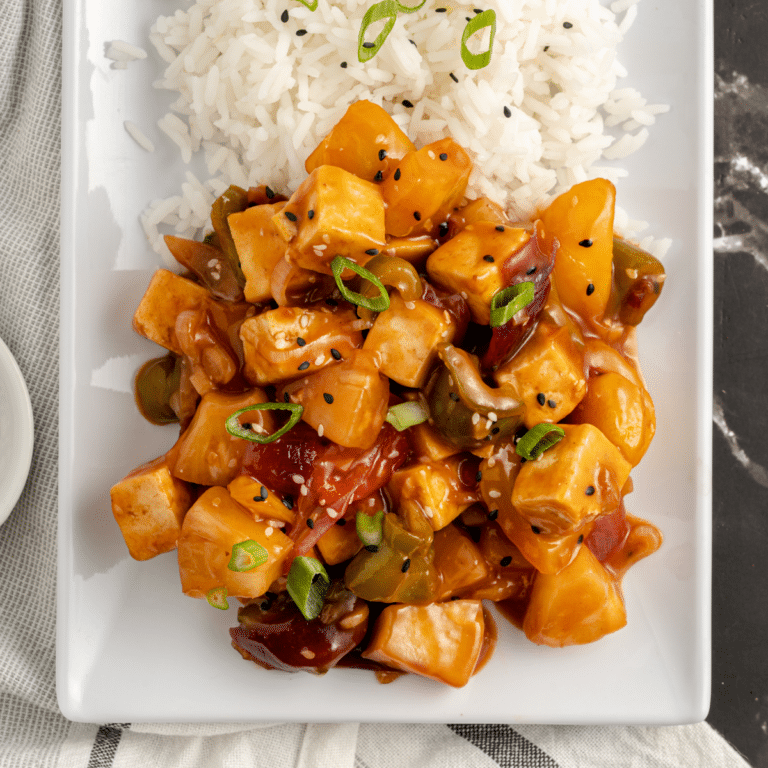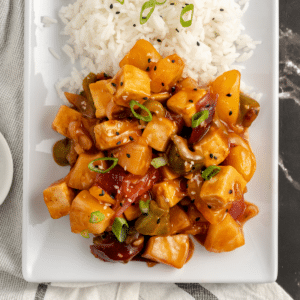 Ingredients
For the Stir Fry
1

lb

extra-firm tofu

drained and pressed

1/4

cup

cornstarch

2

garlic cloves

more to taste

3

tbsp

oil

use a neutral oil like canola or grapeseed

1

green pepper

small

1

red pepper

small

1

yellow pepper

small

3/4

cup

pineapple chunks

use canned for the right amount of sweetness

1

red onion

small

1

green onion

(scallion)
For the Sauce
1/2

cup

ketchup

1/3

cup

sugar

1/4

cup

white vinegar

1/4

cup

low-sodium soy sauce

3

tbsp

cornstarch

3

tbsp

warm water
For Serving
white or brown rice

white sesame seeds

green onion

sliced
Instructions
Drain and press the tofu (see post for instructions)
Cook The Vegetables
Chop red onion and pepper in to bite size pieces

Slice your green onion, reserving the green part for serving

Add 1 tbsp oil to a non-stick pan or wok

Saute peppers and red onion until they are tender (but not too soft)

Add the garlic and the white parts of the green onion.

Cook for another 2 minutes and remove pan from the heat
Cook the Tofu
Toss the tofu with the 1/4 cup cornstarch, making sure to coat evenly

Heat 1 tbsp oil in a skillet until very hot. Add the tofu and cook, turning often, until it is golden brown on all sides. Set aside.
Make the Sauce
Place all sauce ingredients EXCEPT the cornstarch and water in a saucepan and stir to combine

Cook over medium heat until it reaches a low boil

In a separate bowl, whisk the 3 tbsp cornstarch and 3 tbsp water until well combined.

Immediately add the cornstarch mixture to your bubbling sauce

Continue to cook the sauce for a few minutes until it starts to thicken
Put it All Together!
Add the tofu to the vegetables.

Pour the sauce over everything and stir until well-coated

Top with sesame seeds and green onion (optional)
Video
Notes
Make sure to follow the instructions to prepare the tofu before starting!
You should have enough sauce to completely coat everything. My husband likes extra sauce to pour over his rice, so I usually will double or even triple the sauce ingredients