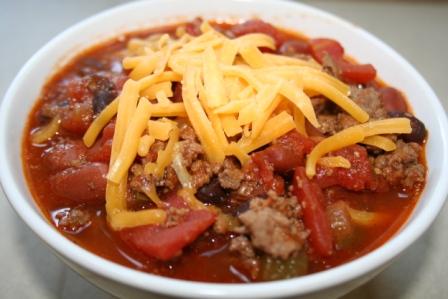 The weather is getting cooler and when that happens, I love to just make a big pot of chili.
I usually prefer to make chili with ground turkey, but my husband prefers beef.  This easy recipe for chili tastes great no matter which you use! I will also tweak it depending on my mood. I might choose to bulk it up with an extra can of beans or even a bag of frozen corn. I also like to use a can of kidney beans and a can of black beans (instead of just 2 cans of kidney beans). Chili is always a great game day recipe, but if you are looking for more ideas, make sure to check out my crockpot pulled pork recipe!
This recipe really only needs about 45 minutes to simmer, so I usually make it on top of the stove, but it can also easily be made in your crockpot/slow cooker.  To make chili in the crockpot, simply transfer all of the ingredients to your crockpot once you have browned the meat sauteed the onions and peppers and then cook on low for about 4 hours!
Easy Recipe For Chili
3 tablespoons extra-virgin olive oil
2 pounds ground beef or turkey
Kosher salt and freshly ground pepper
1 cup diced onion
3/4 cup diced green pepper (seeds and stem removed before chopping)
2 large cloves garlic, finely chopped or pressed through a garlic press
1/4 cup chili powder (or more to taste)
2 teaspoons dried oregano
1 1/2 teaspoons ground cumin
2 15-ounce cans red kidney beans, drained and rinsed
1 15-ounce can diced tomatoes
1 15-ounce can Ro-tel tomatoes (if you don't like too much heat in your chili, omit this and use 2 cans of plain diced tomatoes)
1 15-ounce can tomato sauce
1 1/2 cups water of chicken broth
Grated cheddar cheese, for serving
In a pot large enough to hold all of your ingredients, heat 2 tablespoons olive oil over medium-high heat. Brown the ground beef or turkey, breaking it up with your spatula, until cooked through.Season the meat with 1/2 tsp salt and pepper while cooking
Drain the beef and set aside.
Heat the remaining 1 tablespoon olive oil in the pot. Add the onion, bell pepper and garlic and saute until softened, about 4 - 5 minutes.
Stir in the chili powder, oregano and cumin and cook for 1 minute to release their flavors (it will be very thick).
Return the beef to the pot. Stir in the beans, tomatoes, tomato sauce, water or chicken broth and 1 teaspoon salt.
Simmer for 45 minutes, stirring occasionally. Taste and add more chili powder, if needed.
Spoon the chili in to serving bowls and top with grated cheddar cheese.
Do you have a favorite easy recipe for chili?