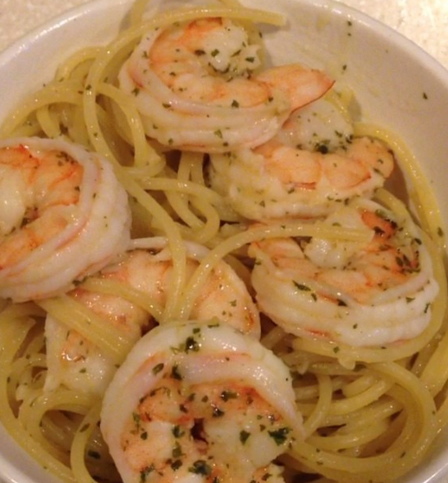 This post brought to you by McCormick & Company. All opinions are 100% mine.
I love Shrimp Scampi but it usually isn't one of the meals that I think of when I think of my "quick meal ideas". It's something that I order when I am in a restaurant because I just don't want to be bothered with making it.  The people at McCormick.com asked me to give making Shrimp Scampi using their Garlic Butter Shrimp Scampi spice packet.
The great thing about this recipe is that I usually have some raw shrimp in the freezer that I will pick up when it is on sale and other than the spice packet, all the ingredients are ones that you probably have on hand in your pantry! It was so quick to make, I actually ended up having to wait for my pasta to be done cooking, even though I put the water on to boil before I started making the scampi!
You will need:
1 package McCormick Garlic Butter Shrimp Scampi Seasoning Mix
1 lb large raw shrimp, peeled and deveined
1/4 cup olive oil
1/4 cup butter
1 tablespoon lemon juice or 2 tablespoons dry wite wine (optional)
8 oz linguine or other pasta (I like thin spaghetti)
To make the scampi:
Cook pasta according to package directions.  Drain well
While the pasta is cooking, heat oil and butter in a large skillet over medium heat until bubbling.
Add shrimp and Seasoning mix.  Cook and stir for about 4 minutes until the shrimp turns pink
Add lemon juice or wine, if desired.
Add pasta to the skillet and toss well to coat.
Serve with grated parmesean cheese, if desired.
Like I said, this was super-easy to make!  The only one in my family who would try it (they all have a "thing" about fish...makes me NUTS) was my 10-year old and he loves all things butter and garlic.  He gobbled it up (which stinks because I was hoping for some leftovers for lunch the next day!).
One last tip that I wanted to give you (because this took a long time for me to learn).  Do you see how nice and plump my shrimp are and that they aren't overcooked and shrivelled? The key to getting your shrimp looking like that is to make sure that your butter and oil are REALLY hot before you add the shrimp to the pan.  The shrimp should almost immediately turn pink the second it hits the pan.  If your oil isn't hot enough, you will actually end up "boiling" your shrimp in the oil and that is how you end up with overcooked and rubbery shrimp!  Please - a shrimp is a terrible thing to waste!
I made a quick Instagram video while cooking this dish - make sure you check out the wonderful sound of the sizzling shrimp.  That is what you want!
WIN IT!
One lucky Moms Need To Know reader will win this fabulous McCormick Gift set that you see pictured above!
To enter to win:
Leave a comment on this post letting me know your favorite McCormick Spice or if you think that you might want to make this recipe!
(please note:  comments on this site are moderated so your response may not show up right away)
Good Luck!