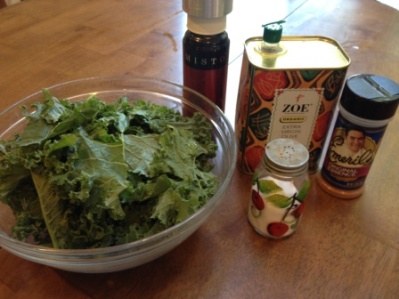 Kale chips are my new obsession.  I am looking for new ways to get more leafy greens in my diet.  The problem is, aside from spinach and typical "salad greens" (romaine, spring mix, etc)...I am not really crazy about most leafy greens.
About a month ago, I was at my mother's house and she had a big storage bags full of her homemade kale chips recipe and I just fell in love! My mother had made them with just olive oil and sea salt and they were delicious, but I was looking for something with a bit more flavor.  I made these the other day and this is my new favorite snack!  I actually used an entire bunch of kale, thinking I would have plenty left over for a snack the next day...but ended up eating the entire batch in 1 day!
Best of all - it couldn't be simpler to make!

Ingredients
1

small bunch of kale

1

tsp

organic olive oil

or non-organic

Emeril's Essence

or make your own - see below

salt
Instructions
Preheat the oven to 350. Cover a baking sheet with parchment paper

Wash the kale and pat dry. You might want to let it sit out for 15 minutes to let more water evaporate. Remove the stems from the kale and throw the stems away.

Rip the kale in to larger pieces than you would normally eat (it will shrink in the oven) and place in a large bowl

Toss the olive oil with the kale and spread the kale in a single layer on to the baking sheet. Alternatively, you can spread the kale on the baking sheet and give it a few sprays with olive oil (I use my Misto). Toss the kale a bit and give it a few more sprays.

Sprinkle the kale with salt and Emeril's Essence. Don't overdo it!

Bake the kale for about 10 minutes until the kale is crispy and slightly darker. If some of the smaller pieces are done, remove them and let the remaining cook a few more minutes.

Enjoy!
Notes
Weight Watchers Points Plus | 0
Experiment with your favorite seasonings to find your favorite kale chips recipe! Use barbecue seasoning to make your own BBQ chips. Hubby out of town? Got nuts with garlic powder!
What would be your favorite way to make these?
Make Your Own Emeril's Essence:
Ingredients:
2 1/2 tablespoons paprika
2 tablespoons salt
2 tablespoons garlic powder
1 tablespoon black pepper
1 tablespoon onion powder
1 tablespoon cayenne pepper
1 tablespoon dried oregano
1 tablespoon dried thyme
Directions:
combine all spices together, mixing well. Store in an air-tight containor