A creamy dijon and mushroom sauce make this my absolute favorite pork chops recipe! Simple to make and you can even substitute chicken for the pork!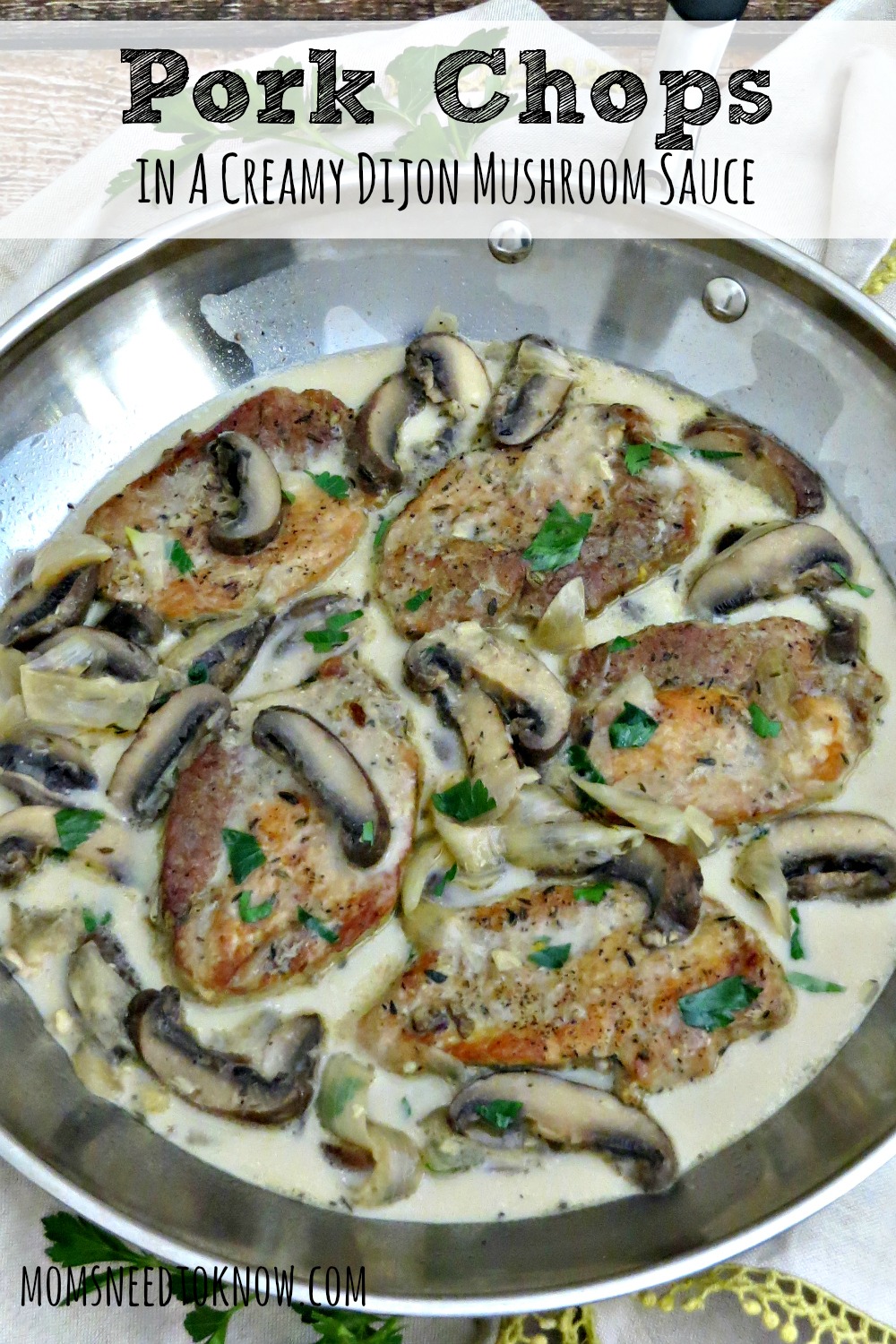 I never used to like mushrooms and would refuse to eat them. I liked the flavor of mushrooms but never the texture, especially raw mushrooms (in case you never noticed, there are only a few recipes on this site that include mushrooms).
Over the years, I have "trained" my brain to enjoy cooked mushrooms (and I even make my own homemade cream of mushroom soup recipe) and I am so glad that I did....because this pork chops recipe wouldn't be nearly as good without the mushrooms!
We eat this with rice, but it would also be delicious over orzo, mashed potatoes or even egg noodles.  I have also substituted in boneless skinless chicken breasts a few times and it turned out fabulous!.
This has a mild Dijon flavor because I like mustard a whole lot more than my husband does, but you can add more to suit your taste (If I was making it just for myself, I would probably double the amount of mustard!).
If you don't want to go through the work of cutting your own pork chops from a pork loin, you can always go ahead and use pork chops from the meat section of your supermarket.  Just make sure that they are the thin-cut ones (about 1/2" thick) or you will need to adjust the cooking times.  I used a small pork loin, trimmed of all visible fat and silver skin, which made 8 1/2" chops. If yours makes a coupe of chops more or less, you can leave the recipe as-is. If it makes several more, you'll want to add more broth and half-and-half, so you have enough sauce.
Pork loin can be dry when it's overcooked, so you either have to cook it until it's just done or let it cook long enough to get tender. Be sure to allow this to simmer for the full 30 minutes, so the pork isn't dry.
Once you've added the half-and-half, be sure to not the sauce boil or it can separate.
When we have leftovers, I shred up the pork into the sauce and add sour cream. Then I mix the whole thing with cooked egg noodles for a something that resembles a stroganoff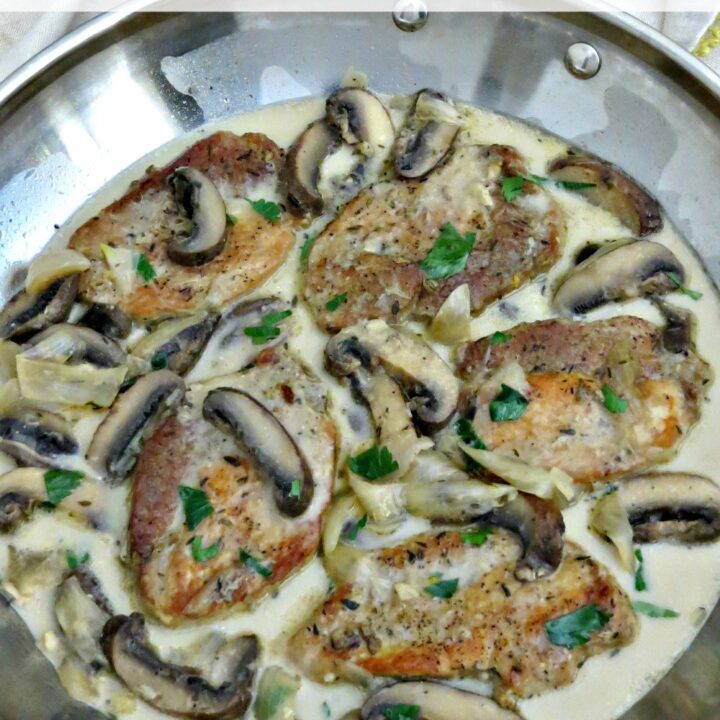 Pork Chops With A Creamy Dijon Mushroom Sauce
A creamy dijon and mushroom sauce make this my absolute favorite pork chops recipe! Simple to make and you can even substitute chicken for the pork!
Print
Pin
Ingredients
1

small pork loin

cut into 1/2" chops

32

ounces

chicken broth

12

ounces

baby Bella mushrooms

sliced

2

garlic cloves

minced

1

medium onion

sliced

2

tablespoons

olive oil

2

teaspoons

Dijon mustard

1/3

cup

half-and-half

1

teaspoon

dried thyme

1/4

teaspoon

salt

1/4

teaspoon

pepper
Instructions
Heat the olive oil in a large, wide skillet.

Sprinkle the salt and pepper on both sides of the pork chops and lay them in the pan. Cook for 3 to 4 minutes on each side or until nicely brown.

Add the onions, garlic, mushrooms, and seasonings all around the pork.

Add the broth and bring to a simmer. Turn the heat down to medium-low, cover, and gently simmer for 30 minutes.

Pour the half-and-half into a small bowl and whisk in the Dijon mustard.

Push the pork and mushrooms to the side of the pan, so the liquid accumulates in the center.

Turn the heat down to low and drizzle the half-and-half/mustard mixture into the center of the pan, stirring to combine.

Arrange all the ingredients evenly around the pan again and sprinkle in a little fresh parsley, if desired.

Let this cook over low heat for about five more minutes, just to heat it through and allow the flavors to blend.

Taste and adjust the salt and pepper to your liking before serving.
Creamy Dijon Mushroom Sauce and Pork Chops Recipe