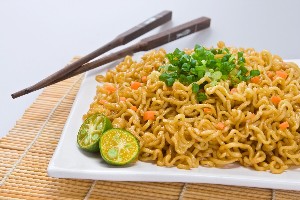 Need a really cheap meal but don't want to sacrifice the quality? Try this Ramen Fried Rice for supper tonight!
3 oz package pork-flavored ramen noodles, (or smoked ham flavor or oriental flavor)
1⁄2 cup frozen peas
2 egg, beaten
1 tsp sesame oil
1 pinch white pepper
1 tbsp peanut oil
4 scallion, finely chopped
1 tsp garlic, chopped
1⁄2 cup (up to 1) roast pork, diced, or cooked chicken, shrimp, or tofu (optional)
1 tbsp soy sauce
Head over to KitchMe for the recipe!