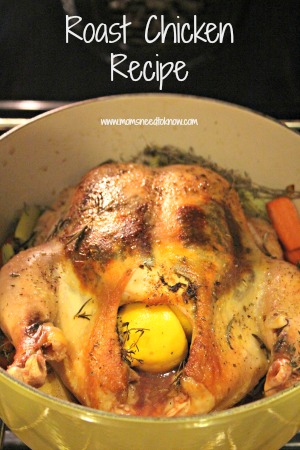 A few years ago, I attended a taping of the Martha Stewart show and one of her guests was the author of The Foodie Handbook. The book wasn't that great, in my opinion, but there was one thing that was said in the beginning...that everyone who claims to like to food should have a roast chicken recipe!
Growing up, my mom would roast a chicken about every 2 weeks.  She would get a much larger bird than we needed for our family and after dinner was done she would pick that carcass clean and use the leftover chicken in soups (like my easy chicken and dumplings recipe) or enchiladas or just turn it in the chicken salad. We always looked forward to the smell of that bird roasting in the oven.  It would just fill the whole house with that warm and comforting smell!
The best part is - buying a whole chicken is relatively cheap!  I can usually find a roasting chicken for about $1.29/lb or as low as $0.99/lb (and when I find them this cheap, I will buy several of them and freeze them!).  The root vegetables are among the cheapest available and even lemons aren't that expensive right now.  If you have an herb garden, you can grow your own seasonings.  I tend to kill any indoor herb gardens that I have ever started (except Rosemary), so I usually just use Herbs de Provence.
One thing I did learn from that book?  Why my roast chicken always turned out so dry.  I used to just wash out the bird, season the inside and stick it in the oven.  I didn't realize that one of the reasons that people stuff a turkey at Thanksgiving is that because it keeps it from drying out...and that the same principle applies to chicken!  I have experimented over the past few years and this is hands-down my favorite roast chicken recipe: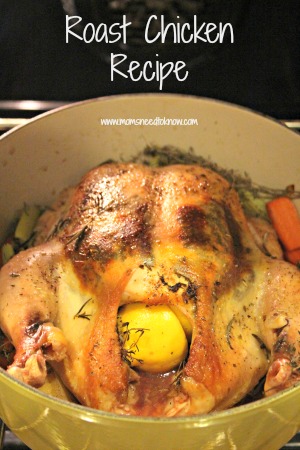 Ingredients
1

whole roasting chicken

5 - 6 lbs

6 - 7

Tbsp

butter

softened

2

Tbsp

+ 1 Tbsp Herbs de Provence

1

whole lemon

halved

1

small onion

cut in half

2

sprigs fresh rosemary

Salt and pepper

to taste

3-4

large carrots

cut in to 3' pieces

1

large onion

cut in to quarters

2-3

stalks celery

cut in to 3' pieces

1-2

potatoes chopped in quarters
Instructions
Preheat oven to 400 F

Place large onion, 1/2 of the small onion, carrots, celery and potatoes in the bottom of a roasting pan

Remove neck and giblets from inside the chicken and discard. Rinse chicken well inside and out and pat dry.

Mix butter and 2 Tbsp Herbs de Provence together.

Gently pull the skin away from the meat (do NOT remove it) and use your fingers to put the butter mixture in between the skin and meat. Use your hands to massage the chicken and spread the butter as evenly as possible along the top of the bird. Season the top of the bird with salt, pepper and 1 Tbsp Herbs de Provence

Season the inside of the chicken with salt and pepper. Insert 2 sprigs of rosemary. Squeeze 1 of the lemon halves inside the chicken. Place the other half of the small onion inside the chicken, followed by the other half of lemon.

Tuck wings underneath the chicken and place bird on top of the vegetables

Cook uncovered at 400 F for 30 minutes

Reduce heat to 350 and cook for another 1 to 1 1/2 hours or until the juices run clear and a meat thermometer registers 180 F

Remove from oven, cover with foil and allow to sit for 20 minutes.

Carve and serve!
Notes
Once the meal is over and the chicken has cooled, make sure to pick all of the excess meat off the carcass for use in future recipes!