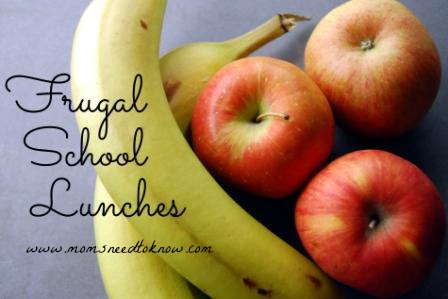 School Lunches the Frugal Way
Back to school is right around the corner and it's time to start preparing by getting school supplies and planning what your child will take for lunches. It's much easier to plan lunches ahead of time instead of always feeling rushed in the mornings to get it done since you already have enough to worry about on busy school mornings.
Below you will find some great ideas for frugal lunch additions that you can pack this school year. Make sure to change it up every so once in a while so your kids won't get bored of sack lunches and start begging for cafeteria food. These choices below are healthy and frugal so you don't have to break the bank finding the best foods for your kids!
Sandwich Ideas: Bread is usually the cheapest option but these other options are also inexpensive and will make the sandwich feel like a whole new meal…even if it has the same filling.
Pita Pockets
Tortillas
English Muffins
French Bread
Buns
Sandwich Filling Ideas: Use one or more of these frugal fillings inside your sandwiches. Or you can always skip the sandwich altogether on some days and have a variety of crackers, cheeses, and meats!
Tuna
Eggs
Peanut Butter
Leftover Meats
Bacon/Lettuce/Tomato
Add Ins:  Lunch wouldn't be complete if it's just a sandwich!
Muffins
Apples/Bananas/In Season Fruits
Fruit and Homemade Dip
Cottage Cheese
Salads
Homemade Cookies
Dried Fruits
Pretzels
Homemade Granola Bars
Applesauce
String Cheese or Cheese Slices
Yogurt
Baby Carrots
Other Ideas:  Not into sandwiches every day? Here are some other inexpensive lunches you can pack.
Bagels with Cream Cheese (could also be topped with meats, fruit, ect)
Homemade Soup in a thermos
Pasta Salad
Spaghetti
What are some of your favorite frugal lunch ideas?