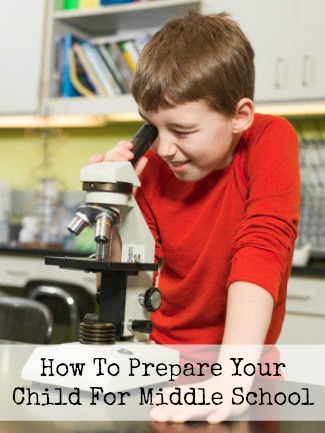 Middle school is a huge year for your child and you should allow it to be a big deal. They are moving on to a brand new school, meeting new people and teachers and growing up before your very eyes. This is a ton of pressure on a parent, but it is doubly so on your kid. There are some things you can do, however, to keep you both from freaking out. This process can actually be rather exciting and calm if you let it be.
Here are ten tips to save you both:
Teach them the value of timeliness
Middle school will literally be a nightmare if your kid is constantly late for class. If your kid drags their feet at home, they likely do the same thing at home. Sit them down and set expectations for being on time. Never waver from the consequences when they test you....they will test you.
Teach them to stay organized
Lockers, book bags, changing classes and after school activities are going to send your child into a whole new world of confusion if you don't work with them on some basic organizational skills. Teach them about the whole "place for everything" and make sure they have the supplies needed to keep things in order. When you see them getting disorganized, reel them in and make them fix it on the spot. Threaten an during-school locker inspection from mom or dad if they won't comply.
Show them the way
Getting from point A to point B is so important and new for middle schoolers. It is a large source of the stress that middle schoolers feel during that first year. An easy way to solve this is to take them to the school during the summer and arrange a tour. Take them around and show them where to find everything. If you need to do it more than once to boost their confidence, so be it. Show them where to go and take away that unnecessary problem.
Teach them to read quicker
Reading is something they should be quite proficient at by now and if they are not, this should take precedence over everything else. Virtually everything they do from here on in will require reading skills. If your kid is a good reader already, spend some time teaching them to quickly read and peruse information. Learning to quickly go through something and pull out the main idea is vitally important at this point.
Introduce them heavily to social studies
Social studies and learning about the world around us is an interesting change during middle school. Some of the concepts are downright ugly but they are starting to be addressed at this point in school. This might include war, racism and other uncomfortable subjects. Talk to your kid about these important things. Who do you want to be the voice of these subjects in your kid's life? Their teacher's voice or yours?
Peer pressure is upon you
This is when peer pressure really takes center stage in your kid's life. Take the time to sit down and have a real heart to heart with your kid. Initially you will get the eye rolling, pre-teen indifference on the subject. If you hang in there with the conversation, however, you will get down to the nitty gritty. More importantly, when your kid experiences their first episode of peer pressure, it is your advice they will hear speaking into their ears. Give them a chance to win and choose the right options.
The dreaded math word problems
Precious few people actually enjoy this form of slow torture and the odds of your kid being one of them will probably not be very good, but you can prepare them to at least deal with them. Word problems are introduced to a large degree in middle school and they do present a wonderful learning opportunity. Have your kids work on these regularly and they will have a huge leg up on the rest of their classmates when the teacher whips one out.
Talk about science and what is coming
This is the best time for science because your little ones will get to head to the lab. It is time for them to start mixing explosive liquids and dissecting frogs and such. While this is fun, it is also somewhat dangerous....well, the explosive parts anyway. Spend time explaining the dangers of science with your kids if only to give them a healthy respect when it is placed before them.
Prepare for the fast paced atmosphere
Kids are always a bit shocked by middle school speed. The changing classes and quick locker shifts are something that they need to get used to. Try to simulate that fast pace at home sometimes. Show them what is coming and talk to them about what they fear. Your kids are going to do just fine, but why not help them where you can? Speed up their lives just for giggles and see how they respond!
Set the study standard right away
Middle school is where study habits will become absolutely necessary. There is no way your kid will make it through middle school without having some type of schedule in place and your expectations will be set early on. Make it perfectly clear what is expected each day and then follow through. If you have them on a schedule from day one, they will eventually adapt to it and make it their habit. This will be invaluable when they get to high school and beyond.