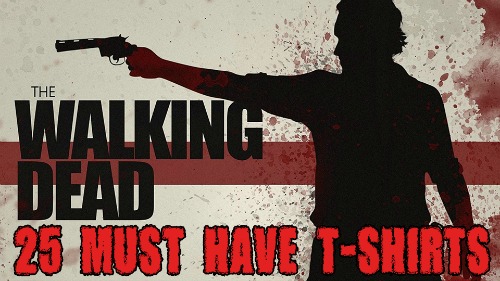 If, like me, you are a fan of The Walking Dead, you just can not WAIT for this Sunday and the start of Season 5. There are just so many questions to be answered!
Will Rick & crew be rescued from the boxcar (considering TWD has been renewed for Season 6, I'm thinking "yes").  I'm thinking that at least one of them has to make it to the grill.  (my money is on Bob)
Where is Beth (and are they going to make us listen to her sing again this season)?
Will Carl stop wearing that stupid hat?
Will Daryl continue to be the sexiest guy on the show, even though he looks like he hasn't taken a shower since they were at the CDC at the end of Season 1?
Will Daryl get his poncho back?
Am I seeing right in the previews and Michonne is going to get a double-sided katana?
Where have Carol and Tyrese been getting formula to feed Judith as they run all over the forest?
If you are as big a fan of The Walking Dead as I am, then you are going to want to check out this list of TWD t-shirts that are available!  Some are a little more graphic than others, but there really is something for everyone!
Even my 11-year old is in love with The Walking Dead and has a t-shirt (although he has this one and is bummed that he can no longer wear it to school.  When he was in elementary school, his teachers were all fans as well and they used to talk about the episodes on Monday morning.  Now that he is in middle school, they are a little more sensitive about a t-shirt that has "don't run out of ammo" on it!)
Are you a fan of The Walking Dead? I am actually thinking about posting about the episodes on this site for Season 5. Is that something you would be intersted in reading?