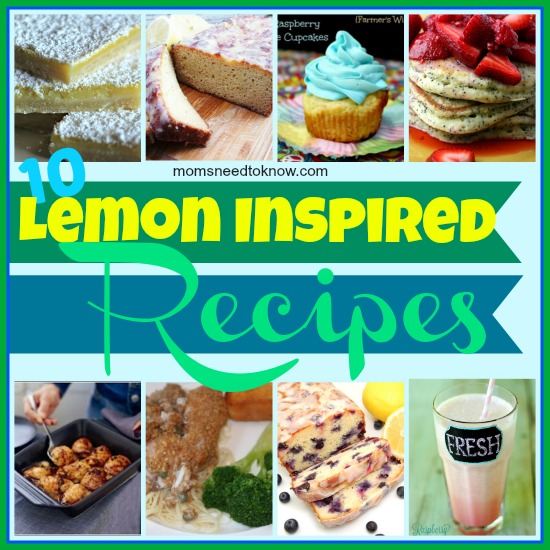 Lately, I've been wanting to try out different dishes inspired by lemons. I find that just about any lemon inspired dish adds so much flavor. Coming across lemon recipes is not always an easy task, but I've put together 10 different lemon recipes. I hope there is something on this list to get you inspired.
10 Best Lemon Dishes
1. Lemon Bars - Finding a good lemon bar recipe isn't always an easy task. I think this one might just hit the mark! They sure do look good.
2. Blue Raspberry Lemonade Cupcakes - Wow, what a unique twist on lemonade cupcakes! The kids are going to go crazy for these. You could probably get really creative with the frosting and try different flavors.
3. Strawberry Lemonade - We love lemonade in our house and the added strawberry twist is perfect! I can't wait to have a nice big glass of this over the summer.
4. Lemon Spiced Chicken - This chicken dish is done with chicken thighs which are extremely budget friendly. Next time you stock up on thighs make sure to use this lemon spiced dish.
5. Baked Lemon Fish - No matter what kind of fish your family likes, you can use this recipe!
6. Lemon Poppy Seed Pancakes - Pancakes are a hit around here and I can honestly say I've never had ones like these. I'm so excited to make them, I'm willing to be they are great!
7. Lemon Blueberry Yogurt Loaf - This recipe would work great for breakfast or as a dessert. This looks like a recipe that might take a little time to cook but so worth the effort!
8. Pan-Roasted Lemon Chicken - This is a complete meal in one pan! Now that is my kind of meal. Toss together a salad and dinner will be on the table in no time at all.
9. No Grain Lemon Bread - This no grain bread is a healthy option for anyone looking to eat clean. It also has a recipe for a lemon glaze.
10. Raspberry Watermelon Lemonade - Wow three different flavors in this drink! This lemonade sounds perfect for a hot summer day.
Do you have a recipe that is inspired by lemons? If so I would love to have you link up below!
[inlinkz_linkup id=285214]