With my delicious soft pretzels recipe, you can enjoy fresh homemade pretzels straight from the oven! These are really fun to make with my children!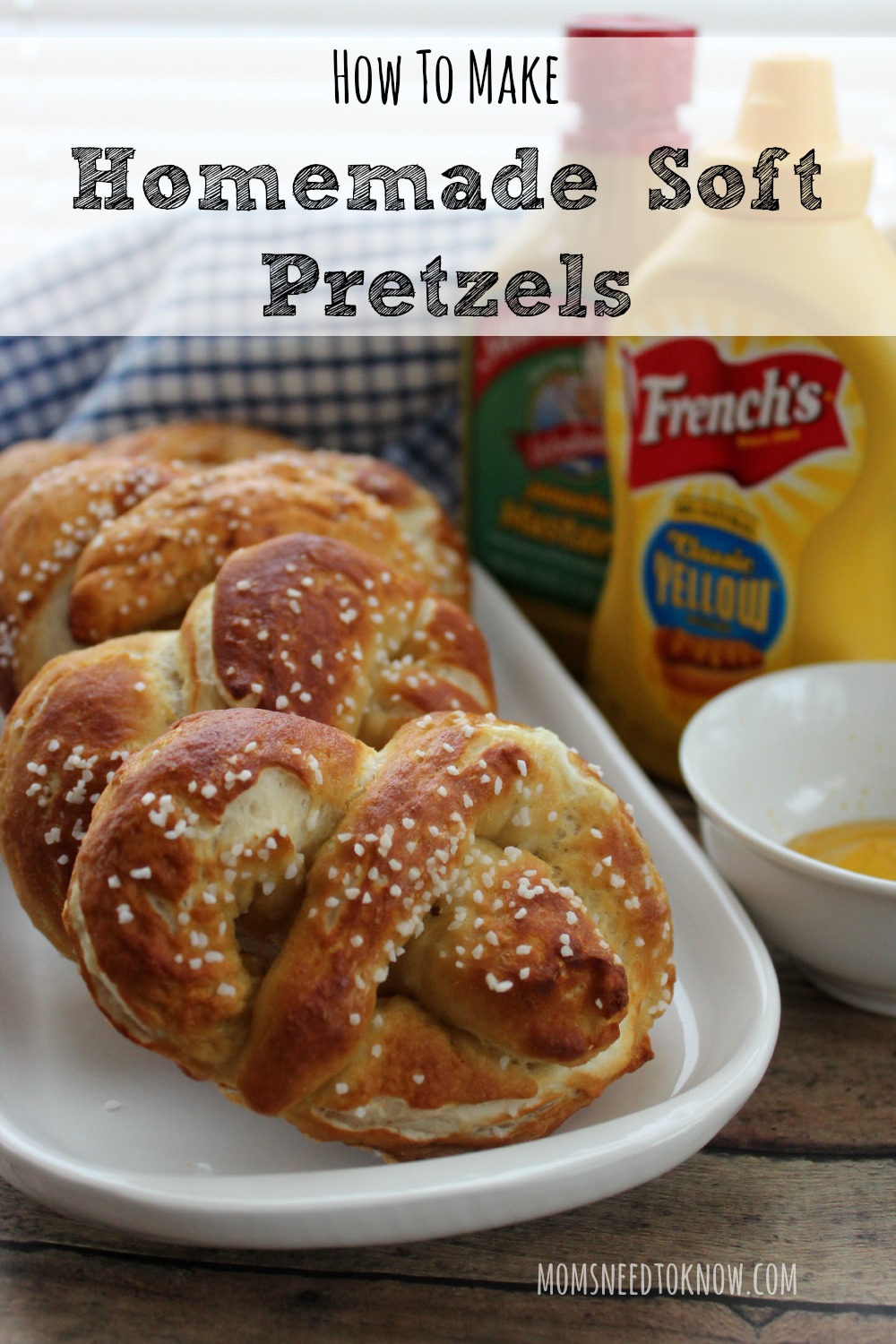 I have lived in or just outside of Philadelphia for 40 of my 45 years. I grew up on soft pretzels.
I remember growing up, there was a guy who would stand in the median strip on City Line Avenue just outside our neighborhood selling soft pretzels in brown paper bags for just $1 per bag of 3 pretzels. It wasn't just our neighborhood...they were all over the city (although I don't see as many of them as I used to when I drive in to the city....probably something to do with people not wanting their soft pretzels with a side of car exhaust fumes). My stepfather would always stop to buy a bag from him - he was there for almost 20 years!
This was long before there were Philly Soft Pretzels stores dotting the landscape of the East coast. Back then, the guys hawking pretzels in the street were at the Federal Pretzel Baking company at 4:00am to pick up pretzels. They would bag them and then stand out on the street all day selling them! Gotta love that entrepreneurial spirit!
Being from Philadelphia, I have to tell you...there are a few ground rules for soft pretzels:
Mustard is the only acceptable condiment for them...preferably the cheapest yellow mustard that you can find! Cheese sauce MIGHT be acceptable in some cases, so long as it is melted Cheez Wiz (the ONLY time that I will eat that stuff).
You must eat them "from the outside in". That means that you eat the outer loops first, then save the "inside knot" for last.  The soft doughy texture of the knot is your reward.  So it is written, so it shall be done!
It is perfectly acceptable to slice your soft pretzel in half horizontally and make it in to a "sandwich bread". This is especially good for grilled ham & cheese sandwiches (just make sure that you use mustard, not mayonnaise)
So as you can see, I am serious about my soft pretzels!  Finding a homemade soft pretzel recipe is not as easy as it seems.  Sure there are a bunch of recipes out there, but I wanted one that be really close to a Philly Soft Pretzel...and I think this is it!
A few tips:
This recipe is made easier if you have a stand mixer with a dough hook, but you can always mix it the old-fashioned way and mix it by hand.
Do not skip the water bath part of making them.  It is an important step to get the to "puff up" and to help create a crispy crust when they bake.
Add the baking soda to the water bath before you start heating it.  Trust me on this - if you add baking soda to boiling water, it will bubble up and over the pot and you will have a mess!
Scroll down for the recipe - and let me know how you like them!
You might want to try these other snack recipes: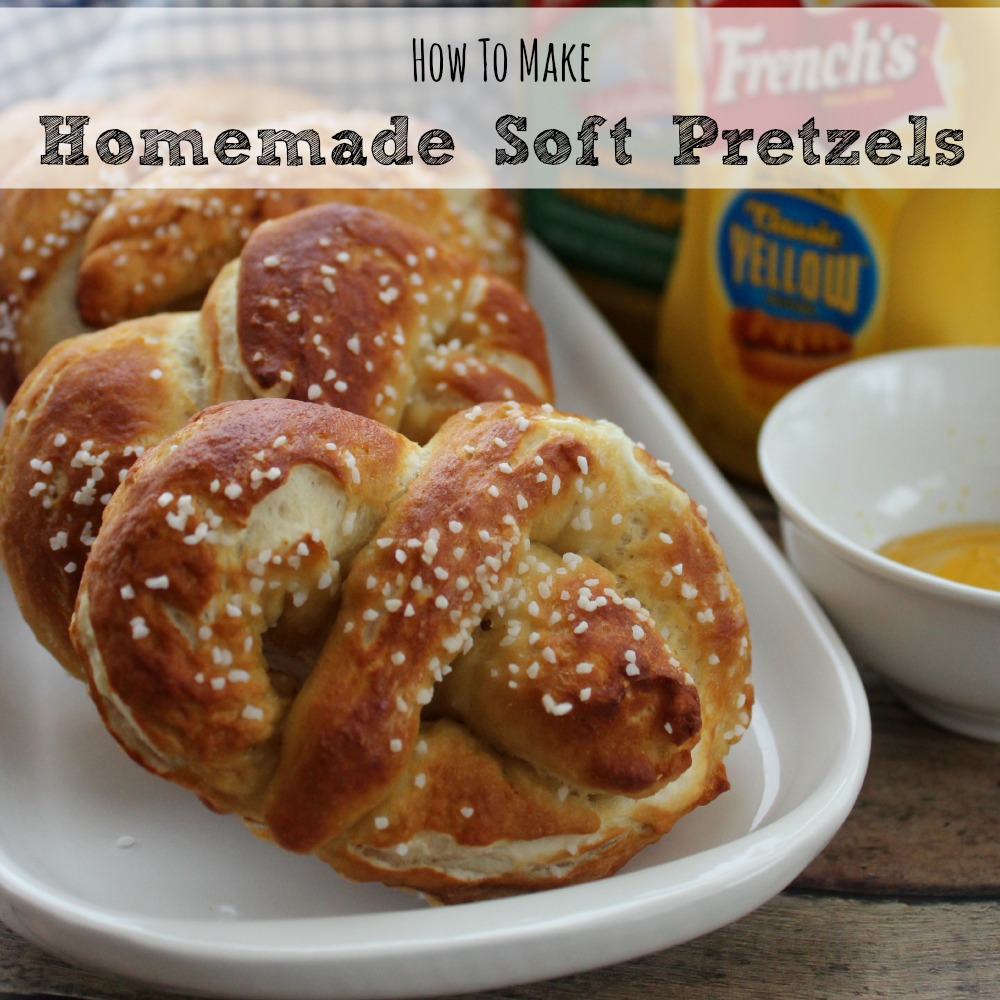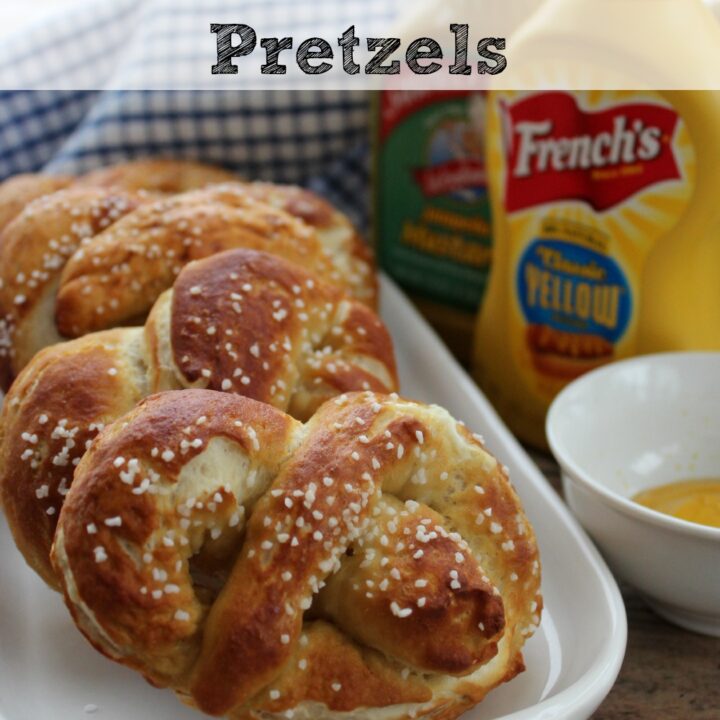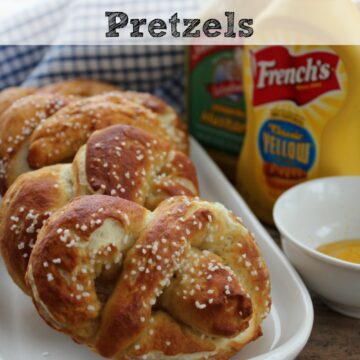 Easy Homemade Soft Pretzels Recipe
Finding a homemade soft pretzel recipe is not as easy as it seems. Sure there are a bunch of recipes out there, but I wanted one that be really close to a Philly Soft Pretzel…and I think this is it!
Print
Pin
Ingredients
For The Pretzels
1 1/2

cup

Warm Water

1

tbsp

Sugar

2

tsp

Salt

2 1/2

tsp

or 1 pk Active Dry Yeast

4

cups

Flour

2

oz

melted Butter
For The Water Bath
10

cups

water

2/3

cup

baking soda
Other Ingredients:
Egg Wash: 1 large egg yolk beaten with 1 tablespoon water

Kosher Salt for topping
Instructions
Make The Dough
Combine water, sugar and salt and yeast in the bowl of a stand mixer.

Let sit for about 5 minutes or until it starts to foam.

Attach dough hook to your mixer. Add the flour and butter and mix on low speed until combined.

Increase speed on mixer to medium and knead until the dough is smooth and pulls away from the side of the bowl (about 5 minutes).

Place the dough in an oiled bowl, cover with towel and sit in a warm place for about an hour or until the dough has doubled in size.
Assemble and Cook The Pretzels
Bring the water and baking soda to a boil in a large pot

Preheat the oven to 450.

Line 2 baking sheets pans with parchment paper and lightly spray with cooking spray or brush with vegetable oil.

Lightly oil a cutting board and turn out the dough

Divide the dough into 8 pieces.

Roll out each piece of dough into a 2 foot rope.

Flip ends of the rope across each other and press onto the bottom of the U in order to form the shape of a pretzel. Place onto the baking sheets.

When water is boiling, place pretzels (1 at a time) in to the boiling water for about 30 seconds.

Remove pretzel from the water and place back on the baking sheet

Brush the top of each pretzel with the egg wash and sprinkle with the Kosher salt.

Bake 12-14 minutes or until golden brown.

Transfer to a cooling rack.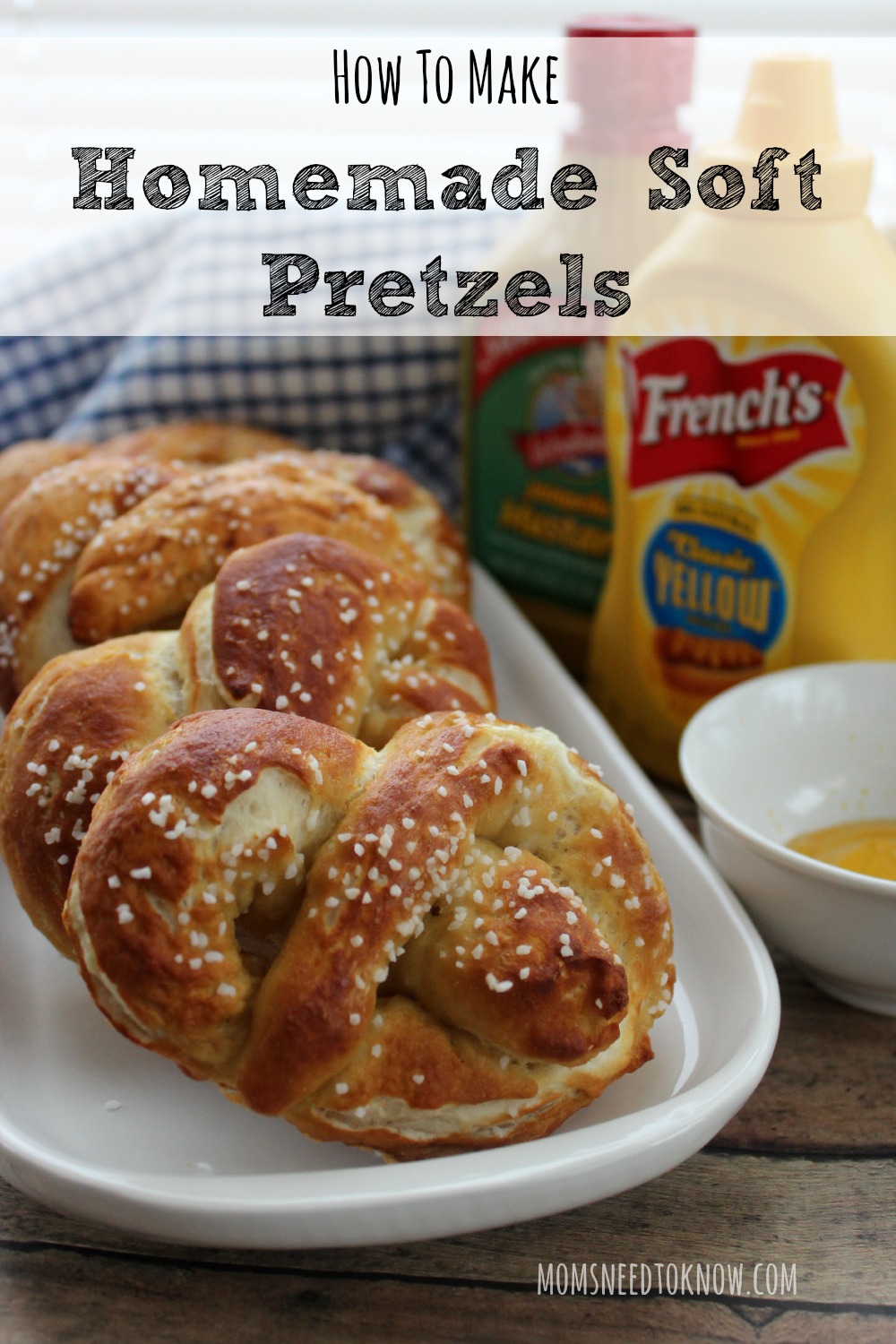 Easy Homemade Soft Pretzels Recipe