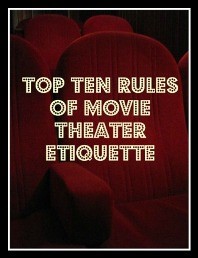 The last time I went into the movie theater, I paid nearly fifty bucks for my family of five to watch a cartoon. Throughout the entire movie, we listened to two women loudly discuss an impending divorce and who has the best hair extensions. Needless to say, I was irritated. It got me to thinking...what if we had a movie theater policeman?
I know we have bigger fish to fry, but wouldn't that be cool? He could enforce the rules of the movie theater etiquette and ensure that the movie going experience was a polite one. Here are the rules I would ask him to enforce:
Show up on time – If you show up late to the movie, you should never come in loud. In fact, coming in late to the movie should require that you take the first available seat that will keep your backside from blocking the movie screen. Perhaps we should consider a late arrival section in the back of the movie theater.
Leave the baby at home – If there was ever a good time to get a babysitter, it is when you are headed to the movie theater. Even kids going to see Disney get frustrated with a screaming baby.
Close your mouth when you eat – If I hear you munching your Goobers from across the aisle, you are probably eating them with your mouth wide open. Please eat with your mouth closed.
Keep your feet down – The most common excuse I get from teens about this one is that "nobody is sitting in front of me, dude." While that might be true at the moment, someone eventually will sit in that chair. When they do, they probably won't wish to smell your stinky Crocs.
Leave one seat between you and others when possible – This rule, commonly known as the courtesy seat, is very important but often overlooked. When people come in and crowd your space for no reason, it is irritating. Always leave some space when possible.
Turn off the cell phone – This is the most common complaint and with good reason. Nothing irritates people more than listening to someone have a conversation on the cell phone while others are trying to watch the movie.
Yes, that includes text messages – You might think you are being polite by switching over to texts, but the screen is still illuminating the theater and your vibrations are getting on people's nerves. Put the phone away and take a break. They will be there when the movie is over.
Don't talk to the screen – Here is a quick newsflash...no matter how many times you tell the dingbat on the screen not to "go in there" she will continue to do so. They can't hear you!  Problem is, everyone else in the theater can and they don't appreciate it.
If you are seven feet tall or insist on wearing huge hats, get a wall seat – Being tall rocks in virtually every situation in life. Movie theaters are the exception, however. If you are ultra tall, be thoughtful and sit where nobody is going to be behind you. Theaters are usually empty enough to find a spot anywhere. Those folks that wear the hats...you know who you are...you need to reconsider.
Clean up after yourself – When the credits roll and you leave the theater, please make sure you clean up after your own mess. People will leave any number of things behind as though the floor is a trash can. Pick it up!
These are my personal rules for theater etiquette, but I am sure I have missed some.  What other rules can you think of that you would like to see enforced? Sound off in the comments below.