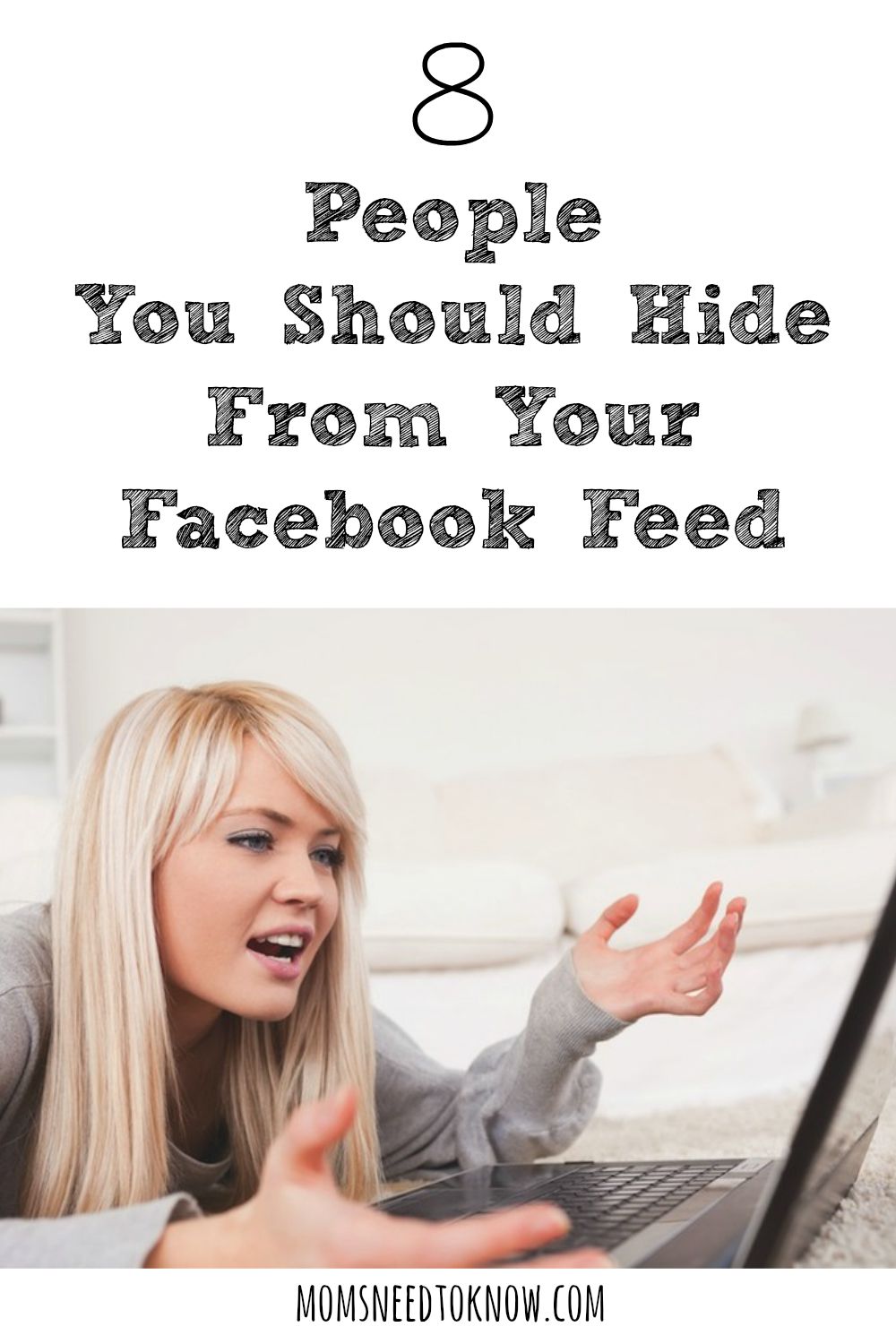 I absolutely love Facebook (and are you following Moms Need To Know on Facebook yet?) because it opens up a whole new world of communication. Like many of you, it allows me to keep in touch with distant family, old friends and also to keep up with the latest news.
While that is a really cool thing most of the time, it can also be a nightmare for your eyes. That world-famous Facebook feed that we check out each day can be loaded with wonderful nuggets of wisdom, loving examples of good citizenship and important news that you might otherwise never have known about (and of course, Grumpy Cat memes).  That is our Facebook feed at it's best.

Unfortunately, our feed at it's worst can be a nightmare to the senses. Some folks simply post things that are unwelcome at best and downright horrific at worst. Of course, people absolutely have the right to post whatever they want on their own Wall, but that doesn't mean that you want to see it or need to see everything.  You may love your uncle, but don't necessarily want to see his crazy political rants every time you log on.  You don't have to take it to the point of unfriending them and causing a war either….you simply have to "Hide" or "Unfollow" them. (Go here to see how to do that)
Before you can do such a thing, however, you have to figure out who to target. Who deserves such treatment? Who are the guilty parties that deserve to be banished to "unfollow land" here on Facebook? Fortunately, they generally fall into one of eight categories. Here is a look at each:
The "I Saw It Online" Truth Teller - This is the moron that posts constantly from sites that are clearly not legitimate. They love to post that random celebrities have died, that Michael Jackson is really alive and that aliens have actually taken over the major news networks. When you ask them why they think such things are true, they often say "I Googled it" or "I saw it online so it must be true" without so much as a giggle.  If I didn't hide many of these people, I would be spending WAY more time banging my forehead against my laptop!
The Bribery Buddy - You know this one but you might not realize it. This is the one that will post a photo of an adorable kitten and the warning that failure to support an organization will result in the cat's death. There are many variations of this one. Another popular one is asking for shares in exchange for oceans of money and good luck. Bribing me to share or like something will get you blocked quick.
The Drama Queen - This is the gal that will tell you every single detail of her life without any concern for privacy. She will not hesitate to post pictures of her "deadly wart" and her problems are always superior to others. She will quickly play the victim and cry on cue, but you had better not call her on it! She will pitch a fit!
The MLM Hawker - Multi level marketing is a legitimate thing sometimes, but if you are only sharing things related to your MLM campaign, you are not going to be a part of my feed. I want to be more than a target for your money making schemes. If someone can't get that message clear, they have to go.
The Political Junkie - The very idea of politics gets some folks fired up and I guess that is a good thing. The yin and yang is what makes it work when it is at it's best. That said, if you have a person that constantly posts political views you totally disagree with, your blood pressure will appreciate a block or unfollow. Why punish yourself with this sort of thing?
The "I'm Offended" Poster - I am sorry but we are offended by everything these days. Get some thicker skin and put on your big girl panties! Life's too short to spend it like that. There are enough real problems out there to worry about without adding to them. We seem to seek out reasons to moan and groan.
The Dirty Laundry Diva - This chick (yes, it can be a guy too) usually gets unfriended when it gets out of hand. This is the gal that will post all the dirty laundry she can make up and will not hesitate to put you on blast for no reason. She usually zeros in on family members and will quickly tell you every detail of their lives. Do not get involved with this type because you will eventually be the one she is blasting.
The "I Bet I Can Gross You Out" Guy - This guy will post pictures of Grannys butt and pretty much anything that involves disgusting, crude behavior. They are particularly entertained by naked anything and will post anything that will get people riled up. They simply need the attention and will not hesitate to gross you out to get it. Simply say no and unfollow them as well!
What other Facebook Feed monsters do you know? Share with us in the comments below!