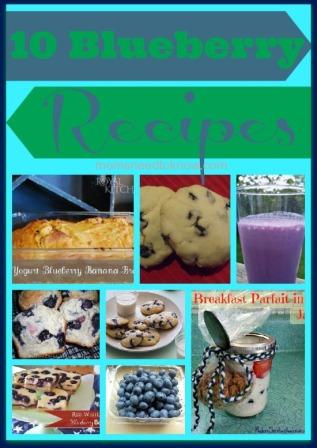 There are so many amazing health benefits to eating blueberries. Blueberries are loaded with antioxidants and Vitamin C. There are so many creative ways you can incorporate blueberries into you daily diet. I've rounded up 10 recipes that will help you get creative with blueberries!
10 Blueberry Recipes
1. Greek Yogurt Blueberry Bread - Greek yogurt and blueberries! Now that is a healthy bread if I do say so myself. This will definitely be added to my recipe collection.
2. Rich Ultimate Blueberry Muffins - I love a good blueberry muffin and based on the recipe, I think these will do the trick.
3. Blueberry Shortbread Cookies - This was such a unique concept that I had to add it to this list. I'm very interested to see how these will come up.
4. Breakfast Parfait in a Jar - I'm all about having quick and healthy breakfast options. This would be a nice breakfast to make the night before and have waiting for you in the fridge.
5. Blueberry Chia Pancakes - I've never heard of blueberry chai pancakes but they sound very healthy. This might be a nice alternative to standard pancakes.
6. Blueberry Smoothies - There are two really good blueberry smoothie recipes in this post. Perfect for getting your daily dose of blueberries in.
7. Blueberry Yogurt Cookies - Another really interesting recipe. I'm anxious to see what my family things about these. Personally, I think they sound really good.
8. Red, White and Blueberry Bars - Seriously, these look amazing! I can not wait to impress my family with this yummy treat.
9. Blueberry Muffin Smoothie - Another smoothie recipe but this one is a little different and sounds really good. You can add in just about anything you want to a smoothie to make it as healthy as you want. Kids will think they are getting a special treat!
10. Lemon-Blueberry Cheesecake - Cheesecake is already a favorite of mine but add lemons and blueberry and I'm sold! I will need to hide this one from the family.
Do you have a favorite blueberry recipe? If so share it with us!
[inlinkz_linkup id=292919]